Atlas VPN might be a relative young 'un in the world of the best VPN services, but after being spotted as a rising talent and acquired by the well-established NordVPN, it continues to improve. Not only does it manage to undercut a lot of the competition in price, but it does so without scrimping on features.
That means you can expect great WireGuard speeds, unlimited simultaneous connections, and some of the best unblocking I've seen when it comes to watching streaming services from different locations.
It's not perfect – with a network of just 750+ servers across 37 countries Atlas VPN hasn't got the reach of its stablemate – but it with decent security features, P2P torrent support and a SafeSwap feature that regularly changes your IP address, it's a promising VPN service that continues to impress.
Atlas VPN on paper
Swipe to scroll horizontally
| | | |
| --- | --- | --- |
| Number of servers | 750+ | Row 0 - Cell 2 |
| Server countries | 37 | Row 1 - Cell 2 |
| Supported platforms | Windows, Mac, iOS, Android, Linus, Fire TV, Android TV | Row 2 - Cell 2 |
| Simultaneous connections | Unlimited | Row 3 - Cell 2 |
| Split tunneling | Yes (Android app only) | Row 4 - Cell 2 |
| Kill switch | Yes | Row 5 - Cell 2 |
| Protocols supported | WireGuard, IKEv2/IPSec | Row 6 - Cell 2 |
| Country of registration | USA | Row 7 - Cell 2 |
| Support | 24/7 live chat, email, troubleshooting guides | Row 8 - Cell 2 |
Atlas VPN 1-minute review
Despite a relatively modest network of 750+ servers spread across 37 countries – CyberGhost has over 8900 servers – Atlas VPN is loaded with both WireGuard and IKEv2 protocols. The former sees it joining ranks with some of the fastest VPNs, which typically deliver speeds of 650-800Mbps.
This is particularly good news for those looking to stream HD and 4K content whilst connected to a VPN, especially as in my testing Atlas VPN was able to unblock Netflix (US), BBC iPlayer, Prime Video, and Disney+.
It's also worth noting that Atlas VPN users get unlimited simultaneous connections, and that Atlas has added split tunnelling (Android VPN app only), meaning you can easily dictate which devices or websites use a VPN connection – and which don't.
In terms of security features, you'll be treated to IP-jumping SafeSwap, malware and ad blocking, a data breach monitor, private DNS, and a no-logging policy. Atlas has run an independent security audit on its iOS VPN and Windows apps, too, although I'd still like to see a full privacy audit at some point.
There's a decent kill switch, which is much-improved since my last test but still requires users to manually disable it to avoid being connected to the VPN all the time. The Windows app has a few shortcomings but the Android and iOS apps deliver a much better experience.
There are certainly areas that Atlas can improve upon – its support center and desktop apps come to mind – but Atlas VPN has strong potential to polish up its rustier parts and become something of a surprise hit.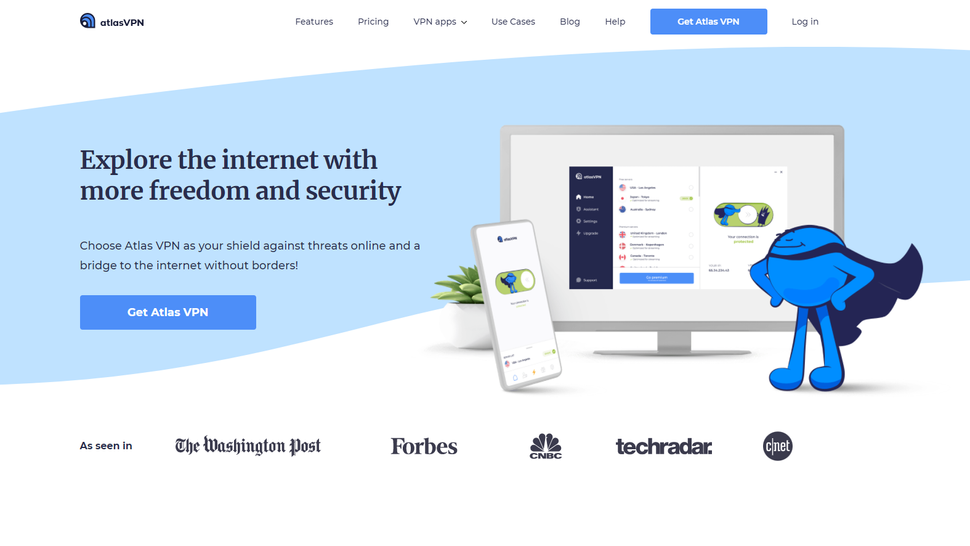 Latest updates
Split tunnelling feature enabled (Android app only)
Atlas VPN launched on the Linux platform
Indian servers removed due to overly-restrictive local privacy laws
Option to purchase Atlas VPN subscription using cryptocurrency
Independent audit of Windows app by global cybersecurity experts MDSec
Atlas VPN price and payment
Swipe to scroll horizontally
| | | |
| --- | --- | --- |
| Plan length | Overall cost | Monthly cost |
| 1 month | $10.99 | $10.99 |
| 1 year | $39.42 | $3.29 |
| 3 years | $71.49 (including 3 months free) | $1.83 (including 3 months free) |
Atlas VPN brands itself as a "freemium VPN service". This means that it has both a free VPN and a paid-for option. You can use the free version on an unlimited number of devices and there are no speed limits, but free users are restricted to just three locations (Los Angeles, New York, and Amsterdam) and 5GB of data per month.
Opt for a paid plan and you'll get your pick of 750+ servers in 45 locations, including servers that are specially optimized for 4K video streaming. You'll also be granted a host of bonus features such as ad-blocking and malicious website detection.
There are three paid plans to choose from. The straight monthly rate option starts at $10.99. Pay for a full year upfront and that drops dramatically to the equivalent of $3.29 per month. The real winner in terms of affordability is its three year plan – it works out at just $1.83 a month when you factor in the three free months that are currently included in the deal. That's almost as cheap as Surfshark, Tom's Guide's top-rated cheap VPN.
You can pay for your Atlas VPN subscription with various credit cards, Google Pay or PayPal. More recently, the company began accepting the Bitcoin, Bitcoin Cash, Litecoin, Ether, Monero, and Ripple cryptocurrencies, so you don't have to give your real name.
Last but not least, it's worth noting that plans are set to auto-renew when you sign up, and there doesn't appear to be an easy way to cancel them in the control panel. You'll have to contact customer support via live chat or email, which isn't as convenient as it could be.
Does Atlas VPN have a free trial?
Although there is a free version of Atlas VPN (see above), there is no Atlas VPN free trial as such – you've got to sign up if you want the premium features.
That said, each paid-for plan comes with a 30-day money back guarantee period, allowing you time to trial the full service and then claim a full refund if it doesn't impress you. Note that you can only use the 30-day money back guarantee to claim a refund twice.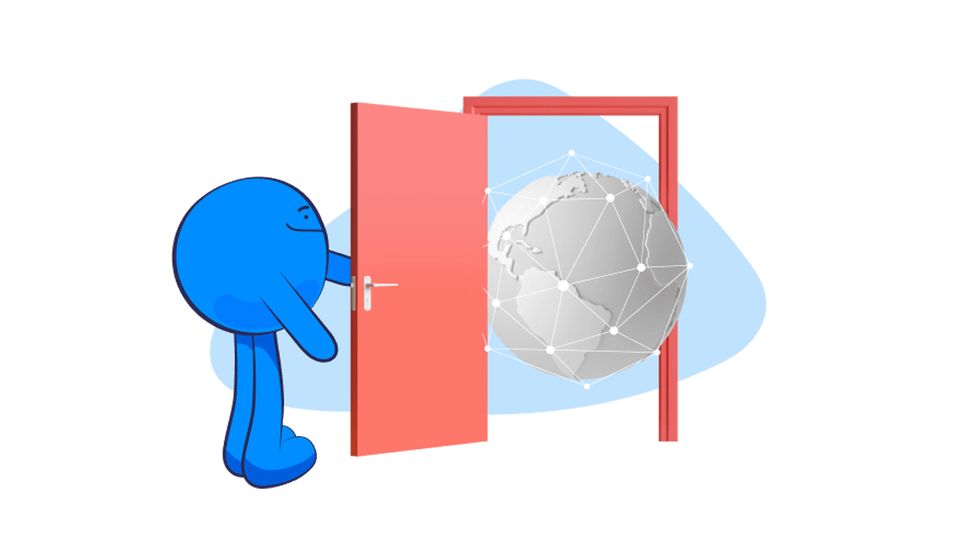 How private is Atlas VPN?
When it comes to privacy, Atlas VPN has some room for improvement. It's covered by the basics – AES-256 encryption, WireGuard, and privacy features like SafeSwap, which allows you to you hop from multiple IP addresses at one time – but Atlas VPN has only carried out an independent security audit on its Windows and iOS apps. And even these are fairly limited in scope.
Other less reassuring features include a website that opted me in for marketing emails by default when I gave my email address, forcing me to cancel if I didn't want that data shared. The cookie disclaimer only has an "accept" option, too, which makes me question whether Atlas VPN is serving the privacy and security needs of customers in the best way possible.
In terms of logging your data in-use, Atlas VPN claims to have a no-logging policy. It states, "we do not collect details on our users' activities, DNS queries, or other data that could be linked to our users."
It goes on to state the kind of data its apps do collect, but I determined this did not include any user activity. On the other hand, Atlas VPN would be able to create a pretty illustrative user profile. Of course, this is simply what Atlas VPN states, with no official audit to back these claims. Hopefully that's all in due course as it further integrates with Nord Security best practice.
The kill switch has been improved since my previous review, and immediately kicks in when the VPN drops. It's not perfect, mind. I had to manually disable the kill switch to avoid being connected to the VPN all the time, and there's no automatic reconnect, meaning that I had to open the app and start it again myself. So, better than last time, but still room for improvement.
How fast is Atlas VPN?
Swipe to scroll horizontally
| | |
| --- | --- |
| WireGuard | 740Mbps |
| IKEv2 | 320Mbps |
When it comes to performance tests, I use a Windows 10 machine to connect to the nearest location in both the US and UK. I always utilize a number of speed test sites and tools, noting down at least five results. This process is typically repeated three times using WireGuard and OpenVPN, to provide you with a fair picture on the kind of speeds a VPN has to offer.
In this instance, Atlas VPN doesn't support OpenVPN so I ran some initial tests on its IKEv2 protocol. In the US this saw half-decent results, recording a range of 260-320Mbps. In the UK things were a touch slower at 200-225Mbps, which is still a good mid-range result.
WireGuard is where Atlas VPN truly impresses, with speeds topping out at a zippy 740Mbps. When you consider that 740Mbps is faster than ExpressVPN – the best overall VPN in my eyes – these results are not to be sniffed at. That puts Atlas in a similar range to CyberGhost (730Mbps) and IPVanish (720Mbps). Want even faster WireGuard speeds? You might want to consider NordVPN (820Mbps) or Surfshark (950Mbs).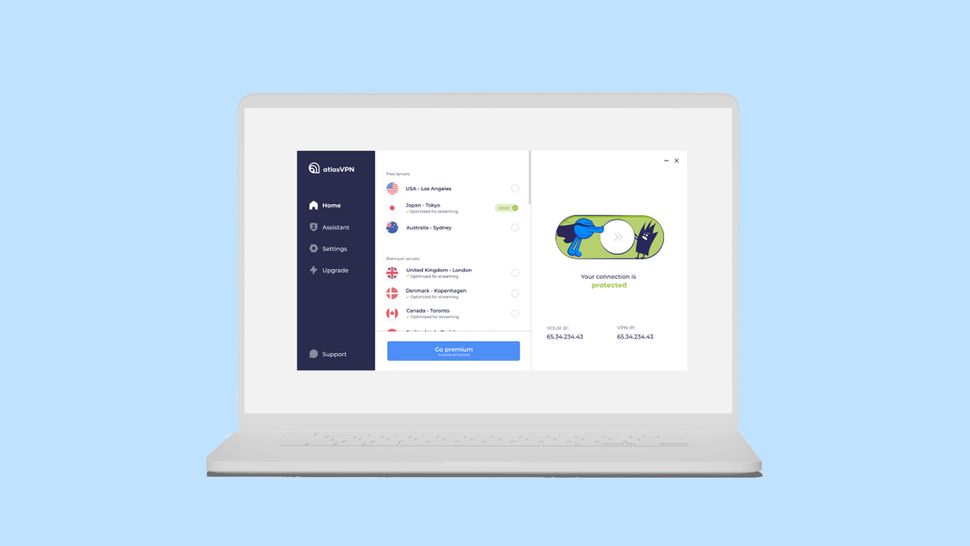 How good is Atlas VPN for streaming and torrenting?
Swipe to scroll horizontally
| | |
| --- | --- |
| Netflix | Working (US) |
| Prime | Working |
| YouTube | Working |
| iPlayer | Working |
| Disney Plus | Working |
| 10Play | Unavailable |
| 9Now | Working |
| Hulu | Working |
| ITV Player | Working |
| Channel 4 | Working |
Unblocking streaming services when roaming overseas is one of the most common VPN uses beyond their obvious security protections. It's something Atlas VPN does exceptionally well. In fact, Atlas gets almost all the big name streaming services cracked right open for your viewing needs.
I was able to access Disney+ and BBC iPlayer (one that has been known to be quite difficult to circumvent with even the best streaming VPN in the past) with relative ease. I was also able to unlock two other major UK-based streaming sites: Channel 4 and ITV. I had no trouble with Australian streamer 9Now, either, although 10play would not play ball, no matter how many times I tried.
Streaming Amazon Prime Video's US library can be an issue at times, and it certainly was in my previous test, throwing up numerous glitches before settling down. This time around, Atlas granted me access in a snap. Bravo, Atlas.
Atlas VPN wasn't able to give me access to US Netflix in my last review but changes appear to have been made here too, and now access is granted. Let the Netflix binge begin! Netflix Australia, Canada and Japan proved troublesome but Atlas is not far off a place among the best Netflix VPNs.
In terms of those looking to torrent, Atlas VPN supports P2P, allowing users to share large files safely, so it's a decent pick.
How good are the Atlas VPN desktop apps?
When it comes down to the Atlas VPN Windows app, how good it is really depends on how you look at it. It's pretty basic, which may appeal to those who don't want to be overwhelmed with too many techy features. On the flipside, there is very little to it in terms of configuration, which could also very easily be a turn off.
Open it up and you'll be presented with the barebones of any VPN, including a Connect/Disconnect button, a list of locations to connect to, as well as the option to toggle on or off the kill switch, and to choose between its WireGuard and IKEv2 protocols.
In terms of usability, there's no particular rhyme or reason, which is a bit disappointing. Rather than being listed in alphabetical order or sorted in some other logical way, the location list is an amalgamation of cities and countries. With no Favorites or Recently Used system in place, this eyesore will likely have you scrolling back and forth to find the server you want to connect to.
In terms of its promised malware and ad blocking features, there were no setting options present, and I didn't always have success connecting to the free Atlas VPN servers – though that makes sense if they're overloaded with... freeloaders.
Connection time was fairly average at 5-6 seconds. With few features to tinker with and those connection prospects, it certainly won't take long to get up and running.
SafeSwap and MultiHop are useful features for security with the first jumping you between three spots (Singapore, Netherlands and US) to keep you tough to track. The second, MultiHop, routes your data through more than one server before moving on to the destination, again making you more difficult to track. There is very little control over how this works, unfortunately, only letting you pick a continent to route through, rather than specific countries as some VPN services do.
Since my last review testing, a Data Breach Monitor has been added which alerts you if your email address appears in a data breach. This is very handy and even lets you search with any address you like. Sure, you can do that on some websites that provide this service, but it's a nice extra security layer to include.
The Mac app works well, and has the same core spec as the Windows app: WireGuard and IKEv2 support, the kill switch, Safebrowse Plus ad and malware blocker, MultiHop+ and the IP address-rotating SafeSwap. What's lacking is a Favorites system, Recently Used list and auto-connect on accessing Wi-Fi.
So, on balance, Atlas VPN doesn't have the best desktop apps I've seen, but they're not bad either. Both prove speedy and reliable.
How good are the Atlas VPN mobile apps?
Desktop VPN apps usually offer more features than their Android counterparts, but not here. In a surprising turn of events, the Atlas' Android client is actually better than its Windows counterpart.
The mobile interface makes far more sense with countries sorted alphabetically in the location list, and dedicated categories for servers optimal for streaming. You'll also find access to settings for the tracking blocker and the Data Breach Monitor under the 'Assistant' section of the app, both of which proved to be very effective during my tests.
You also get split tunneling – a feature that is currently only available through the Android app. This comes in very handy if you have apps which don't work properly with the VPN, as you can 'split' them off from the VPN traffic and route them through your regular connection instead.
Much the same can be said for the iOS app. It doesn't support split tunneling, but otherwise has the same feature set as the Android app.
All in all, the Atlas mobile apps are extremely likeable and serviceable. Sure, they're missing a few finishing touches – the 'auto-connect on Wi-Fi access' feature that I've seen on other VPNs, for instance – but they're consistent performers. And with Atlas' free data allowance, users can always 'try before they buy' anyway.
What customer support does Atlas VPN offer?
Good news: Atlas VPN now offers 'Premium' customers (i.e. those with a paid-for subscription) 24/7 live chat support. You just have to sign in with the email that you used to sign up to Atlas to get access.
Over in the Atlas website's 'Help' section, you'll find articles and guides, with the ability to search your query or click through its four hubs: 'Get started', 'General info', 'Billing and account', or 'Troubleshoot issues'. Articles usually feature text and screenshots, which is helpful and makes them easy to follow for beginners, although their brevity can result in a lack of technical detail. Those who require expert-level help for solving really tricky problems might find themselves disappointed here.
I've also noticed that more and more detailed content is making its way onto the Atlas support site lately, which can only be a good thing.
Response times are good, too. Prior to the introduction of 24/7 live chat, I sent an email to support and received a response two hours and 15 minutes later. Live chat, of course, is much faster – in some cases, I received a response within seconds.
In terms of its support system, Atlas could definitely brush up a few more helpful resources but the introduction of a 24/7 live chat feature is a shiny new feather in Atlas' cap.
Should you buy Atlas VPN?
It's safe to say Atlas VPN does have potential, especially now it has come under Nord Security ownership. Already proving to be a potential powerhouse in terms of performance and streaming unblocking, it's better than a lot of VPNs I've tested, and for the price it's very tempting indeed.
If Atlas can focus on improving its desktop apps and get a proper privacy audit or two under its belt, it has every chance of competing with the biggest and best VPNs in the business.
Sign up to Atlas VPN if:
You want one the best services for unblocking streaming services
You want a VPN that enables unlimited simultaneous connections
You want a speedy VPN
You want a VPN with good mobile apps
You expect fast 24/7 support
You want a cheap 3-year subscription
Avoid Atlas VPN if:
You want a VPN that delivers class-leading privacy features
You want a VPN that comes with advanced desktop apps
You want to unblock Netflix Canada, Australia or Japan