Fans of flip phone-style foldable devices received some welcome news from a new Samsung Galaxy Z Flip 5 rumor this week. Reportedly, Samsung's upcoming foldable will feature a larger cover display on its exterior, which should make it easier to get more done without ever opening the phone.
If true, it's a welcome change from past Galaxy Flip models. Whatever else you think about the current Galaxy Z Flip 4, you'd have to concede that the 1.9-inch strip that serves as the phone's cover display doesn't offer a lot of real estate.
But a cramped cover display isn't the only thing about the Galaxy Z Flip 4 that could stand to be improved. While it may be Samsung's most popular foldable phone — the $999 price probably has something to with that — the Flip has a flew lingering flaws that could use some fixing for the new version that's likely coming out later this summer.
Why a bigger Galaxy Z Flip cover display is important
Before we delve into areas of the Galaxy Z Flip that deserve some extra attention from Samsung in advance of the Galaxy Z Flip 5 launch, let's look at what's potentially changing with the exterior display and why that would be good news. The current cover display is where notifications come up — you can see incoming calls and messages, or check the weather. Basically, it's like the always-on display for a more conventional smartphone.
But the cover display serves other purposes, too. If you want to take a selfie with the external cameras on the Galaxy Z Flip — they offer better resolution than the inside camera — that external screen can be a viewfinder that helps you line up your shot.
All these are excellent tasks, but performing them on a 1.9-inch strip is a little constrictive, especially when there's more room on the Galaxy Z Flip for a larger panel. Consider rival foldable flip phones like the Motorola Razr 2022. That device features a 2.7-inch screen that takes up nearly all of the front cover space. That gives you a lot more screen to work with (or so we would assume since Motorola has yet to release that version of the Razr over in this part of the world).
The rumored Galaxy Z Flip 5 change suggested by leaker Steve H. McFly (aka OnLeaks) has Samsung replacing the 1.9-inch cover display on the current Flip with a 3.5-inch panel. Not only does that mean more room for current tasks, it also raises the possibility of additional features coming to the cover display with the next version of the phone.
Other Galaxy Z Flip needs are more pressing
That's all well and good, but honestly, "your cover display is too narrow" would barely crack the top five of my complaints about the Galaxy Z Flip. Number 1, with a rapidly depleting bullet, would be the phone's battery life, or lack of same.
When we ran the Galaxy Z Flip 4 through our battery test, which involves setting the phone to surf the web continuously until it runs out of power, Samsung's foldable lasted lasted 8 hours and 33 minutes. That's nearly 1.5 hours less than the average smartphone.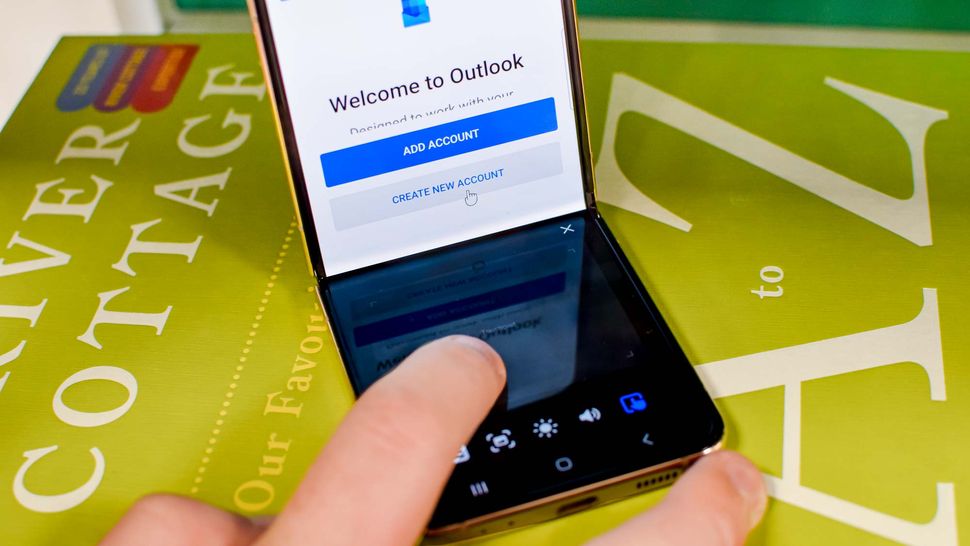 Samsung's going to have to do something about that, though the very size of the Galaxy Z Flip limits the phone maker's options. You wouldn't imagine there's much room to add a bigger battery than the 3,700 mAh power pack from the Galaxy Z Flip 4. Samsung may be relying on better power management from the Snapdragon 8 Gen 2 that's reportedly going to run the Z Flip 5, and that silicon did help boost the battery life of every Galaxy S23 model. Still, with a larger exterior display to keep powered up, Samsung's got some thinking to do to solve this problem.
Cameras area also an area of concern with the Galaxy Z Flip. The pair of 12MP lenses on the outside of the Z Flip 4 featured few changes from their predecessor while the Galaxy Z Fold 4 released at the same time saw a big improvement in its cameras. Apparently, those 12MP shooters will be back for this year's model, though the actual sensor could be larger, letting more light. We hope there's some improvement, because for $999, you should expect one of the better camera phones, folding screen or not.
Speaking of folding screens, a recurring problem with Samsung foldables is the visible crease that appears in the display where the phone folds in two. This is particularly pronounced on the Galaxy Z Flip 4 where you can actually feel the crease when you slide your finger over it.
Here's another flaw that Samsung could take care of with the Galaxy Z Flip 5, though. Reportedly, Samsung is replacing the hinge on the upcoming Flip with a "waterdrop" design. This approach means part of the screen essentially rolls inside of the phone when folded, which would make any crease look less noticeable.
Galaxy Z Flip 5 outlook
I'm not suggesting that Samsung is going to take a look at its current Galaxy Z Flip model, expand the exterior display a little bit and then call it a day in terms of improvements. I'm just pointing out that the exterior screen is just one part of Samsung's phone that needs improvement. If it's fixed with the Galaxy Z Flip 5, then great. But Samsung shouldn't stop there.
And I don't think it will. The competition to make the best foldable phones is heating up, with Google expected to show off its Pixel Fold this month. OnePlus could follow with a foldable device of its own in the second half of the year — right about when Samsung is ready to introduce the Galaxy Z Flip 5, according to some observers. With that kind of pressure, Samsung's going to need to eliminate a lot of cons on its foldables if it wants to stay competitive.
More from Tom's Guide