We've got good news! It's almost time to watch Ted Lasso season 3. The better news? Our own Ted Lasso season 3 review is live! We also have the first Ted Lasso season 3 trailer to go with the release date. Only problem, though, is that you're gonna get a little choked up when you watch.
And now, as we wait for Ted Lasso season 3 episode 3, we wonder what's going on with Roy and Keeley, as well as the impending season of play. How will the greyhounds fare?
Of course, it should be noted that spoilers for Ted Lasso season 2 follow below, but you already watched the finale, right? You've already gone on the emotional rollercoaster of that match? Well, since you have, let's dive right in — as we now have more information about the story of season 3 (one of our top picks for the new shows and movies to watch in March 2023).
While you wait for Ted Lasso season 3, be sure to check out the 7 best shows to tide you over until Ted Lasso season 3 begins. And we just got a new one: Shrinking.
Ted Lasso season 3 release date announced!
Apple announced the Ted Lasso season 3 release date of March 15, 2023! That said, Ted Lasso's premiere hit early, so check out our Ted Lasso season 3 episode schedule for more details.
Previously, The Hollywood Reporter reported that Apple intended to bring Ted Lasso season 3 to air by summer 2022. That said, things changed. Matthew Belloni at Puck News reported that a series of delays suggest a Spring 2023 release.
Apple (via social media) confirmed a spring 2023 release window when it revealed this first look at Ted Lasso season 3. Here, we see Nate and Ted looking at each other, while Rupert watches. Nate and Ted both show a bit of being hurt.
As noted above, Apple confirmed Ted Lasso season 3 before season 2 could even debut, back in October 2020.
That head-start likely gave the braintrust at Team Lasso the ability to start planning out and writing the new season early. But from the structure of AFC Richmond's season 1 relegation and season 2 promotion, it's safe to say that showrunner Bill Lawrence and his team have a plan.
Ted Lasso season 3 is the final season
As has been reported in various interviews, Ted Lasso season 3 has always been planned as the final season. Showrunner Bill Lawrence has always claimed that this next arc is the third act of a deliberately structured show, and so we should expect all of its stories to be resolved.
That hasn't stopped Brett Goldstein (Roy Kent) from joking about a potential fourth season. Giant Freakin' Robot quotes him as saying "I keep saying– I have said to Jason, season 4 could be 'Ghost Lasso,' where we carry on but Ted Lasso is now haunting the locker rooms and trying to inspire the players from the other side."
Ted Lasso season 3 trailer and teaser
The Ted Lasso season 3 trailer is very light on dialogue, but it shows a lot of what's going on with our favorites since we left. Nate's success hasn't led to happiness, Roy Kent and Keeley's love triangle with Jamie isn't over yet either.
In the below teaser for Ted Lasso season 3 we see the AFC Richmond crew work on their own versions of Ted's 'BELIEVE' sign. The clip ends with the news of Ted Lasso season 3's March 15 release date.
Ted Lasso season 3 reviews
Early reviews for the first four episodes of Ted Lasso have been especially positive. In my spoiler-free Ted Lasso season 3 review for Tom's Guide, I wrote that while I wasn't originally interested in spinoffs, the first four episodes may have softened me on that and "I think I would have a hard time saying 'no more Roy Kent,' even after I've seen the next eight episodes."
I also noted that "Sudeikis feels a lot more comfortable as Lasso, especially dwelling in the character's existential sadness. While Ted Lasso is primarily known for his humor and charm, the season is giving its star plenty of time to flesh out his more somber side."
At The Hollywood Reporter, Daniel Feinberg writes "Ted Lasso has become a show in which every character feels worthy of being the star of their own show — which is awesome in a landscape where many series don't have a single character worthy of anchoring a show — and every one feels as if they're only being half-serviced. This is amplified because the show's ostensible main character is in a rut that he partially understands and the show partially, frustratingly, doesn't."
At Collider, Carly Lane writes "Ted Lasso's third season feels like a reward for the fans who stuck it out through the high highs and the low lows of Season 2. It doesn't immediately promise that the road ahead will be an easy one; as we've learned, sometimes there can be such a thing as too much positivity, or a willingness to pretend the hard times don't exist for the sake of maintaining optimism."
Ted Lasso season 3 cast speculation
In Apple's press release announcing Ted Lasso season 3, it mentioned only the main cast members. So, we know to expect the core cast of Ted Lasso, with Jason Sudeikis as Coach Ted Lasso, Brendan Hunt as his right-hand man Coach Beard, Brett Goldstein as the gruff Roy Kent, Hannah Waddingham as the boss lady herself, Rebecca Welton, Juno Temple as Keeley Jones and Jeremy Swift as Higgins. And, yes, even Nick Mohammed as Nathan "Nate" Shelley.
That said, we expect to see most everyone else back too, starting with West Ham United's new owner Rupert Mannion (Anthony Head).
But the great news of season 2's finale is that we won't be lacking for Sam Obisanya, who stayed with the team. Toheeb Jimoh knocked it out of the park this season, and we expect to see a lot more of him in season 3.
Other returning cast members seen in the trailers are as follows:
Phil Dunster as Jamie Tartt, the star player who is proving unselfish
Kola Bokinni as Isaac McAdoo, the captain of AFC Richmond
Billy Harris as Colin Hughes, who is still working on his self confidence
Cristo Fernández as Dani Rojas, who remembered that football is life
Charlie Hiscock as Will (the kitman)
Creator Bill Lawrence has also confirmed that the show is bringing back Sarah Niles as Dr. Sharon Fieldstone and James Lance as Trent Crimm (now simply, independent).
While we expect to see more of Ellie Taylor as Rebecca's friend Sassy, Elodie Blomfield as Roy's niece Phoebe and Phoebe Walsh as Coach Beard's on-and-off-and-on-and-off girlfriend Jane, none of them seem as guaranteed.
We'd be shocked if Kieran O'Brien did not return as Jamie's abusive father James Tartt, though. Speaking of potential recurring characters, Sam Richardson could definitely return as Edwin Akufo, who wanted to hire Sam away from Richmond, but we're not sure how long his plan for Raja Casablanca will take.
Ted Lasso season 3 filming
Apple TV Plus announced on March 7 that Ted Lasso season 3 production had begun.
New season. New kits.@TedLasso Season 3 has started production. https://t.co/wKhlsAOppTMarch 7, 2022
If season 3 follows a similar schedule to season 2, filming will last about five months and post-production will take about four months. That would put the Ted Lasso season 3 release date around December 2022.
Ted Lasso season 3 plot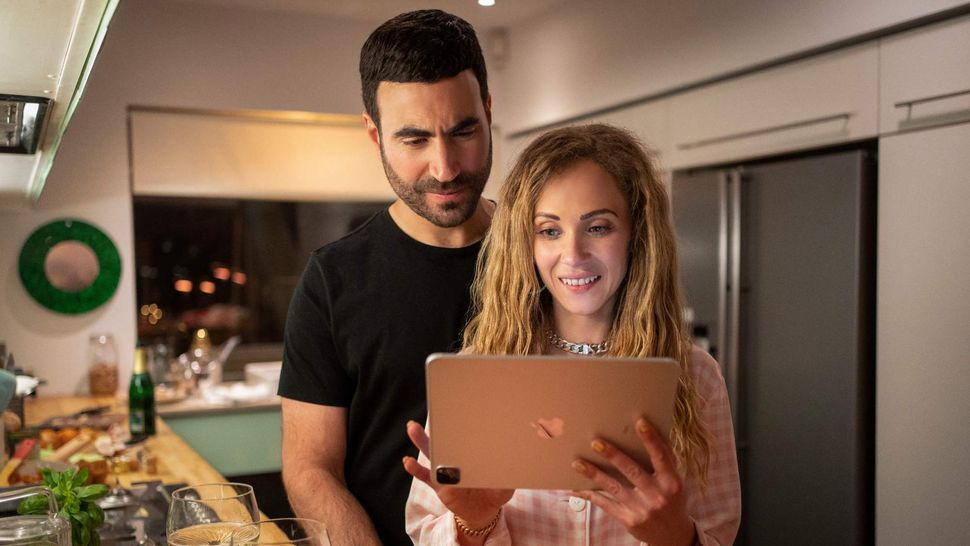 So, as the announcer team at Nelson Row mentioned, AFC Richmond is (now) a Premier League Team without a championship trophy to its name. It's likely time to change that, and that seems like the big picture for season 3. Also, expect Season 3 to be the end of Ted Lasso's story, as showrunner Bill Lawrence revealed this was the plan all along. Spinoffs, though, are possible (Roy Kent and Rebecca Welton seem like prime candidates to build a show around, if you ask us).
But let's backtrack a bit to how things ended in the Ted Lasso season 2 finale. First up, Ted brought his fight with anxiety to the public conversation, after Trent Crimm's expose in The Independent made it public knowledge. Coach Beard is (he thinks) back together with Jane. Higgins has his office back, and Rebecca's emotional about Sam staying. Sam and Rebecca (hi, Cheers fans!) are still on a break, and we wonder if they'll reunite.
One big thing floating in the air right now is that Roy and Keeley's relationship still seems slightly tenuous, as she keeps saying "I love you" and he keeps not saying that back. And one wonders how their relationship will change as Keeley's leaving Richmond and will have a whole new company to run.
The big overall story with Ted Lasso is that Rebecca's ex, AFC Richmond's former owner, Rupert Mannion is now the owner of West Ham United — and he's also hired Nathan "Nate" Shelley as some kind of coach. Their relationship is, visually, reminiscent of Emperor Palpatine (Rupert) and Darth Vader (Nate). Nate's story in season 2 has been a tale of ego and anger, which led him to betray Ted.
We're curious if Ted Lasso will try to redeem Nate. Season 1 ended with Jamie Tartt leaving the team, and he eventually rejoined the team in season 2, and now he's likable. Except when he told Keeley how he still cared about her.
Hunt has previously teased that the show may employ a bit of a time jump. He told TVLine, "We've never gone from the start of a season, so perhaps that's something we want to get to. And just by dint of how the schedule works in the English Premier League, we will play West Ham twice — home and away, because that's how it goes."
Want a refresher on what comes next for Coach Lasso? Check out our 5 big questions for Ted Lasso season 3.