Amazon launch event recap — Kindle Scribe, Halo Rise, Fire TV, Echo and more
Here's all the new Amazon products launched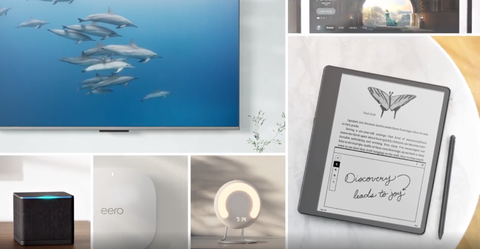 (Image: © Amazon )
Amazon has just announced a large lineup of new devices, ranging across Kindle, Ring, Echo, Fire TV, Halo and more. The company held a virtual briefing event on September 28th, and we relayed all of the information here on this live blog, which now features a recap off all the products you'll want to know about.
Though we didn't get much news on the Ring Always Home drone, which flies through your house when it senses a break-in, we did get some updates to Amazon Astro, a little robot with a telescoping camera that can patrol around your house. We also saw new products across almost all of Amazon's known hardware division. The most exciting devices, in our opinion, included the Kindle Scribe, Halo Rise and the Amazon Fire TV Omni QLED.
In addition, Amazon unveiled new Blink and Ring security cameras, new Eero internet capabilities, an updated Echo Auto, refreshes for the Echo Dot and Echo Dot with Clock, a new Fire TV Cube and a major update for the Amazon Echo Show 15.
This Amazon event felt like a kind of kick-off to the holiday shopping season and Amazon's Prime Early Access event on October 11 and 12. (There's also Black Friday, but we'll get to that soon enough). Most of the products announced at the event will be available for the holidays (if not earlier), so you'll be able to get them before the end of the year.
Amazon Event annoucements
Kindle Scribe: Kindle Scribe is a new e-reader from Amazon that you can draw on using a digital pen. It's designed for note-taking, journaling and drawing. It features a 10.2-inch display, and it comes with a pen that has a dedicated eraser and shortcut button.You can hand-write sticky notes and attach them to e-books, and there's a variety of templates, such as to-do lists. Kindle scribe starts at $339 (AU$549) with the pen, and it will be available this holiday season.
Amazon Halo Rise: Amazon Halo Rise is a new smart alarm clock that offers advanced sleep tracking. It can analyze your breathing patterns without contact, as well as the temperature, humidity and ambient light. The device uses lights to gradually wake you up in the lightest stage of your sleep, similar to a sunrise. You can see your sleep data directly on a nearby Echo Show device. Halo Rise is $139 (around AU$215) and will be available this year.
Echo Dot and Echo Dot with Clock: You now get better audio quality and up to twice the bass. Distortion has been reduced by up to 50%.For the Echo Dot with Clock, the display is now more useful. You can view artist names and titles, calendar events and more. An accelerometer lets you pause music, stop timers and answer or end calls. These Echo devices can even double as Eero Wi-Fi extenders. The new Echo Dot is $49 (AU$79) and the Echo Dot with Clock is $59 (AU$99). Both are available for pre-order today.
Echo Auto: Amazon also has a new and improved Echo Auto with a slimmed down design and an adhesive mount so you can stick it in more places in your car. It will connect to your audio system via Bluetooth or an audio jack, and five microphones will be better able to isolate your voice from road noises. The 2nd-gen Echo Auto will cost $54 (around $83); Amazon hasn't set a release date or preorder information, but you can sign up to get that info at Amazon.
Amazon Astro: Amazon's roaming robot is getting smarter. Caregivers will be able to get alerts, such as when a medicine cabinet has been opened. Customers can now add a new room without having to map their entire home. Astro can also learn about an object's place and state in your home, so it can alert you that a door was accidentally left open. Astro will be able to recognize your pets, such as dogs and cats, too, and also send you pictures and video to see what they're up to.
Ring Spotlight Cam Pro: The new Ring Spotlight Cam Pro uses the same radar technology that debuted a few years back in some of Ring's video doorbells. You'll get 3D Motion Detection, Color Pre-Roll, and Bird's Eye View, which will show on a map the tracks of people and objects the camera spotted. The Spotlight Cam Pro will be available in both Battery and Plug-In options for $229 (AU$354); the Spotlight Cam Pro Solar will cost $249 (around AU$385).
Ring Spotlight Cam Plus: The Ring Spotlight Cam Plus is an iterative upgrade to the current Ring Spotlight Cam. The biggest difference is that the new model will have an updated design, and will be available in four configurations — Solar, Battery, Wired, and Plug-in. It will be available soon, and start at $199 (AU$299).
Blink Wired Floodlight Camera: This is Blink's first outdoor wired camera. This new model is hardwired, so it has much more powerful lights — 2600 lumens, versus 700 for the battery-powered model — and on-device processing for features such as person detection. The Blink Wired Floodlight Camera will cost $99 (around AU$153), and will be available in the next few months.
Blink Mini Pan Tilt: This $29 (around AU$45) accessory for Blink cameras gives you a 360-degree viewBlink Wired Floodlight Cameras.
Echo Show 15 with Fire TV: The Fire TV experience is coming to the Echo Show 15 via a free update. This will make it easier to watch video on the smart display, whether it's the live TV or the latest episode of Rings of Power.
New Fire TV Cube: The new Fire TV Cube sports a more powerful octa-core processor, faster navigation speeds and Super Resolution upscaling for watching HD content in 4K. It also offers better audio quality, Wi-Fi 6e support and a rounder design. There's Ethernet and USB ports built in and an HDMI input port, so you can voice control you cable box. The new Fire TV Cube is coming October 25 for $139 (AU$219).
Alexa Voice Remote Pro: The Alexa Voice Remote Pro looks like a rival to the Roku Remote Pro. Some neat features on Amazon's remote are the Remote Finder feature, customizable Buttons, and backlighting to make it easier to see in the dark. It's available for pre-order today for $34.99 (AU$59) on Amazon's website.
Amazon Fire TV Omni QLED: Amazon's new Fire TV Omni offers a rich QLED display with support for Dolby Vision IQ and HDR 10+ adaptive for the best picture quality. It also has adaptive brightness. And with its built-in motion sensor, the TV can turn off when you leave the room and come back on when you come back. The Fire TV Omni can transform into an artist frame for artwork when you're not watching TV, so it's going right up against the Samsung The Frame TV. And yes it displays family photos, too. There's Amazon widgets as well, including sticky notes, weather, news and more. The new Fire TV starts at $799 in the US and is available for pre-order today. At present, the Amazon Fire TV Omni QLED has yet to be announced for Australia.
Refresh
So what do we expect to see this year?
Let's start with what won't be here: Last week, Amazon announced four Fire 8 HD tablets, which start at $100 and feature "Tap to Alexa," so you don't have to say the magic word to summon Amazon's voice assistant. All of them are available to preorder, and will ship in October. We're in the middle of testing them to see where they rank on our list of the best Amazon Fire tablets, and to see if any rate high enough for our best tablets picks.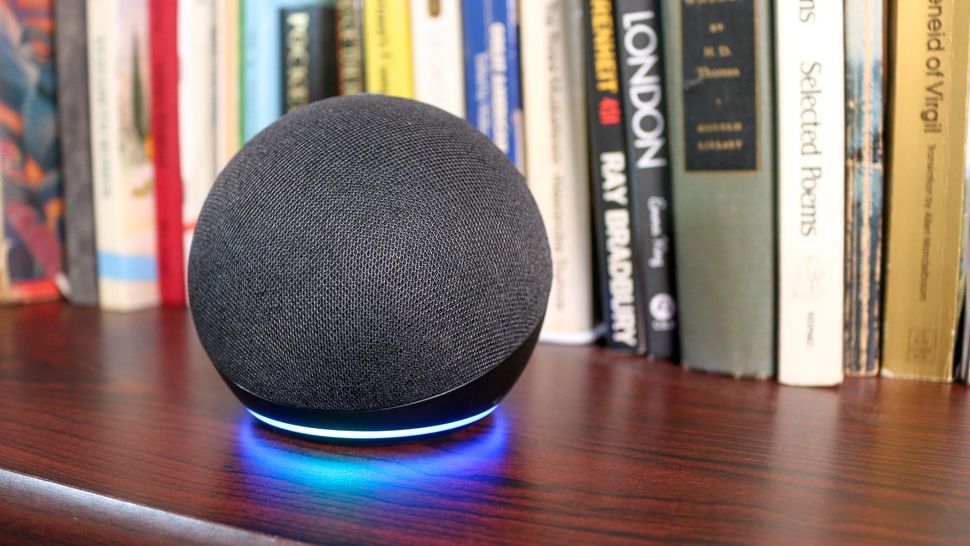 Will new Echo speakers be announced today? It's been two years since Amazon released the Amazon Echo (4th Gen) and Amazon Echo Dot (4th Gen), which are some of the best Alexa speakers and best smart speakers overall.
It's possible we'll see these popular smart home devices refreshed, though there's no telling what new features they could offer.
At past hardware events, Amazon has unveiled inventive devices through Day 1 Editions programs. A Day 1 Edition program is somewhat of a test run, with users able to request invitations to test out new products. Some of these products end up progressing to full availability, while others don't make the cut.
The two devices currently offered by invite-only through Day 1 Edition programs are the Amazon Astro robot and Ring Always Home Cam security drone. At today's event, we could get availability updates for both those products as well as announcements for new Day 1 Edition devices.
It's important to note that the Amazon event today is separate from the Amazon Prime Early Access Sale event taking place on October 11 and 12.
That said, it's possible some of the new devices will be discounted for the first time during the deals event, which is being dubbed the second Prime Day. At the very least, we should see older versions of Amazon devices go on sale as the online retailer clears stock.