Black Friday sales season has arrived, and I'm seeing some big discounts to take advantage of. One of the best headphone deals right now is on the newly introduced Bose QuietComfort Headphones, and they have just received their first price drop since they arrived last month as the replacement for the popular QuietComfort 45 headphones.
Right now, the Bose QuietComfort Headphones are just $249 at Amazon. That's a $100 off the full $349 retail price. Similar discounts can be found at Best Buy and Crutchfield.
Don't forget to follow my Bose Black Friday sales page to get the best discounts right now.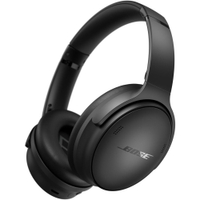 Bose QuietComfort Headphones: was $349 now $249 @ Amazon
$100 OFF! This is the the first price drop I've seen since we reviewed the updated QuietComfort Headphones model that launched in October. They come with enhanced sound, more features, and the same celebrated noise cancelation as their QC45 predecessor. The $100 Black Friday saving brings the headphones down to an all-time low price and deserves to be snapped up before the offer ends.
Price check: $279 @ Walmart
The new Bose QuietComfort Headphones were quietly ushered in to replace the popular QuietComfort 45, and boast many of the same hallmarks including companion app support with personalization, excellent active noise cancellation, and fantastic comfort. On top of that, they welcome improved sound along with several other updates in a modernized design — don't forget to check out our Bose QuietComfort Headphones vs. Bose QuietComfort 45 for a full side-by-side breakdown.
The number of changes isn't massive, but they are an outstanding update to a franchise that sets the standard for ANC performance on wireless headphones.
In our Bose QuietComfort Headphones review, we said the QC Headphones take advantage of new DSP changes, resulting in deeper bass and more natural sound. Bose's Active EQ is part of the QC Headphones sound architecture and automatically tweaks sound on the go. Bass is robust, vocals are striking, and highs are transparent. What will draw you most to the QC Headphones is the customizable EQ via Bose Music app that allows you to create and store your own sound profile by adjusting bass, midrange, and treble to your liking.
ANC performance is as strong as the QC45. You can choose from 10 different modes and assign an ANC level (1-10) to each one, which can then be favorited and selected when cycling through listening modes via action button. There's even a Wind Block for reducing wind presence.
Quiet mode does a great job of eliminating most incidental sounds across the frequency spectrum. They prevent everyday noises such as ambulance sirens to loud TVs from interrupting your listening. Aware mode is just as versatile. You'll hear high amounts of ambient noise loudly and clearly from several feet away, enabling wearers to keep an open ear on what's occurring in their vicinity.
Battery life is slightly higher on the QC Headphones. A full charge gets you 24 hours of ANC playtime instead, which isn't as strong as rivals like the Sennheiser Momentum 4 (up to 60 hours) and Sony WH-1000XM5 (30 to 40 hours). But it's better than the QC45, which capped at 22 hours.
Ultimately, $100 off on the successor to the Bose QuietComfort 45 is a great deal for the latest generation model of Bose noise-canceling headphones. It's a limited time Black Friday deal, and I recommend you grab it while you can.
For more headphone and wireless earbud savings, check out the best Black Friday headphone deals right now.