The holiday weekend is here, but before you check out for the holiday, there's one 4th of July sale that merits your attention.
For a limited time, you LG is taking 25% off select air conditioners via coupon "INDYRAC". That's one of the best air conditioners sales we've seen.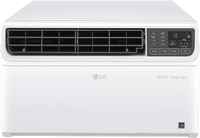 LG Air Conditioner sale: 25% off select units @ LG
Get ahead of the summer heat with this epic 4th of July sale at LG. Use coupon code "INDYRAC" to take 25% off select LG air conditioners. It's one of the biggest air conditioner sales we've seen from any retailer/manufacturer. Eligible models include the LW8016ER, LW1016ER, LW1217ERSM, LW1521ERSM1, LW2521ERSM, LW1222IVSM, LW1522IVSM, LW1822IVSM, LP0823GSSM, LP1021BSSM.
We haven't reviewed many of these models. However, we did test the LG DUAL Inverter air conditioner (LW1222IVSM), which gets our recommendation if you're looking for a quiet and efficient window unit. It has built-in Wi-Fi, so you can control it from your phone and with Alexa and Google Assistant. It's also more efficient and quieter than other air conditioners
In our LG DUAL Inverter Air Conditioner review, we said it's a much sleeker-looking unit than most window AC units. We also found that it cools efficiently and quietly, and it's not that much more expensive than non-smart units. We also like that you can control the air conditioner using Alexa and Google Assistant, which is handy for when you're in bed and can't find the remote.
The sale also includes portable AC models like the LP0823GSSM and the LP1021BSSM. For more ways to save, check out our guide to the best LG promo codes.