I cover lots of mattresses for Tom's Guide and I know that the Zinus Green Tea Luxe is a best-seller at any time of the year, but right now there's a brilliant saving in the Bed, Bath & Beyond Black Friday sale. You can get a queen size 8" Zinus Green Tea Luxe Mattress for just $156.60 (was $619.99). A queen costs $260 at Amazon and $519.99 on sale at Zinus, so Bed, Bath & Beyond definitely has the best Black Friday mattress deal so far on this affordable all-foam bed.
As a sleep writer I spend most of my time researching the best mattresses for different budgets and sleep positions, and I think the Zinus Green Tea Luxe punches above its weight when it comes to price versus comfort.
The original Zinus Green Tea is one of the best cheap mattresses in America, and this luxe upgrade adds more memory foam, more green tea and a breathable cover for cooler sleep. The Tom's Guide Zinus Green Tea Memory Foam mattress review found that the original had good pressure relief, so I believe the extra features of this luxury model will boost all that contouring comfort.
While Zinus is selling the Green Tea Luxe at a higher price, there are some drawbacks to this Bed, Bath & Beyond Black Friday deal: you only get 30-day return period compared to a 100-night sleep trial at Zinus. The 10-year warranty remains the same though. Even still, I think this is an excellent saving and it's unlikely you'll be able to score a best-selling queen size mattress for under $200 quite so easily again.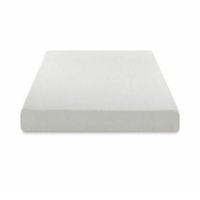 Zinus 8" Green Tea Luxe Memory Foam Mattress
Was: from $389.99
Now: from $129.87 at Bed, Bath, & Beyond
Summary: With more memory foam, more natural green tea, and a new breathable knit cover, the Zinus Green Tea Luxe Memory Foam is a huge upgrade from the brand's original model. The new features focus on fixing faults that our reviewers found in the original Green Tea bed when we reviewed it for our best memory foam mattress guide. The original bed, for instance, tended to trap heat, so the new 7-Zone Ventilation System and breathable cover boosts airflow for a cooler sleep. While Zinus sells the mattress in four different thickness levels, this deal focuses on the (cheapest) 8" model. While side and front sleepers should fare well with this pressure-relieving, medium-firm bed, heavyweight sleepers should avoid as it does not support those over 250lbs.
Benefits: 10-year warranty | Free shipping and returns
Price history: Currently, Bed, Bath & Beyond has knocked up to $443 off the 8" queen size Zinus Green Tea Luxe, while Zinus has only reduced it by $100, saving you just 16%. Amazon is selling same size mattress for much less than Zinus, but the price is still higher than Bed, Bath & Beyond's deal at $260 for a queen. In my opinion, this Bed, Bath & Beyond Black Friday sale offer on the Zinus Green Tea Luxe is too good to miss, so if your in need of a budget-friendly mattress, now is a great time to buy this Zinus best-seller.
How long do memory foam mattress last for?
While innerspring beds and hybrids have coils, which have a tendency to wear down and cause sagging and noisy creaking, memory foam mattresses can last up to 10 years on average – but certain factors play a part in this decent lifespan. As we explain in our feature looking at how long memory foam mattresses last, there are things you can do to extend its life.
For example, clean and rotate your memory foam mattress twice a year. I'd also recommend investing in one of the best mattress protectors to keep the foam free from stains, dust mites and bacteria.
You can learn how to keep your memory foam mattress clean by checking out our guide on how to clean a mattress. Cleaning and airing your mattress will help to keep it fresh and free of stains and mold. You should also regularly wash your bedding to prevent sweat, dust mites and bacteria reaching your mattress.