I've been using my keyboard for exactly a year, and I love it. While I've never been a huge snob when it comes to PC peripherals, I believe my current choice is one of the best wireless keyboards out there.
Right now, the Logitech MX Keys Mini is on sale for $89 at Amazon. That may only be a $10 savings, but I'd happily vouch for this product at full price. For UK readers, the deal is significantly more attractive, as you can buy the Logitech MX Keys Mini for just £64 at Amazon — normally it goes for £109.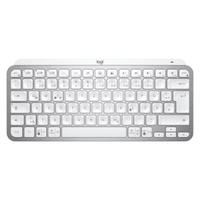 Logitech MX Keys Mini: was $100 now $80 @ Amazon
Logitech's wireless membrane keyboard can connect to MacBooks, iPads and Windows PCs over Bluetooth. With backlighting enabled, it can go at full power for 10 days without needing to be charged. The MX Keys Mini has customizable Fn-row keys, and it can be paired with three separate devices over Bluetooth at any one time.
While it's been 'mastered for Mac', I use my MX Keys Mini on a Windows 11 PC and it works perfectly. If you're an Apple user, you'll be glad to know its iOS-friendly layout works on both the best MacBooks and the best iPads.
Previously, I used a beast of a mechanical keyboard (the SteelSeries Apex 5 Hybrid). This wired mammoth had some cool RGB illumination, but it devoured desk space. I much prefer my membrane little Logitech.
When I typed on my old keyboard, the constant clicking and clacking were louder than that bit where the T.rex makes the glass ripple in Jurassic Park. By contrast, the MX Keys Mini still gives good click; it's just nowhere near as noisy.
Like my last board, it also lights up when you type. The MX Keys Mini even has proximity sensors that detect when your fingers are about to touch it, which is both mildly futuristic and a touch gimmicky.
I generally like the LED features on this board, though on particularly sunny days it can make seeing the keys a little trickier — thankfully you can switch this feature off if you'd prefer no touch-based lighting.
The main selling point of the MX Keys Mini is right there in the name: this is a small keyboard. Its minimalist design makes it both attractive and highly portable. I also find it works well for my weirdly specific setup.
I work across a colossal L-shaped desk and I constantly nudge my keyboard from side to side while writing on both an Alienware AW3423DWF QD-OLED gaming monitor and an LG C2 OLED TV. Hey, I told you it was specific. Regardless of how weird that sounds, I find the MX Keys Mini is a good companion to my dual-screen home office setup.
There are other things I dig about the MX Keys Mini. I like its 'Perfect Stroke' keys — they feel tactile and responsive. I'm glad I don't have to waste a USB port on this board — it wirelessly pairs over Bluetooth, and connection has always been rock-solid for me. I also like the fact that I can't remember the last time I had to charge it; Logitech claims it can go five months between charges if you turn backlighting off.
The Logitech MX Keys Mini is a great keyboard that I'd give the thumbs up to regardless of whether it was on sale or not.
If you're in the mood for more PC-centric savings, be sure to check out our best Prime Day laptop deals. And see our Prime Day deals live blog for lots more sales.