You don't need to wait for Sony's Project Q handheld to arrive later this year, because there's another option available. The Backbone One is a PS5 controller for your phone, letting you play games that are streamed from your home console. Not only is it available now, it's also been discounted for Prime Day.
The Backbone One is now just $69 on Amazon, which is $30 off the usual price — though it's only valid on the iPhone model. That means you can stream games from your PS5 right now, and not have to wait for Sony's rumored standalone model.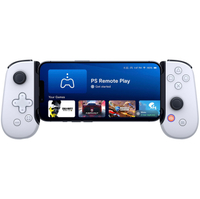 Backbone One iPhone Controller: was $99 now $69 @ Amazon
Turn your iPhone into a handheld gaming machine with the Backbone One, which supports streaming from PS5, Xbox Series X/S and PC. All without the hassle of using Bluetooth controllers, and for a fraction of what Sony's Project Q is rumored to cost.
Price check: $79 @ Walmart | $99 @ Best Buy
PlayStation Remote Play is nothing new, but in the past you needed to connect to a controller via Bluetooth. Essentially you were playing a game on a tiny TV, whereas controllers like the Backbone One turn your phone into something akin to a Nintendo Switch — a proper handheld for playing the best PS5 games.
All you do is plug your phone into the case, and set up the PS5's Remote Play system. There's no meddling with Bluetooth to pair the controller, or finding somewhere to prop up your phone, just plug in and play. And for a fraction of the cost of what the Project Q PS5 handheld is rumored to cost.
Backbone One also works with app games that have controller support, as well as games streamed from an Xbox, PC, or Xbox Game Pass. There's also a 3.5mm headphone jack for your headset, and a USB-C port that supports pass-through charging.
Finally, the Backbone One comes with a 1-month free trial of Backbone Plus, which seems to be trying to be like Discord — acting as a hub to connect with friends, screen record and recommend new games. Thankfully, you don't need a paid subscription to continue using the controller.
Be sure to check out the Xbox Series X deal for the lowest price ever and our Prime Day deal live blog for the biggest sales you need to see.