Fire tablets tend to be known more for their value than their performance power, but Amazon is looking to change that perception with the Fire Max 11. And lucky for us, the Fire Max 11 just got its first ever price cut just in time for back to school sales.
The Fire Max 11 tablet is $189 at Amazon right now. This is the first ever sale for the Fire Max 11 tablet, meaning it's hit its lowest price ever. This is the most premium tablet currently available from Amazon, so it's perfect for anyone looking to upgrade from an older Fire tablet model.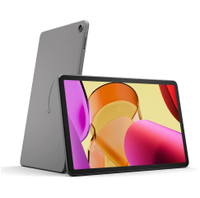 Fire Max 11 tablet: was $229 now $189 @ Amazon
Lowest price: The Fire Max 11 tablet is the best Fire tablet you can buy. It has a bright 11-inch 2K (2000 x 1200) display, 2.2GHz octa-core Mediatek MT8188J CPU, 4GB RAM, and 8MP cameras on the front and back. USB-C charging and a MicroSD card slot are also included. In our Fire Max 11 review we called it Amazon's new top-tier Fire tablet. The Fire Max 11 tablet is at its lowest price ever right now.
In our Fire Max 11 tablet review, we called this device "Amazon's best Fire tablet yet" and praised its bright screen, long battery life and premium build quality. FireOS is still an annoyance for anyone not married to Amazon's ecosystem, but if you are, it's pretty much the best tablet around.
Running on the Mediatek MTK8188J processor, the Fire Max 11 is well-equipped for everyday tasks like streaming and browsing the web. Simple games like Stardew Valley also ran well, but more demanding titles streaming through Amazon Luna were sluggish.
The Fire Max 11 also has the largest, highest-resolution display of any Fire tablet. It reached a peak brightness of 544 nits of brightness in our tests, covered 105.6% of the sRGB color gamut and achieved a Delta-E score of 0.2. This bright, color-accurate display makes it a great device for watching videos and movies.
This tablet also packs great battery life. We got 13 hours and 45 minutes of life out of our unit, which is longer than the iPad (10th gen) and the Google Pixel Tablet.
Our biggest issue with the Fire Max 11 is the operating system it runs on — FireOS. This is Amazon's custom version of Android, which doesn't allow access to the full Google Play app store. Notable apps like Gmail, YouTube and Google Docs are unavailable on this device.
The Fire Max 11 is at its lowest price ever right now, so snap this deal up if it's the tablet you want. If you're more of an Apple fan, check out our iPad deals coverage.