New Gear You Missed At PMA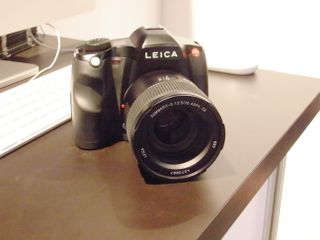 Leica S2
Admittedly, this camera is likely to be most people's "win-the-lottery" camera choice. The new Leica S2 Digital SLR will turn more than one head when you take a picture with it.
Like so many cameras carrying the Leica brand, the S2 will not come cheap. Pricing was not yet set at the time this article was written, but do not be surprised if the camera body alone retails for around $30,000. So, what do you get for this largess? The S2 is a 37.5 megapixel camera, with a sensor measuring 30 mm by 45 mm. In other words, the S2 has a medium-format sensor in a body roughly the same size as that of a 35 mm camera with the motor drive attached. The body is armored in the same manner as the Leitz binoculars.
Initially, Leica will only ship four lenses to attach to the body. These S-series lenses will range from a 28 mm wide-angle to a 180 mm telephoto. Undoubtedly, there will be other lenses, but we will have to await their announcement.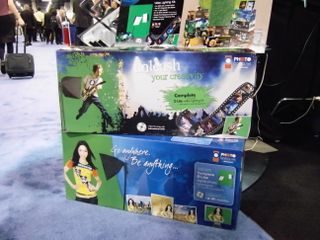 F. J. Wescott Lighting Kits
F. J. Wescott Company has offered lighting solutions to the professional photo and video markets for several years. Now, it has introduced a lighting solution so effective and simple that even a kid can use it.
The uLite Video Lighting Kit and the uLite Digital Photo Lighting Kit provide the photographer or videographer with light stands, soft boxes, photo-flood lights, green screens, royalty-free video clips or digital images, and an educational DVD. Aimed at the educational market, these two kits provide the budding photographer with the opportunity to create his or her own professional-quality digital images or videos.
Using software such as iMovie on the Mac or Adobe Premier Elements on the PC, your children could be well on the way to showing classmates that they did, in fact, spend their last vacation touring the lunar craters.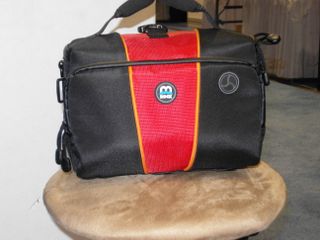 M-Rock Camera Bags
M-Rock Camera Bags has solved small problems for many photographers throughout their careers. We probably change camera bags and totes more often than our cameras and are always on the look-out for the best way to protect our investments.
M-Rock has eliminated that annoying little flap over the bag's zipper. Intended to protect the zipper in inclement weather, that flap always seems to bind up just when you are about halfway through zipping up the bag. The new M-Rock bags have weather-proofed zippers to solve that problem.
But, let's say that you couldn't avoid a rain shower during an outdoor shoot and you need to change a lens. The M-Rock bags have a little "raincoat" attached to a lanyard in the bag. This raincoat will permit you to shroud your camera and lens while you are switching lenses. And after you have made the switch, you can clean the replacement lens with a lanyard-attached cleaning cloth.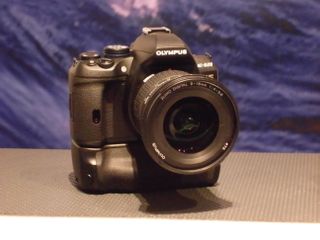 Olympus E-620 IS
Olympus is once again filling out the E-Series line of digital SLR cameras. Olympus introduced the E-620 IS at the 2009 PMA trade show. Filling out the line between the E-520 and the E-30, the E-620 offers several interesting features.
The E-620 can be tethered to your computer so that you can use the Live View feature. What you point the camera at is what you see on your PC's monitor. But if you don't want to tether your camera, use the articulated 2.7" LCD monitor on the back of the camera. The E-620 uses the Olympus 12.3 megapixel Live MOS sensor and is equipped with image stabilization.
Use that monitor to check out what the six Art Filters can do for your image. We especially like the grainy filter, with which images in black and white can have the appearance of Tri-X or Tmax 3200 film pushed several stops.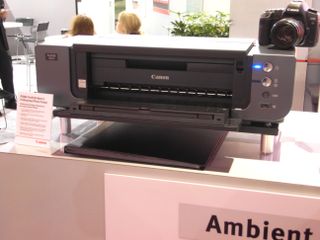 Canon PIXMA Pro9500 Mark II
Canon introduced the PIXMA Pro9500 Mark II printer at PMA 2009. This logical follow-up to its previous version, the Pro9500 Mark II, uses 10 pigmented inks from Canon's Lucia ink-set to create images. Be sure you like the picture you print out on this printer–Canon has stated that if printed on the right paper, the prints should be around for at least 100 years.
Utilizing a three-picoliter ink drop, the Pro9500 Mark II can print photos on paper up to 13" by 19" in size. The maximum resolution is 4800 DPI by 2400 DPI, while black-and-white images are just as easy to print out as color images are (other printers require you to switch to new inks for black and white).
The Pro9500 Mark II will run on both Macs (Mac OS X 10.3.9 or more recent) and PCs running on Windows Vista, Windows XP, or Windows 2000. Along with the usual Canon software that ships with the printer, the printer also comes with Adobe Photoshop Elements 6.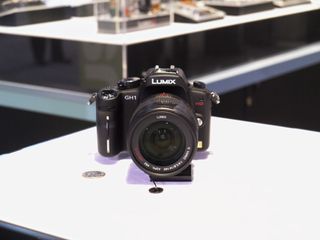 Panasonic GH-1
Panasonic has been making great strides in the digital SLR market with the introduction last year of the G-1. And at this year's PMA 2009, Panasonic followed that introduction with the GH-1. The GH-1 is a 12.1 megapixel camera with a Live MOS four-thirds sensor. The sensor lends itself to capturing 1080p HD video at a full 24 frames per second (FPS). The camera ships with the VARIO HD 14-140mm/F4.0-5.8 ASPH lens that allows for continuous auto focusing for the video capture.
This lens is the equivalent of a 28 mm–280 mm lens on a 35 mm format camera. You can view the images this lens captures on the 3", articulated monitor.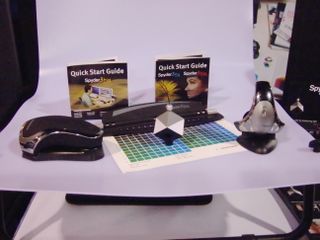 DataColor SpyderCube
Since the advent of color photography, photographers have had to adjust their images for color temperature by making use of a gray card or color checker of some sort. Historically, these have consisted of various color and black-and-white paint chips or some form of printed material. Datacolor has introduced its new SpyderCube to assist the photographer with a durable, permanent test source.
The SpyderCube is spectrally neutral so it can accurately respond to all lighting conditions. It provides the photographer with reference values to verify and adjust RAW images. It accurately adjusts for shadow and highlight details, both indoors, outdoors, and in a studio.
When used in conjunction with other Datacolor products, the SpyderCube gives the photographer complete control of his or her shoots. The SpyderCube is priced at $59.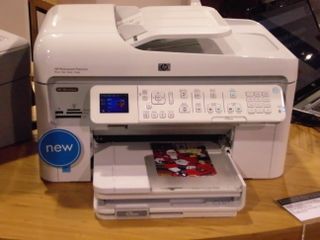 Hewlett-Packard Photosmart Premium
Photo printers are nothing new, and even all-in-one printers are old hat. But HP has just come out with the Photosmart Premium Fax All-in-One, which provides you with photo-quality pictures without taking up desk space with a scanner or fax machine.
The Photosmart Premium can send and receive color and black-and-white faxes without your computer being turned on. It is equipped with a 50-sheet document feeder and can fax and scan two-sided documents.
It can print from Bluetooth devices, such as your cell phone or PDA, or use the built-in wireless or Ethernet connectivity. Photo prints can be generated in as little as 17 seconds, depending on size, with maximum sized prints up to 8 ½" x 11". Street price is expected to be around $299.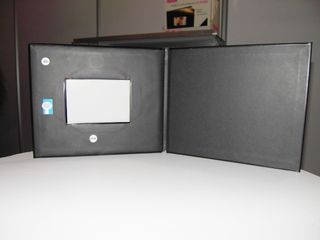 Unibind Books
Launched at this year's PMA 2009, Unibind's Photos N Sounds product is a photo book that allows you to record a personalized voice message, stored in the cover, and then have that recorded message play whenever you touch the play button. You can record your message as many times as you want before you lock the message in and then you can record new messages up to 500 times. Put together a compilation of images of the new grandchild or wait for baby's first words and then send it to the grandparents. Update that message as the baby grows.
The Photo N Sounds photo book comes with replaceable batteries and the cover is available in a selection of colors.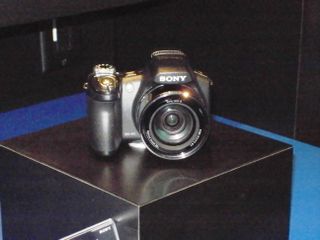 Sony DSC-HX1
Sony Electronics just introduced the Cyber-shot DSC-HX1, a 10 FPS, 20X-zoom 9.1 megapixel camera. It is equipped with one of Sony's G-series lenses with glass usually associated with Sony's digital single-lens reflex cameras. The lens contains spherical lens elements that are made from ED (extra-low dispersion) glass. This glass is best at minimizing chromatic aberration, which can be a common problem with high-magnification lenses.
The DSC-HX1 is equipped with a CMOS sensor and has a 3" LCD monitor on the back of the camera. It is capable of utilizing the full 9.1 megapixels at the 10 FPS rate. The camera also permits the photographer to create panorama shots of up to 220 degrees in one continuous sweep. If you have a steady hand, you can easily sweep from horizon to horizon and capture the entire scene.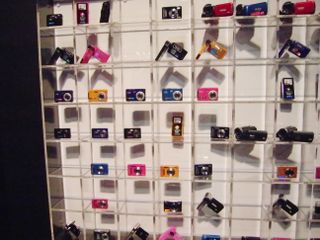 Sakar-Vivitar V8025
Selling a new line of digital cameras under the Vivitar brand, Sakar-Vivitar has introduced the Vivitar V8025 Digital Camera line of cameras. Aimed at the youth market and available in a wide variety of vibrant colors, the V8025 is equipped with an 8 megapixel sensor, an unexpectedly powerful 8X digital zoom, and a 2.4" touch-screen LCD monitor.
The slim design permits an easy shirt-pocket fit. Have a small case you aren't using for your MP3 player? Put the V8025 in it. The camera stores images on SD flash memory cards. The V8025 comes with image stabilization and a face/smile detection capability. The camera will help you double check whether it can take the smiling face of your subject before you actually take a picture. The V8025 also features the Pictbridge direct-to-printer technology, which enables you to print out your images without using your computer.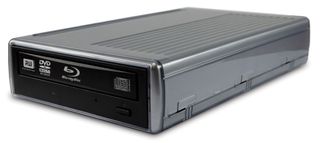 Other World Computing Mercury Pro Blu-ray Drive
Other World Computing (OWC) has announced a new-and-faster Mercury Pro 8X Blu-ray drive for burning movies at home. The 8X speed permits the user to write discs at up to 2 GB per minute.
The Mercury Pro 8X is a "quad-interface" device. That is, you have a selection of connectivity options, including FireWire 400 and 800, USB 2.0, and eSATA. The device is both Mac and PC compatible. The Mercury Pro 8X can also write DVDs at 16x speed and CDs at a 32X speed.
For an idea of the capacity available to you with a Blu-ray burner, you could store up to 50,000 JPEG images or 17,000 MPG files or 25 DVD movies. The Mercury Pro 8X is available with or without the full version of Roxio Toast.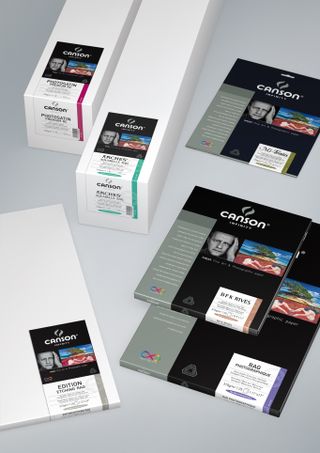 Canson-Infinity Platine Fiber Rag Paper
Photographers who have experienced working in a darkroom and printed their own black-and-white or platinum prints will never forget the look of those selenium-toned or glowing platinum images. Many of those same photographers undoubtedly believed that the look of the photographic papers used in those processes was lost to history. Canson Infinity has introduced Platine Fiber Rag paper with a micro-porous coating to enable the paper to be easily used on a regular inkjet printer. This gives digital images the look and feel of an F-type baryta fiber paper. Baryta is barium-sulphate, which is a clay-like material that is applied to a fiber-paper substrate. For those photographers who are concerned about how long their prints will be around for, the Platine papers are built to last. They are 98 rag and are compatible with pigmented and dye inks. The inks will dry instantly, are water resistant, and offer a pure white without optical brightening The papers were developed to meet gallery and museum longevity requirements, meaning they are internally buffered to resist gas fading and are acid-free certified to avoid paper degradation. Welcome back to the good old days.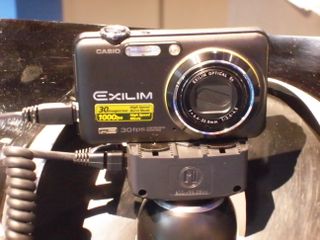 Casio EX-FC100
Casio has been a major player in the consumer digital camera market since its inception. It comes as no surprise that the company has once again introduced new cameras at PMA, one of which is the EX-FC100. A 9.1 megapixel camera, the EX-FC100 is both compact in size and filled with useful features. The camera is equipped with a CMOS sensor and a 5X optical zoom lens. It makes use of a 4X digital zoom and captures JPEG as well as AVI and Motion JPEG files that can be stored in internal memory or on either SD or SDHC flash memory cards. The camera has an ISO range of ISO 100 to ISO 1600. The EX-FC100 can record HD movies at 30 FPS. It can also create still images in high-speed burst mode at 30 FPS. And, if you have sufficient storage capacity in the camera, you can even use the high-speed movie feature and capture movie images at 1,000 FPS.