12 Innovative Solar Technologies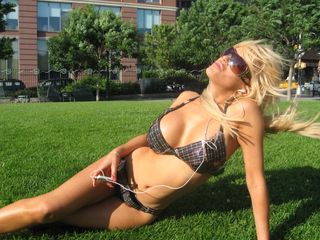 One charger, two pieces
The Solar Bikini, created by American designer and performer Andrew Schneider, is not the most practical of swimwear. It doesn't look all that comfortable to wear, probably won't turn you into a fashionista on your next beach vacation, and swimming in this creation is pretty much out of the picture. However, it will come in handy for recharging your iPod poolside, thanks to its USB outlet that is connected to the network of 1x4 inch photovoltaic cells that cover the suit. It is with this creative and fun-loving spirit that its inventor has already imagined its successor – a swimsuit for men named iDrink, which allows the wearer to generate enough energy to chill a beer.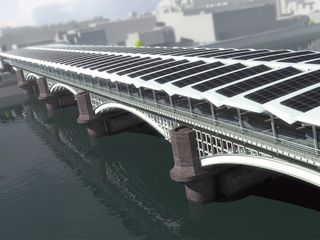 A solar facelift for an old bridge
The city of London is in the process of giving Blackfriars Bridge, constructed at the end of the 19th century, a 21st century facelift. This Victorian-style bridge, situated not far from the center of the city, will be equipped with more than 6000 photovoltaic panels – making it the largest "solar bridge" in the world. With the new bridge producing an expected 900,000 kWh of electricity every year, it will be be able to meet about 50% of the needs of the new Blackfriars station, which will be receiving similar renovations.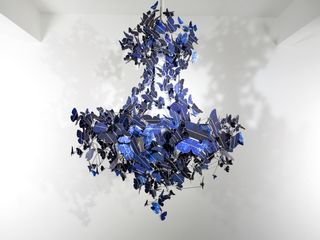 Swarm of butterflies
Virtue of Blue is a creation from Dutch design studio Demakersvan which will be exhibited in the Blain Southern Gallery next spring. This chandelier, with relatively imposing dimensions (1.44 x 1.44 x 1.62 meters), is made up of more than 500 butterflies made out of photovoltaic cells that produce enough energy to light up the entire fixture. Using butterflies as a design element was not a random choice: according to the designers, the surface composition of a butterfly's wings allow the insect to absorb the rays of the sun, thus maintaining its necessary body temperature.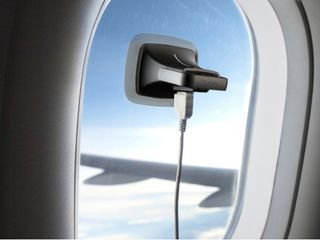 A very sticky charger
This solar charger could be used pretty much anywhere (it measures 7 cm on each side) and would be very useful for recharging most small electronic devices (cell phones, portable music devices, etc.). It's originality resides in the fact that it is equipped with a suction cup that sticks pretty much anywhere – the window of a car, plane, etc. It is being sold online for about 28 Euros on the communication development site, Quirky.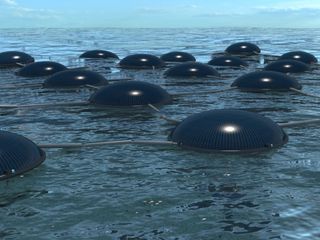 From the sun and the waves
Phil Pauley is a naval architect and designer, but he's also interested in renewable energy. In fact, most of his more recent studies rely on the concept of Marine Solar Cells. This hybrid system, destined to be installed in a multitude of offshore "solar farms", generates electricity from both the energy created by the natural movement of waves, and also from the rays of the sun, which can be augmented up to 20% by reflecting off of the surface of the water.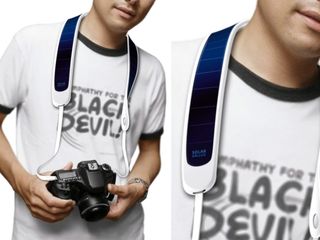 Sun in the shoulder strap
This concept seems so practical that it's hard to see why companies haven't been using it for ages. From the imagination of Chinese designer Weng Jie comes this camera strap, which is covered with flexitble photovoltaic cells that charges two camera batteries that are situated on the ends of the strap.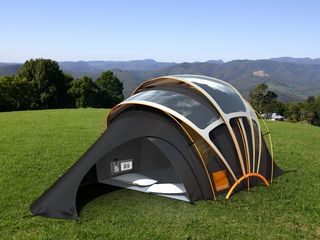 Camping of the future?
Exhibited for the first time in 2009 at the famous Glastonbury Music Festival, the "Solar Concept Tent" is the future of camping, according to it's creator, Orange. This tent was created with eco-friendly festival-goers in mind: It is equipped on the outside with multi-stage solar panels, which generate enough energy to light and heat the tent at night, and to charge various electronic as well.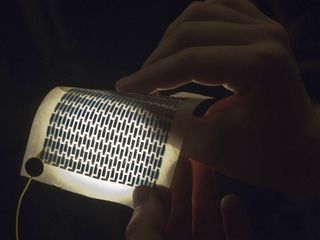 A mini solar panel printed on paper
During July of 2011, a group of researchers and students at Massachussetts Institute of Technology (MIT) working in the domain of solar energy revealed their latest invention: the ability to print solar cells on a piece of paper. Before the impression process, the paper is completely ordinary (you can even recycle it after you're done using it). The procedure of turning it into a solar panel requires depositing five rounds of vapor onto the paper in a vacuum chamber. (See video)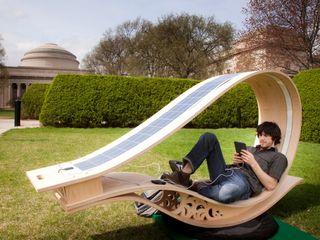 A rocking chair with a new eco-look
Under the direction of Sheila Kennedy, professor in the Practice of Architecture Department at MIT, a group of students have developed a new type of outdoor rocking chair. Soon to be installed on campus, the Soft Rockers are individual work or leisure spaces that are include outlets capable of charging any electronic devices that you may need (laptop, phone, etc.). Energetically self-sufficient, each Soft Rocker is equipped with photovoltaic cells and a system that uses the movements of the rocker to charge the batteries hidden inside it.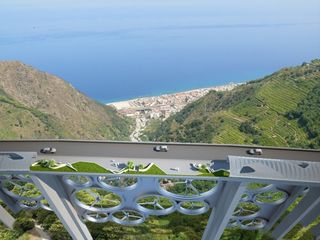 The bridge between solar and wind
During an architectural design competition - the goal being to renovate an old viaduct in Calabre, Italy - a team of designers (Francesco Colarossi, Giovanna Saracino, and Luisa Saracino) came up with the concept of the Solar Wind Bridge Project. As it's name would imply, they combined solar and wind energy: the team inserted 26 giant turbines of different sizes between the piles of the bridge, and then integrated photovoltaic cells directly onto the surface of the road. According to the designers of the project, this newly renovated bridge would produce a total of about 47 million kWh, which would supply about 15,000 homes with electricity.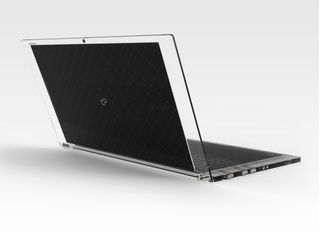 Built for autonomy
This project, from Italian industrial designer Andrea Ponti, was part of the 2011 Fujitsu Design Competition. This laptop is mostly comprised of two polycarbonate solar panels that supply enough energy to for the computer to run. According to its designer, the idea came to him during an earthquake that affected Japan a few years ago – it made him realize that it was necessary to develop equipment that is electrically self-sufficient.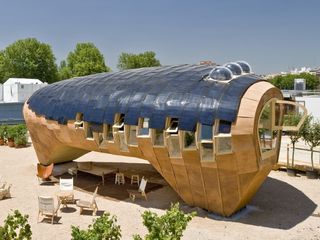 What is that?
It's neither a contemporary art sculpture, nor the wreck of a boat washed up on shore, nor a giant pig that has lost its hooves and its head. It's a UBO (Unidentified Bronze Object) that is officially called FabLab House. This 100% eco house was created by the IAAC (Institute for Advanced Architecture of Catalonia) in collaboration with the MIT CBA (MIT Center for Bits and Atoms) and the Fab Lab Barcelona. Designed to house a family of 4, it is made entirely out of wood and has a "coat" of solar panels that make up the roof.