20 Tips and Tricks For Your iPod Touch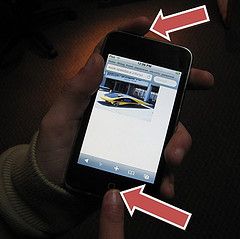 Copy Screen Shots To A PC
Perhaps you'd like to send your latest wallpaper to your best friend or maybe you just want to keep a record of your funky backgrounds. Or, you're running out of battery power and want to prove to your friends that you just beat their all-time high score in hangman. Luckily, it is easy to take a screenshot of whatever is displayed on your iPod Touch. First, press the power button while simultaneously holding down the home button until you hear a camera shutter sound. Next, browse to your photo application to see your screenshot. Finally, with your iPod plugged in to your PC, browse to My Computer, double-click the iPod icon, right-click on your screenshot, select Copy, and then browse to the desired folder and right-click and select Paste.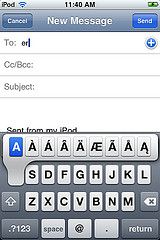 Umlauts On Your Keyboard
Umlauts are those two nifty little dots (or accents) that appear above vowels in German and other languages. They are not default characters on the iPod touch keyboard, but you can make them appear. To do this, touch and hold down the letter on the keyboard. An array of accent marks will appear. And yes, your beloved umlaut will be standing proud in the list. This functionality appears in every app that also has a keyboard. If this doesn't get you excited about umlauts, we don't know what will.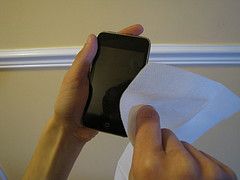 Clean Your Touch Safely and Cheaply
If you could see the germs on your iPod Touch under a microscope, you might never pick it up again. Like anything we humans get our hands on, oil and grime can build up on the Touch. Not only is it full of germs, but when the screen gets dirty, visibility is also impaired. The good news: there is a safe and scratch-free way to clean your iPod. You'll need a standard glass cleaner (non-ammonia-based), and a special glass-cleaning cloth to make sure you don't scratch the screen. After all, a scratch on the screen is like a crack in your windshield—sooner or later, you'll want to replace it. Your local vision care store or pharmacy will likely have eyeglass cleaning cloths as well; these work great too. So save yourself the hassle and clean your iPod Touch on a regular basis. You'll be germ free and be able to see clearly at the same time.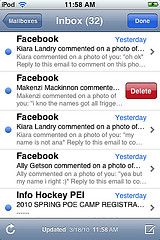 Clean Out Your Inbox
If you're like me, you have a huge list of emails bombarding your inbox every day. If this is the case, even the quickest email operations, like deleting a message, can become time consuming. But deleting your messages in two easy steps is far more productive than opening a message, touching the delete button, and then going back to your inbox and finding the next message you want to delete. The quickest way to get rid of an email message is to swipe your finger across the message listed in the inbox, and then touching the delete button that appears on the message. BINGO! Message deleted on the spot.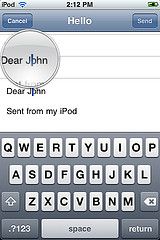 Move Your Cursor Inside a Message.
Surprisingly, not all iPod Touch users we encounter know that there's an easy way to add words or correct spelling within an e-mail, text, or note. Hold down your finger anywhere in the message area and a magnifying glass appears. You can move the cursor with precision anywhere in the body of the message. To place the cursor, simply release your finger. Without the magnifying glass, it is nearly impossible to place the cursor exactly where you want it.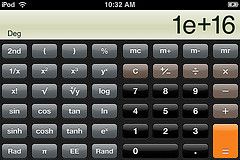 Get Smart With A Scientific Calculator.
What device or software doesn't have a calculator these days? Let's face it--using a calculator simplifies solving numerical problems, which can come in handy many times per day. The iPod Touch takes math a step further by building in a scientific calculator. If you need to carry out advanced mathematical operations, or figure out the SIN, COS, or TAN, of anything, all you have to do is turn your iPod Touch sideways and a scientific calculator will appear before your eyes. Now you can attempt complex formulas until your mathematical heart is content. But that doesn't mean you have permission to use the scientific calculator during a test!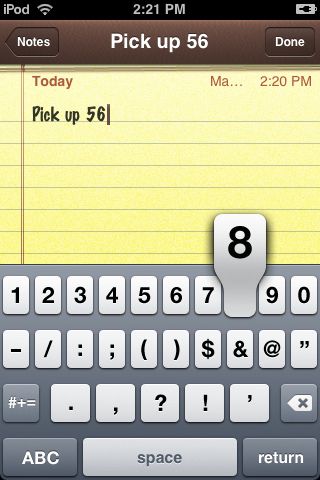 Type Numbers While On the Letters Keyboard.
Technology is getting easier to use everyday. But when you have to jump from screen to screen to type a message, technology can feel annoying. If you're one of those people that can't stand going back and forth between keyboards, the designers of the on-screen keyboard have taken you into consideration. This tip especially useful when you need to type a mix of letters and numbers: Simply touch and hold the numbers button and slide your finger to the number or symbol that you need, and then release it. The screen instantly reverts back to the letters screen. But take note--this does not work in the reverse order (numbers to letters).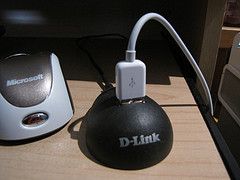 Charge Your iPod Touch Anywhere.
Because the iPod Touch attempts to sync when it is connected to a computer for charging, you might think that your home machine is the only machine that can provide it with power. Not so. If you can get access to any USB port that is getting power from a host device, you can charge your iPod. Look for printers with USB ports, laptops, PDAs, smartphones, and even video game consoles. Plug your sync cable into these ports and it will begin collecting juice. You can also purchase power adapters designed specifically for iPods, which makes the whole world your oyster, er, outlet.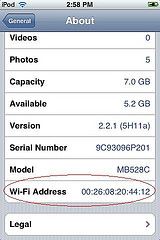 Connect to Wi-Fi At Home Every Time
If your iPod Touch does not automatically connect to Wi-Fi in your home, check to see if MAC (media access control) filtering is configured on your router. If MAC filtering is enabled, your iPod Touch's MAC address must be in the list of MAC addresses in your router's software, otherwise, your Touch will not connect to the Wi-Fi in your home. Find your iPod Touch's MAC address (or Wi-Fi address) by browsing to Settings > General > About. You might have to scroll down the page to find the address, which will look something like this: 00:00:00:00:00.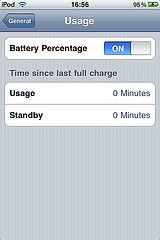 Enable the Battery Percentage Toggle (Illegal Jailbreak)
If you're itching to know exactly what percentage of power remains in your battery, and you don't want to use heavy, complicated jailbreak applications like SBSettings or SupremePreferences, you can still enable the battery percentage toggle with a lightweight tool . Take note, however, that this works only when your iPod Touch is jailbroken. We are not encouraging you to do this, since it voids your warranty and goes against Apple's terms of use. However, the process does exist. If your iPod Touch is already jailbroken, you probably won't mind these few steps that will help you to achieve your goal. With the battery percentage switched to ON, you can view the usage or standby time used since your last full charge. This also enables the Usage menu item on the General page.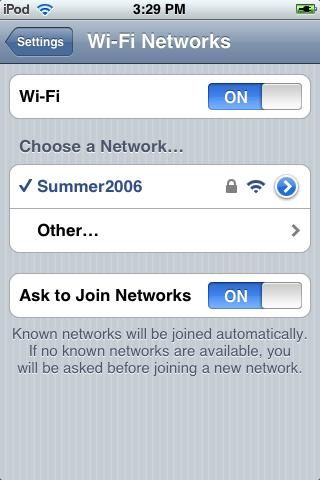 Turn off Wi-Fi and SSH when not in use.
There are times when you cannot charge your iPod Touch. These can include long drives in the car, long-haul flights overseas, or when there's no accessory power on the desert island you're stranded on. But there are ways to conserve battery power so you can get more use from your iPod Touch. One of the best ways to do this is by turning off Wi-Fi or SSH (secure shell); both are battery drainers because they are always looking for active connections, so if you're not using them, why not turn them off to save battery power? To turn of Wi-Fi, touch Settings > Wi-Fi Networks, and then select OFF next to Wi-Fi. If you have SSH installed, you can turn it off in the Services application. The Services application also allows you to turn off your Wi-Fi connection without having to go into settings.
1.
2.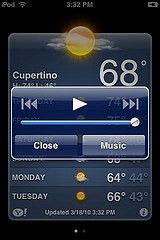 Load Mini Music Menu Without Exiting An App
What's worse than having to exit an app just so you can pause or switch songs? It can be truly annoying. But try this: let's say you are using the iPod's Safari browser, and are nine pages deep into your Google query. The song you are listening to is distracting you from your research, but you want to listen to the song later. All you need to do is touch the home button twice, and it brings up music controls! These min-controls include previous track, play/pause, next track, volume, and Go To Music. This trick even works when your iPod Touch is locked.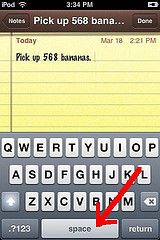 Insert a Period and Space, Quickly
Picture yourself sitting on the train, putting the finishing touches on a presentation you have to make at work that morning, but your stop is next. There are only a few sentences to go, but have no fear, the iPod Touch is here. Learn tricks like this and you just might have enough time to get the job done. Quickly insert a period and a space at the same time at the end of sentences by double-touching the spacebar.
3.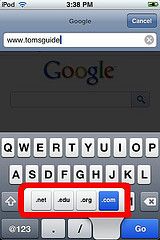 Web Shortcuts: Leave Out Extensions
Did you know that you don't have to type URL extensions (.com/.org./.net) every time you type in an address? If you type www.cnn, for example, and touch Go, Safari knows you want to go to www.cnn.com, and you are effortlessly whisked away to CNN. This is only helpful, however, when Google is your main search engine; not Yahoo. But wait, there's more. What about when your URL does not have a .com extension? No problem; simply touch and hold the .com button and the iPod Touch will offer you an array of the most common URL extensions. This is a great time saver that boosts productivity, ease of use, and enjoyment.
4.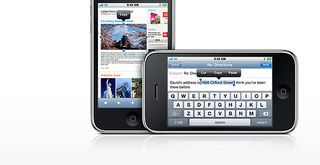 Cut, Copy, and Paste Text.
iPhone firmware versions below 3.0 did not include the copy and paste feature. But the iPod Touch community spoke up and the designers listened. If you are creating or editing a document or email and you want to copy a term and paste it into Safari, for example, just touch and hold the word that you want to copy. At this point, you press Select Word, and then touch Copy or Cut. To paste your word into Safari, touch and hold your finger where you want to paste it and touch Paste, and Presto. But alas, if you're running firmware from before version 3.0, you'll have to resort to third party applications like Pastebud or iCopy to get your copy and paste fix.
5.
Resume Videos Where You Left Off
You are watching your favorite movie on your iPod Touch and the doorbell rings. It's your Aunt Mary and she's just won the lottery, so she's taking you with her to pick up the cash. But on the way to the lottery center, you realize that you didn't pause your movie and you'll have to try and find your spot when you try to watch it again later. The chances of this happening are slim to none—leaving your iPod running on the couch because your aunt won the lottery, that is. But chances are good that you'll need to save your spot in a movie on the iPod Touch, so here's how you can do it: when you're watching your movie, simply touch the screen to bring up the movie controls. If you want to pause your movie, touch the pause button. If you want to save your spot in the movie, touch the Done button and your movie progress will be saved until the next time you watch the movie again. While it's not quite as good as winning the lottery, this feature is golden if you're a movie buff.
6.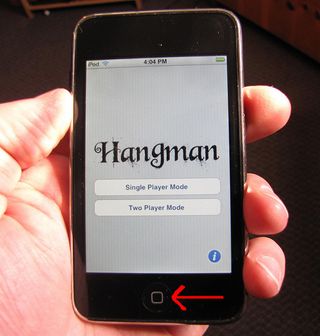 Fully Exit An App To Save Power.
When you exit applications on the iPod Touch, some of those applications stay active in memory, which, believe it or not, drains your battery. But there is a way to completely exit any application and save battery power before the next charge. You can accomplish this by touching and holding the home button for approximately five seconds. If you run several applications at the same time, both you and your battery will be thankful for this tidbit. Keep in mind however, that if you were playing your favorite game of TIC-TAC-TOE, your clever moves will be wiped when you completely exit the application.
7.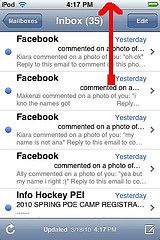 Zoom To The Top Of Any Page.
Scrolling is a great feature in any application, but when you're on a device the size of an iPod Touch, scrolling can get old, fast. Here's a tip you can use to save your fingers from doing the walking. When you are looking at a long list of email messages, for example, and you're three quarters the way through the list, you can touch the thin bar at the top of the screen (the one with the Wi-Fi connection, time, and battery indicators) and you'll instantly be back at the top of your message list. You can also do this in Safari. Be careful, however, not to touch other buttons just below the thin bar or you'll end up outside of your app, altogether!
8.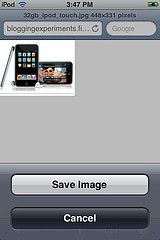 Save Any Image Found in Safari or Mail.
Simply touch and hold the image in your mail or in Safari for a few seconds and a menu will appear giving you the opportunity to save the image. To view your image any time, navigate to your photo application.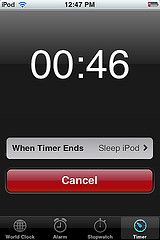 Set The Sleep Timer.
Do you like to fall asleep listening to music? The iPod Touch has a built-in timer feature called Timer that will put your iPod to sleep after a designated period of time. To configure this, touch the Clock icon on the main screen and then touch the Timer button on the lower right of the screen. Next, touch the button that says "When The Time Ends" and touch the Sleep iPod button. Finally, click the Set button and then scroll through the hours and minutes to set your time and touch the Start button to begin the countdown. You can also cancel the timer at any time during the countdown. The timer can also act as a simple time keeper with different sounds to alert you when your time is up.