8 Reasons Not to Get a Galaxy S8 Right Now
Why You Won't Want the Galaxy S8 Right Away
The Galaxy S8 is finally available for pre-order, and we don't blame you for wanting to pull the trigger on buying Samsung's latest phone.
But while the Galaxy S8 and S8+ both sport stunning designs, a neat virtual assistant in Bixby and lots of impressive tech packed inside, there are plenty of reasons to delay getting either phone or to go in another direction. From the high price to concerns over software and safety, here are seven reasons to hold off on buying a Galaxy S8.
Credit: Tom's Guide
It Costs a Lot
There's no getting around this: The Galaxy S8's price is too damn high. Samsung's new phone will run you at least $720 (on Verizon), which is $70 more than both the iPhone 7 and the impressive new LG G6. You can find last year's still-excellent Galaxy S7 for as low as $570. Want the bigger Galaxy S8+? Get ready to spend at least $840.
Credit: Verizon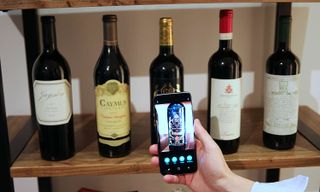 Bixby's Missing Its Best Feature
One of the cooler things about the Bixby digital assistant on the Galaxy S8 is its ability to follow voice commands to carry out tasks like adjusting settings, texting photos and other things that might require too many taps. Or at least, that will be one of the coolest features once it actually becomes available. Samsung says the voice control features on Bixby won't be available at launch; instead they'll arrive in a software update later this spring.
Bixby won't be totally powerless when the Galaxy S8 arrives. You'll still be able to use its Bixby Vision feature to identify objects with the S8's camera. Other Bixby features like Reminders and Home will available, too. But if you're keen on controlling your phone with your voice, you may want to delay that S8 purchase until Samsung comes through with the promised update.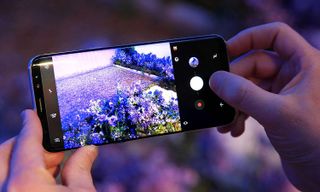 No Major Camera Updates
Samsung makes some of the best smartphone cameras in the business, which makes it all the more disappointing that the S8's shooter feels stuck in the past. (Check out a sample photo captured with the S7 Edge to the right.) While the LG G6, iPhone 7 Plus and Huawei P10 all feature dual-lens cameras (which allow for better zoom and depth of field), the S8's camera is more or less identical to the single-lens shooter on the Galaxy S7, save for a few software tweaks that promise to improve image quality.
That's not entirely a bad thing — the Galaxy S7 was our favorite camera phone of 2016 — but it does mean that the S8's camera could soon feel very outdated, especially with new iPhones and Google Pixels coming this fall. At least early indications suggest the improvements Samsung made to image processing on the Galaxy S8 have paid off.
Credit: Tom's Guide
Its Coolest Features Cost Extra
The Galaxy S8 can control your smart home and morph into a desktop PC, but only if you pay extra. While the phone comes loaded with the new Samsung Connect app, you'll need to buy Samsung's Connect Home (which serves as both a router and smart home hub) to use the app with any third-party smart-home gadgets. We're still waiting to hear how much the Connect Home will cost.
The same goes for the DeX (pictured here), which is a $150 dock you'll have to buy in order to use the Galaxy S8 as a desktop computer. At least it works well.
Credit: Tom's Guide
Awkwardly Placed Fingerprint Sensor
There's one major casualty of the Galaxy S8's nearly borderless design: The phone's fingerprint sensor is now awkwardly placed on the back of the phone, right next to the camera. In addition to making fingerprint logins less seamless, this could also cause you to accidentally smudge the S8's camera lens.
Credit: Tom's Guide
There Are Lots of Great Android Alternatives
The Galaxy S8's high price wouldn't be as big of an issue if there weren't so many great Android alternatives to choose from. The $650 LG G6 (pictured) is similarly sleek and has a huge, colorful screen that supports HDR content, one of the big selling points of the S8. The Google Pixel is still a great buy with a great camera and arguably the best AI, in Google Assistant. And devices such as the $439 OnePlus 3T and $229 Moto G5 Plus prove you don't have to pay a ton for a great Android experience.
Credit: Tom's Guide
Android Update Woes
As is the case with most non-Google Android phones, getting a Galaxy S8 means not knowing exactly when you'll get the latest Android updates. Heck, some Galaxy S7 owners only just recently got Android 7.0 Nougat, which first started rolling out in August 2016. Plus, you might have to wait extra long for updates if you get the Galaxy S8 unlocked.
Credit: Tom's Guide
Samsung's Battery Reputation
After the infamous Note 7 battery debacle, Samsung is promising customers that all Galaxy S8 units go through a rigorous eight-point safety inspection to avoid the same explosive fate. Still, shoppers have (literally) been burned before, so you might want to wait a few months to make sure that the that the S8 is truly as safe as Samsung says it is.
Credit: YouTube