Despite the fact that we now have enough bandwidth for video calls and even more will be available when Wi-Fi 7 rolls out later this year, texting and messaging apps are still the way most of us communicate.
Typing out a message feels more natural than getting on a video call or even picking up the phone — something that fewer and fewer people are willing to do. I'm guilty of this myself but as a writer, I love putting words on the page to the point where I often go over the 160 character limit when sending text messages.
Although workplace chat apps like Slack and Microsoft Teams have been out for a while, I never really had a chance to use them before. Sure, I used Google Chat from time to time back at my last job but for the most part – we primarily communicated via email. That all changed when I joined Tom's Guide and finally got a chance to try out Slack for myself.
The constant notifications and urge to check Slack to make sure I haven't missed anything far outweigh the service's best feature in my opinion and now, I wish every messaging app would let me do the one thing Slack does really well.
The collaboration feature I wish every messaging app had
Launched back in 2013, Slack (which actually stands for Searchable Log of All Conversation and Knowledge) is one of the most popular workplace chat apps thanks to its collaboration features.
One such feature is the ability to edit messages and responses after you send them. If you've ever accidentally said something incorrect, misspelt a word or made a grammatical error, Slack lets you quickly go back and edit what you said. It's a small thing but it makes a world of difference — especially for a writer like me.
If you didn't know this feature is here, it's actually really easy to use. If you want to edit the last message you sent in a DM conversation or channel, just tap the "up" arrow, and you'll open the last message. Alternately, hover over a message, and select "Edit message." Then, click return or 'save' and you're done!
The reason Slack lets you edit messages is simple: it makes collaborating with your coworkers easier as you don't overthink before sending a message since you can always go back and edit it later.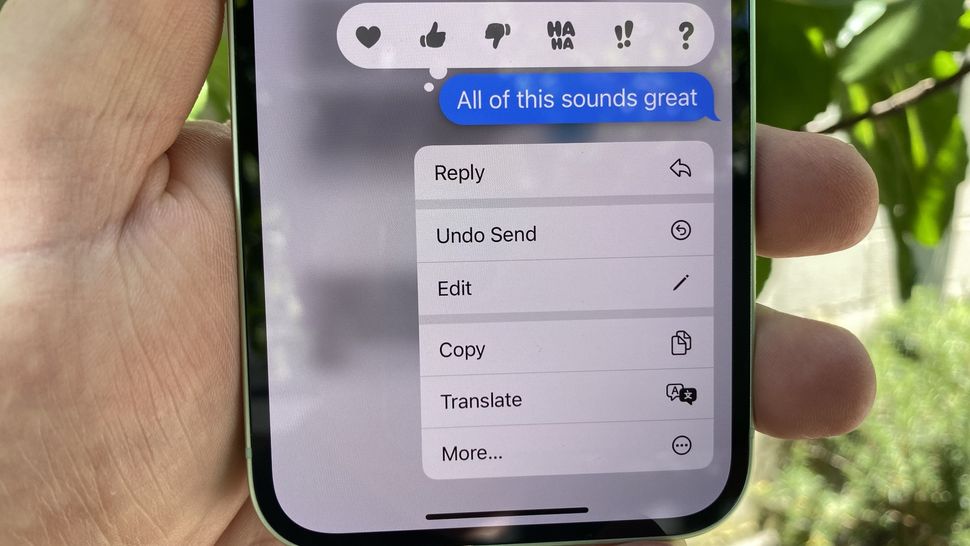 Now though, I wish every messaging app had this feature. Staying in touch with my friend group (which has people all over the world) means relying on Facebook Messenger. After using Slack for the past year though, I often find myself trying to go back and edit my messages in Messenger before remembering I can't — I'm not at work. That awesome joke you just told in the group chat just doesn't land the same way when there are typos or errors and unfortunately, and there's nothing you can do about it.
The same can be said for text messages on most phones (but iOS 16 now lets you edit them after they've been sent). While you only have 15 minutes to do so, this is more than enough time to fix a quick typo. Unfortunately, I've been using Android since I got my first smartphone and I just don't see myself making the switch from Android to iPhone anytime soon.
These apps do let you edit messages
If, like me, you want to edit your messages but use one of the best Android phones, there is hope as an increasing number of messaging apps now also let you edit your messages after you've sent them.
While Facebook Messenger doesn't, WhatsApp rolled out an update in September of last year that allows you to edit messages. Just like in iMessage, you simply hold down on a message to edit it. While the person on the other end will be notified that you edited a message, they won't be able to see exactly what changes were made.
Although it's known as a messaging and video chat service for gamers, Discord also lets you edit messages. To do so, you just long press on your message and select edit message. However, once you're done editing your message, it will appear with (edited) at the end.
If you want to keep your communications secure while also being able to edit your messages, Telegram is your best bet. Like with the others, you tap and hold then select edit to fix your typos or mistakes. Signal is another one of the best encrypted messaging apps but instead of allowing you to edit messages, you can only delete them for your or everyone just like with Facebook Messenger.
While there are several options out there if you want to be able to edit messages after you've sent them, good luck getting all of your friends and family to switch to a new service. I've tried but unfortunately, all my iPhone-owning friends prefer to text though I still worry about going over my text limit even though that hasn't been a thing for years.