Google has quietly revealed that it will end support for some of the best smart displays as the search giant shifts focus to its own devices instead.
According to a support article on how to use the now-defunct Google Duo on a smart display spotted by 9to5Google, the company says that it will no longer update third-party smart displays from Lenovo, JBL and LG.
Without new updates, Google notes that "this could impact the quality of video calls and meetings." However, as the proud owner of one of these no-longer-supported smart displays — the Lenovo Smart Display — I doubt anyone ever actually used them for video calls due to being forced to use Google Duo.
I picked up the 10-inch version of the Lenovo Smart Display when it was first released and to this day, it's one of the three smart home devices I can't live without. It sits prominently on a countertop in my kitchen and I've found its larger display is perfect for watching YouTube videos or looking at my photos in Google Photos.
Even though Google won't be sending out any more updates to my Lenovo Smart Display, I plan on using it for as long as I can.
Filling the gaps left in Google's smart display lineup
Before Google released its own smart display in the form of the Google Home Hub (which was later rebranded to the Google Nest Hub), there were only third-party smart displays with Google Assistant from the company's hardware partners.
Lenovo, LG and JBL were tasked with making the first smart displays using Google Assistant which were designed to go head to head with the original Echo Show. Despite leading the charge for the search giant as it looked to take on the best Alexa speakers, these third-party smart displays are being abandoned in the same way that many of Google's best products have been in the past.
Even when the Nest Hub made its debut, its 7-inch display just couldn't hold a candle to the 10-inch Lenovo Smart Display. Its large size made it much better at being a smart home hub than a device designed for your bedside table.
Besides its large display and equally large speaker grill, the 10-inch version of the Lenovo Smart Display also had something else going for it — the bamboo paneling at the rear. Sure, you might not even see it but it was something that truly set this device apart from the competition at the time and this still holds true today.
While I've since picked up an Echo Show 15 which I've mounted to the wall near the door to my garage, the Lenovo Smart Display has remained a central fixture in my kitchen. In addition to being able to easily access YouTube on it, one of the main reasons I still prefer it to the Echo Show 15 is that Amazon's largest smart display doesn't play videos when mounted vertically — even with the recent Fire TV update installed.
I also now own a Nest Hub Max which I have under a monitor in my office. However, even though it has a 10-inch screen too, the speaker grill to the left of the Lenovo Smart Display and its larger bezels still make it feel like a much bigger device, which is perfect for in the kitchen.
Pixel tablet to the rescue?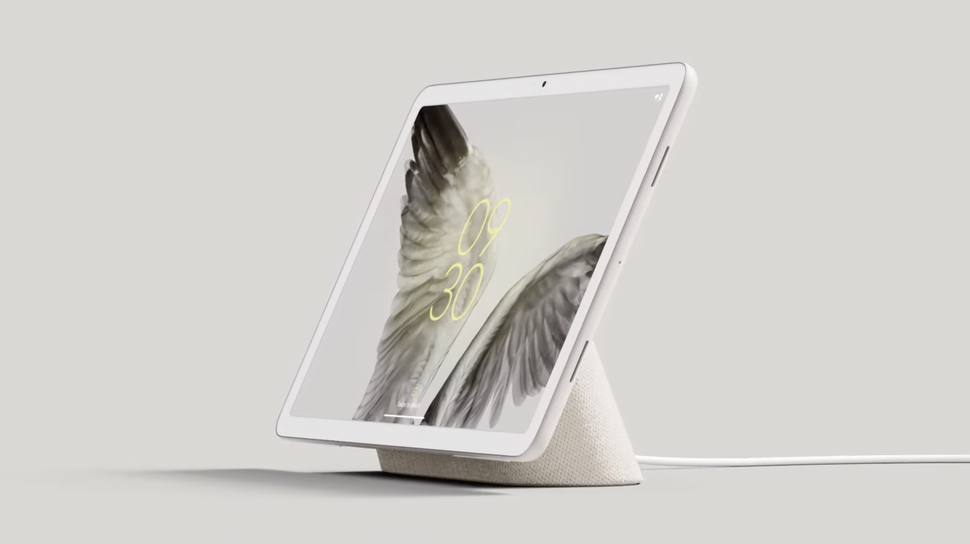 While I plan on using my Lenovo Smart Display for as long as utterly possible, Google does have a plan for a larger smart display — but there is a gimmick involved.
As the best Android tablets just don't seem to be flying off the shelves like they used to, the search giant plans to offer a combined tablet/smart display hybrid with its new Pixel Tablet. Unlike other smart displays which remain immobile, this new device will sit on a dock when being used as a smart display but you can also pick it up and use it as a tablet.
For most people, this will likely prove far more useful but for someone like me that has a home filled with the best smart home devices, I'm concerned. Adding a battery and all of the other things a smart display needs to be a tablet will surely drive up the price. When you want to have smart speakers or even smart displays in every room of your house, this added price will make it difficult to build out a DIY smart home on a budget.
With the economy being the way it is and smart home device fatigue setting in, Google's pivot with the Pixel Tablet makes sense. But for me, I still prefer a wired smart display that stays in place, especially now that I have a one year old running around my home.
We'll have to wait and see if the Pixel Tablet will actually deliver but we will hopefully get a much better look at the device and its capabilities at Google I/O 2023 in May. Even then though, my Lenovo Smart Display and others like it from JBL and LG did help pave the way for Google's smart displays as well as the upcoming Pixel Tablet.
More from Tom's Guide