Tuft & Needle has got off to an early start with its 4th of July mattress sale, and it's looking like a strong option if you're in need of a whole new bed. Right now you can save up to $700 when you buy its new Mint Hybrid mattress along with its Wood Frame, and while you're there you can get some new bedding with up to 50% off too.
The Mint Hybrid sits at the top of the T&N range, but with 15% off in the sleep brand's 4th of July Super Sale it's that all-important bit more affordable. And there's 20% taken off the price of T&N's Wood Frame, which means that both bought in a king size will tot up savings of around $700.
Tuft & Needle is just one of a number of sleep brands to have their 4th of July mattress sales up and running in advance of the big day. It's already possible to make worthwhile savings on many of our best mattress picks, and we don't expect prices to go any lower on the 4th of July, so our advice is to buy now and beat the rush so that you can make the most of the holiday.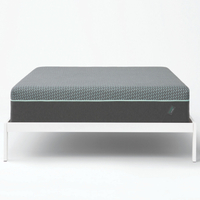 Tuft & Needle Mint Hybrid mattress: was $1,395 now from $1,185.75
This luxurious hybrid model combines two layers of coils for support and motion isolation, as well as contouring foam for pressure relief. It has a medium-plush feel that T&N says will suit all sleep positions, but we'd recommend to side sleepers in particular. The current deal knocks 15% off, which means a queen size will now cost you $1,695.75.
The Mint Hybrid is an excellent choice if you tend to get hot in the night; its foams include gel and graphite to help dissipate heat, plus, excitingly, micro diamonds (read: tiny diamond particles), which again help move heat away from your body as you sleep. Two layers of coils – big and mini – help keep air circulating within your mattress, and they also deliver support while preventing unwanted motion transfer.
It's also T&N's softest mattress, which makes it a great choice for side sleepers because it provides sink-in support for shoulders and hips. But if you tend to sleep on your back or stomach you may get on better with one of its firmer models, such as the Essential T&N Original Mattress which has a firm feel and 15% off, getting you a queen size for $796. Find out more about it in our Tuft & Needle Original mattress review, or see the rest of the current bargains on T&N's sale page.
Unlike many sleep brands, Tuft & Needle doesn't have mattress sales going on throughout the year. Once its 4th of July sale is out of the way we're unlikely to see another T&N sale for a while, so if you if you have an eye on one of its beds and want to get the best price, order now and avoid disappointment.