The one thing science fiction has always promised is that eventually robots will do our bidding. And while we don't have a C-3P0 or R2-D2 in every home, we do have some of the best robot vacuums able to take on at least one of your weekly chores.
That means we're always on the lookout for deals on our little robot friends to make the purchasing decision a little easier if you need one to help out in your own dwelling. The good news is iRobot's Roomba i4 EVO is nearly half off at Amazon right now in a seriously tempting pre-Black Friday deal.
At just $209 this just about the lowest we've ever seen it and this deal will save you a not-inconsequential $190. As one of the biggest robot vacuum makers, iRobot's Roomba vacuums tend to stand out from the crowd, so we're always interested when these deals pop up.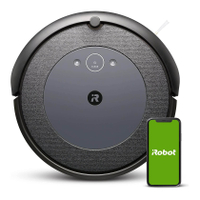 iRobot Roomba i4 EVO: was $399 now $209 @ Amazon
This robot vacuum offers all of the smart features you would expect, but for a great price. It will detect dirtier areas of your floors and clean those spots more thoroughly as it works. Plus, it's smart enough to make suggestions for your schedule too, such as recommending more vacuuming during pollen season or when pets are more likely to shed. It's currently at its lowest price ever.
The iRobot Roomba i4+ is on the cheaper side of the company's offering, but that doesn't mean it skimps on the features. It can be controlled by an app as well as with Alexa and Google Assistant, so you can create a schedule, connect it to your smart home devices and then just bark orders at it whenever the mood takes you.
We haven't tested this exact model but its little brother, the Roomba i3+, excelled at most of our tests with the only point of concern being how it handled pet hair. Otherwise, these robots are great little cleaners that can tackle both carpet and hardwood flooring by automatically adjusting height and suction power as required. There's a HEPA filter on board as you'd expect.
Because it learns your cleaning habits, it knows when to ramp up the vacuuming; for example during allergy season or when your dog is at its shedding stage and making a mess of the carpet.
It employs a Dual Virtual Barrier Device, which lets you mark out areas for it to avoid in case you don't want it going certain places. And, considering this is one of the best reductions we've seen on this particular model, we'd recommend getting hold of one while the discount lasts.