Update: The Woot deal has expired, but make sure to follow our Nintendo Switch deals coverage for the best deals on games, accessories, and consoles.
Discounts on the Nintendo Switch are extremely rare, and chances to score money off the suped-up Nintendo Switch OLED model are even more infrequent. Typically rather than offer a straight saving, retailers opt to bundle the console with a game or an accessory to entice a purchase. But we've just spotted the first proper Nintendo Switch OLED deal of 2023.
For a limited time, the Nintendo Switch OLED is on sale for $329 at Woot. That's a $20 saving compared to the console's full retail price of $349. It's also one of the lowest prices we've ever spotted for the premium version of the widely popular handheld/home console hybrid. This deal is set to expire in less than 24 hours and comes courtesy of Amazon company Woot — and Prime members get free shipping.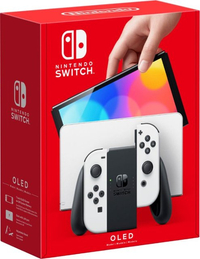 Nintendo Switch OLED: was $349 now $329 @ Woot
The Nintendo Switch OLED is an upgraded version of the hugely popular handheld/home console hybrid. It sports a gorgeous 7-inch OLED display, a wider adjustable kickstand, a wired LAN port in its revamped dock, and an increased 64GB of internal storage. It's rarely on sale, but right now it's $20 off at Woot with free shipping for Amazon Prime members.
The Nintendo Switch OLED is a slight refresh of the original Switch system. Released in 2021, it takes everything that was great about the first iteration of the Switch and kicks it up a gear. In our Nintendo Switch OLED review, we noted that it "sports a gorgeous screen, an improved kickstand and lots of storage space." We labeled it "an easy recommendation for first-time Switch buyers" but did note it's "an extravagance for current Switch owners."
The biggest upgrade is in the name, this Switch comes with a stunning OLED screen. The best Nintendo Switch games look better than ever on this vibrant display with the likes of Mario Odyssey and The Legend of Zelda: Breath of the Wild looking particularly impressive. The OLED display is also a little bit bigger at 7 inches, compared to the 6.2-inch screen found on the original Nintendo Switch model.
The other upgrades are of a smaller caliber but are nevertheless appreciated. They include an improved kickstand for playing in tabletop mode, a larger 64GB of in-built storage (the original Switch packs only 32GB) and a slightly redesigned dock that sports an ethernet port for playing online via a wired internet connection.
The Nintendo Switch OLED also comes in a sleek black-and-white color scheme, or you can opt for a more shouty red-and-blue. Both colorways are currently available at this discounted price. If you're considering picking up a Nintendo Switch for the first time, then you absolutely want to spring for the OLED model — and getting one with a $20 discount is a rare opportunity.
However, if budget is a key factor, then you could consider the Nintendo Switch Lite. This streamlined version of the console is designed exclusively for handheld play, and cannot be connected to a TV. But you can get a Nintendo Switch Lite for just $199 on Amazon, and it's available in a range of pastel colors.