The PlayStation Store just launched its latest collection of discounts, and this time it's the return of the Critics' Choice Sale. That means dozens of highly-rated PS5 and PS4 games have been reduced to seriously low prices.
The PlayStation Store Critics' Choice Sale is set to run until February 15 and as the name suggests this sale is primarily focused on games that received strong critical praise (although not every game included reviewed well). As expected, there are savings on just about every genre of video game possible from open-world RPGs to narrative-driven visual novels. Whatever you like to play, there is almost certainly a PlayStation Store deal for you here.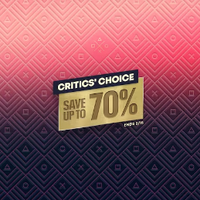 PlayStation Critics' Choice sale: up to 70% off @ PlayStation Store
The PlayStation Store Critics' Choice sale runs until February 15 and offers the chance to score must-play PS5 and PS4 games are heavily reduced prices. Like last month's Games Under $20 promotion, this sale includes PlayStation-exclusive games such as Horizon Forbidden West and Gran Turismo 7. PlayStation Plus members also get an additional discount on a few select titles.
The best PlayStation Store Critics' Choice deals
While there are many discounts we'd like to flag in this PlayStation Store sale, most notably it includes sizeable savings on PlayStation Studio games. For example, Horizon Forbidden West is just $39 (was $69) and even better Marvel's Spider-Man Miles Morales has dropped to $19 (was $49). That's 60% off the web-slinging spin-off and the lowest price ever for a digital copy of the popular PS5 launch title.
There are plenty of other blockbuster games in this Critics' Choice sale as well including Assassin's Creed Valhalla and Resident Evil Village, both of which have dropped to just $19. It's an especially good time to pick up the latter if you're investing in a PS VR 2 this month as it's confirmed to get a free VR update at launch. Just be warned that Resident Evil in VR is most definitely not for the easily frightened.
We're also pleased to see some of last year's most overlooked titles including The Quarry and Rollerdrome discounted. And if you're looking for some co-op fun, the swanky deluxe edition of Lego Star Wars The Skywalker Saga has dropped to just $31. Sonic Frontiers is another great family-friendly pick at 30% off, although we did see physical copies drop even lower during last year's Black Friday sales period.
As always it's not just PS5 games discounts, some of the best PS4 games have been reduced as well. That includes the likes of Red Dead Redemption 2 for $19 and Crash Team Racing Nitro-Fueled for $13. Remember that thanks to the PS5's backward compatibility features you can play these games on Sony's next-gen console as well.
It's still early in 2023, but there's no doubt this is the strongest PlayStation Store sale of the year so far. Don't miss your chance to score some of the best PS5 games you can play right now at lowest prices ever. Plus, there is always the possibility that additional deals will be added before the end of the sale. Be sure to check back later in case an item on your wishlist is added to the sale.