Apple Black Friday Deals 2022 LIVE — the best sales you can still get
We're gathering all the best Apple Black Friday deals to grab today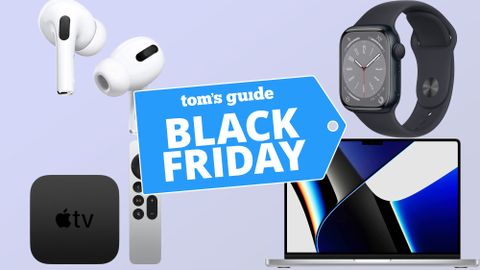 (Image: © Apple)
Black Friday is here and that makes today a great day to snag some of the best Apple deals we've ever seen.
While there are many Black Friday deals, finding Apple products with attractive discounts can be tricky. But we're doing the hard work for you, curating all the best sales on Apple devices. This includes AirPods, Apple Watch, iPad, MacBooks and more.
For example, you can get the new MacBook Air M2 for $1,049 at Amazon , which is $150 off, and the new AirPods Pro 2 can be had for $199 at Amazon, which is $50 off. You can also save $50 on the new Apple Watch 8.
Here's all the best Apple Black Friday deals right now.
Top Apple Black Friday deals
Refresh
Although this isn't the lowest price we've seen for Apple's AirPods Max, it's still a great deal that can save you $100 on the company's premium, retro-style headphones. They have large ear cushions, a digital crown just like on the Apple Watch, active noise cancellation and Spatial Audio. In our AirPods Max review, we praised Apple's wireless headphones for having excellent sound quality and a comfortable feel with a weight of just 13.6 ounces. A great thing about this deal is that the AirPods Max are on sale in multiple colors including Space Gray, Green, Pink and Sky Blue.
Whether you're a digital artist or just prefer taking notes with a pen (or in this case a pencil), the Apple Pencil is a great accessory for your iPad. This is the lowest price we've seen for the 2nd Generation Apple Pencil but if you happen to miss this deal, these are the best Apple Pencil alternatives. This new version of the Apple Pencil is a big upgrade from the original thanks to its matte finish, weighted feel and wireless charging. Just make sure you check Apple's compatibility list first to make sure your iPad mini, iPad Air or iPad Pro supports it.
Hi, security and networking editor Anthony Spadafora here, to highlight some great deals on Apple products including some accessories to help perfect your work from home setup.
Whether you have a MacBook connected to a monitor or use a Mac mini as your main machine, you're going to need a keyboard. The Apple Magic Keyboard with Numeric Keypad is just $103 at Amazon and since it's a first-party keyboard, you won't have to worry about remembering which keys are which. The smaller version without a numeric keypad is on our list of the best keyboards but if you work with a lot of spreadsheets, you're going to want this keyboard instead. The Apple Magic Keyboard with Numeric Keypad is rechargeable and lasts for around a month or even longer on a single charge but it also features a scissor mechanism beneath each key for additional stability.
The new MacBook Air is one of the best laptops on the market. However, don't ignore the cheaper and in some ways just as capable, MacBook Air M1. You can get the previous-gen MacBook Air M1 for just $799 at Amazon right now. Considering how amazing of a machine the MacBook Air still is — that makes this an epic deal. If you want the best bang for your buck when entering the world of the Mac, this is the deal to get.
The iPhone 14 Pro is about as perfect as it gets. In our iPhone 14 Pro review, we called the Editor's Choice phone the ideal pick for folks who hate giant smartphones. The 6.1-inch handheld is also probably the best iPhone for most people. The A16 Bionic chipset is here, as is the improved 48MP main camera. No matter how you cut it — it's a winner and a nice way to enjoy high-end features without paying iPhone 14 Pro Max prices. New customers at Verizon can get up to $1,000 off with trade-in and eligible 5G data plans. Plus, you'll get a $200 credit when you switch from a competing carrier.
There are a lot of good iPad deals out there right now, but my top pick is the new iPad Pro 11-inch on sale for $739, which is $10 cheaper than yesterday's price. The new tablet features Apple's mighty M2 CPU. Apple claims the new chipset's 8-core CPU and 10-core GPU are up to 15% and 35% faster than the previous-gen model. You also get an 11-inch 2388 x 1668 Liquid Retina XDR display with ProMotion, 8GB of RAM, 12MP wide/10MP ultrawide rear cameras, and a 12MP TrueDepth front camera.
Hey, all! Deals editor Louis here taking over the Apple live blog. So I'm gonna start things off with a deal I was personally hoping for. The iMac M1 is on sale for $1,149 ($149 off). That's the cheapest price we've ever seen for this iMac. In our iMac 2021 review, we called it a breath of fresh air for the aging iMac line, bringing with it a beautiful display, excellent webcam, and an array of bright new color schemes. If you want a little more graphics muscle, the 8-core GPU model is also on sale at its lowest price ever.
Are you prone to losing stuff, say your keys? Well this is the deal for you, as you can get a 4 pack of Apple AirTags for a discounted price.
Right now a quartet of the AirTags can be had for $74, which is arguably a big bargain if you happen to be a serial misplace-er of things. This is the best deal we have seen on a 4-pack AirTags and comes just in time for all the holiday travel people might take. AirTags take the frustration of finding lost items and makes it simple. You can use your phone to track the AirTag, with audio and visual cues to point you in the right direction until you've found what you've lost.
Streaming fans, listen up, as we have a great deal for you. If you've been waiting to see Severance and want a dedicated device to stream it on, then you can now get the Apple TV 4K for $99.
That'll get you a 64GB version, complete with its slick remote. The Apple TV 4K also supports high-frame rate HDR streaming, has support for multiple users, and Apple has added a speedy A12 Bionic chip for snappy performance. But it's the new remote which we like the most. It retains touch and gestures, but adds actual buttons as well as an intuitive jog wheel that recalls the old iPods of yore.
Any saving is promising when it comes to an Apple Watch, and right now this is the cheapest you'll find the Apple Watch Ultra.
As our fitness editor Jane McGuire noted in her Apple Watch Ultra review, it is the best Apple Watch to buy if you're a serious athlete. And it's arguably the most exciting Apple Watch on the market in 2022. In addition to new watchOS running features, the Ultra has an extra third button — the Action Button — which makes pausing the watch, or lapping the watch on the move, that little bit easier with sweaty fingers, or when wearing gloves. So if you want a tough and capable smartwatch deal, then this is the one for you.
iPhones are rarely cheap, but the iPhone SE brought in an affordable Apple smartphone for under $500. But this Walmart Black Friday deal makes that phone a steal.
Sure it's the older of the iPhone SE models, but it's still a very capable smartphone. And at $99 it's almost idea as a emergency secondary phone or a handset you can pass on to your kids.
The next deal I'd like to flag is the Apple Watch SE for $149 at Walmart. It's been overshadowed by the Apple Watch SE 2, but it's still an excellent smartwatch from the folks at Cupertino.
In fact it's the smartwatch I wear. And at this new discounted price it feels like a no-brainer for anyone after a solid smartwatch that now pushed well into the realms of affordable. But with a big mix of fitness tools and smart features, the Apple Watch SE is certainly worth checking out.
Now is a great time to grab the new AirPods Pro 2, as they're $50 off at Amazon. You get 2x the noise canceling performance of the previous generation, and we like that Apple finally added volume controls to the stems — so you don't have to take your iPhone out of your pocket all the time.
This isn't the only reason the AirPods 2 is one of the best noise-cancelling earbuds we've tested. You can use the iPhone's TrueDepth camera to create a personalized spatial audio sound, and Apple has increased the battery life to 6 hours on a single charge from the earbuds and a further 30 hours from the wireless charging case.
This is one deal I can thoroughly recommend: the excellent MacBook Air M2 just got a $150 price drop. For such a new and impressive machine, that's a great discount.
I have the MacBook Air myself, sadly I paid full price for it, and it's a great laptop. The display is wonderful even with the notch and the Apple M2 chip is superbly powerful and energy efficient. The battery life is great, as I found I could get through the IFA 2022 conference with but a single charge. There's even a decent amount of power for gaming.
So in short, if you want one of the best laptops for less, then this MacBook Air deal is well worth your attention.
Hello, managing editor Roland Moore-Colyer here, on point to flag some of the best Apple deals for you to buy today.
If you're concerned whether an Apple deals is good or not. I'll help tell you whether you should buy it or skip it depending on your needs. After all I'm both a bargain fan and an Apple fan.