[Updated 19/10/23]
I ran the Asics London 10K wearing the Asics Gel-Nimbus 24 shoes, and they've come with me on nearly every 5K since. I've been clocking up the kilometers in them for one reason — comfort.
Right now you can get the Asics Gel-Nimbus 24 running shoes for just $92 at Amazon, which is 42% off one of the most popular Asics trainers on the market. See our early Black Friday deals page for more deals.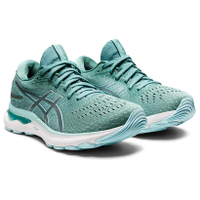 Asics Gel-Nimbus 24 running shoes: was $160 now $92 @Amazon
Right now the Asics Gel-Nimbus 24 running shoes are discounted by 42% in men's and women's sizes. We've found these running shoes to be extremely comfortable for longer runs. Remember to sift through for your size to pick up the relevant discount during early Black Friday deals.
We rate the Asics Gel-Nimbus range highly, and our editor rated the latest models enough to place them in our best running shoes guide to prove the point. So we were pretty impressed to see such a discount for so soon before Black Friday.
As a personal trainer, I pick my workout shoes carefully, and I go back to these running shoes again and again. The Gel-Nimbus 24 are lightweight and feature an engineered mesh upper and Asics Lite rubber sole. At the time of writing, these trainers have barely picked up a scratch, and the midsole and outsole are super durable.
But what stands out about these running shoes is comfort. The PureGEL technology cushioning feels like you're walking — no, bouncing — on clouds, absorbing shock during impact and toe-off and sending me to the finish line with vigour. I can't get enough of them, and for me, I find them just as comfortable, but perhaps slightly less stable, than the Asics Gel-Nimbus 25; the later model supports my ankles a bit better.
I haven't experienced any chafing, sore points or aches and pains. But if you have high arches or flat feet, you might want to test in your local store. If they're not for you, I run in the Asics Gel-Nimbus 25 running shoes and they're finally on sale this Prime Day. We're also across various deals on fitness, homes and tech if you want to find more deals. We recommend keeping an eye on our Black Friday deals page for more information closer to the event!