The DreamCloud Premier Rest Hybrid is the more luxurious older sibling of the best-selling DreamCloud Mattress. It offers more support and comfort, and is an excellent alternative to the Saatva Classic for people who want more motion isolation from their bed. A part of a site-wide flash sale, the DreamCloud Premier Rest Hybrid has been discounted by up to $1,700. This drives the price of a queen down to just $1,499, saving you $1,000; you can save $1,700 on the largest size.
The DreamCloud is ranked highly in our official best mattress buying guide, and the Premier Rest Hybrid is a more opulent alternative for those with a bigger budget seeking extra creature comforts. It has eight layers of individually wrapped coils and contouring supportive foam, all topped with a breathable cashmere blend cover.
We've seen 50% off this mattress in a recent DreamCloud mattress sale, but there's no guarantee that we will see those kinds of savings repeated when the Black Friday mattress deals drop at the end of November. So if you need a new bed urgently and like this one, $1,499 for a queen is a great price. You'll also get a 365-night home trial, a lifetime warranty, free shipping and free returns.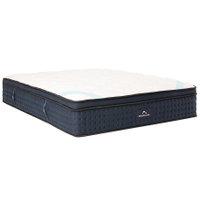 DreamCloud Premier Rest Hybrid at DreamCloud
Was: from $1,849
Now from $1,099 at DreamCloud
Saving: up to $1,700
Summary: As DreamCloud's most premium mattress, the Premiere Rest comes with some seriously luxe finishes, like a naturally cooling cashmere blend pillow top. It's a little softer than the Luxury Hybrid, so this would be an ideal mattress for side-sleepers while also offering excellent pressure relief for back-sleepers, too. It's not unusual to see DreamCloud offer 40% off, but that doesn't mean that it isn't a great deal.
Benefits: 365 night trial | Lifetime warranty | Free shipping
Price history: We've seen DreamCloud go as low as 50% off during recent weeks, but there's no guarantee that we'll see those sorts of savings repeated when Black Friday drops at the end of November. If this is the mattress you want, it could be a smart move to buy now while it's still in stock and to avoid any Black Friday shipping chaos.
Premier Rest Vs Hybrid: Which DreamCloud is best?
The Premier Rest is DreamCloud's most premium mattress and comes with additional features, such as a naturally cooling cashmere pillow topper and eight layers of individually wrapped coils and foam resulting in an overall softer, pillowy mattress that is perfect for side-sleepers.
However, the Luxury Hybrid, DreamCloud's original mattress, ranks highly in our best luxury mattress guide for 2023, delivering a high-end feel (you'll find a cashmere blend cover here, too) for a more affordable price. It runs a little firmer (we ranked it 8 and out 10 for firmness) than the Premier Rest, making it a solid option for those suffering from back or joint pain.