The Tempur-Pedic Presidents' Day sale is in full swing! That's a big deal for two reasons. 1. Tempur-Pedic has a reputation for making some of the comfiest, most luxurious beds around (discover why in our Tempur-Adapt mattress review). And 2. They're a bit of an investment, and while other bed brands run sales pretty much all year round, price-drops on Tempur mattresses are much harder to come by. In order to get a discount, you need to be savvy about when you shop.
In short, it's well worth taking advantage of the deals in the current Tempur-Pedic sale, which has discounts across almost the whole range. It's one of the best Presidents' Day mattress sales we've seen so far. We've picked three of the top deals for you below. This is your chance to pick up one of the very best mattresses around, for a much more reasonable price.
If you have cash to splash, you should check out the TEMPUR-Breeze mattress. At MSRP, prices start at a none-too-cool $3,999, but the current deal knocks $300 off the full range. Depending on which model you opt for, it promises to keep you between 3 and 5 degrees cooler, which is very compelling if struggle with overheating at night. It's certainly an investment, but if you can afford it, it could be a game-changer in terms of sleep quality.
If that's out of your budget at the moment, the most wallet-friendly way to add some of that Tempur magic to your bed is with a topper. For a limited time, there's 40% off this brand's topper (which we loved in our Tempur-Adapt topper review), which means prices start at under $200 for a twin size topper. We've known this offer to sell out in the past. Here's a closer look at the best deals in the current Tempur-Pedic mattress sale...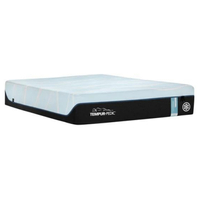 1. Tempur-Breeze mattress: was $3,999 now from $3,699 at Tempur-Pedic
If you struggle with overheating at night, this is Tempur-Pedic's specialist cooling option. You'll still get that soothing body hug of Tempur's luxurious foam, but it promises to feel either 3 or 8 degrees cooler (depending on the model) than other Tempur-Pedic mattresses, which is seriously impressive. Deals on this model pretty rare, but Tempur has slashed prices by $300 for Presidents' Day. That's about the cheapest we'd expect to see this model for, so it's worth buying now if you've been holding out.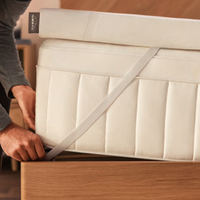 2. Tempur-Adapt mattress topper: was $319 now from $191.40 at Tempur-Pedic
Tempur's toppers use the same magic material found in all of this brand's luxurious mattresses, making this the most affordable way to give a bed that unique Tempur-Pedic feel. In our Tempur-Pedic Tempur-Adapt topper review, we were impressed with the plush comfort the Adapt topper offered, and recommend it especially to side sleepers seeking cushioning around their joints. With 40% off, a queen size comes in at $251.40 (for context, a queen sized Tempur-Adapt mattress starts at $2,199).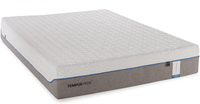 3. Tempur-Cloud Mattress: was $1,699 now from $1,189.30 at Tempur-Pedic
The most affordable Tempur-Pedic mattress is the Tempur-Cloud. It's designed to adapt to your body weight, shape and temperature so you remain comfortable in any sleep position, and it'll actively reduce motion transfer too. The 30% off Presidents' Day deal means you can pick up a queen size for $1,399.30 ($600 off ticket price). That's the best price we really see on this model, but it is a deal that crops up fairly regularly (in contrast, it's much rarer to see the Adapt and Breeze models on sale).
Tempur material was originally developed by NASA and responds to your body weight, shape and temperature, to deliver custom comfort and support. Although the brand says it's not memory foam, it delivers the same body-hugging, sink-in feel you'll find in today's best memory foam mattresses. Typically, Tempur-Pedic mattresses offer excellent pressure relief, making them a top choice for anyone suffering from sore joints.
If a full mattress is out of your price-range right now, a topper is an excellent way to get a similar feel for a much more affordable price. We rate the Adapt as one of the best mattress toppers you can buy, with its 3" layer of premium Tempur Material providing cloud-like, custom support, along with a cover that can be removed for easy washing.
While Tempur-Pedic deals do come around on occasion, they're not as regular as you'll find with other bed brands, so it's worth taking advantage of deals like this when they do arise. Presidents' Day is an excellent time to upgrade your sleep setup – we sometimes see prices dropping as low as we see on Black Friday. If you're not sure where to start, this tips article will help you navigate the Presidents' Day mattress sales like a pro.