The Best Filters for Your Camera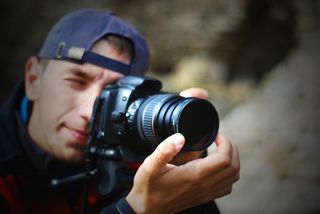 Why You Need a Filter
One great, fun way to take control over and even manipulate your photographs is to screw a camera filter onto the front of your lens. Filters have been part of photography for more than 100 years, and many pros continue to use filters in this digital age. Photographers find it easier and more efficient to create an image at the point of capture rather than waste time trying to emulate the effect on a computer. Today, the typical filter is a piece of coated optical glass that screws onto the front of a lens.
Here are some tips for selecting and using filters, some of the more popular camera filters, what they are, and how you can use them to change the way you capture your pictures.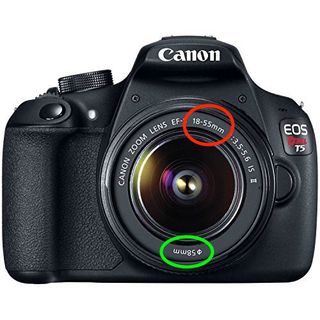 Tip #1: Check The Size of Your Lens
Be sure your filter is the correct size for your lens. Both filter and lens are designated by their diameters, usually measured in millimeters. Typically, the front of the lens will display its size, but so will the zoom range. In the photo to the left, the lens diameter (58mm, circled in green) is listed on the bottom, while its zoom range (18-55mm, circled in red) is on the top. To make sure, measure the diameter yourself, or consult a professional.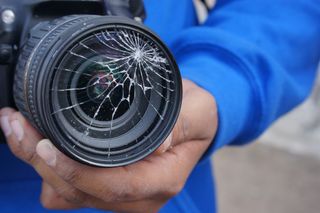 Tip #2: Look for Quality Filters
Stick with high-quality optical glass that is at least as good as the quality of your lens. Otherwise, you'll be degrading the optics of your system.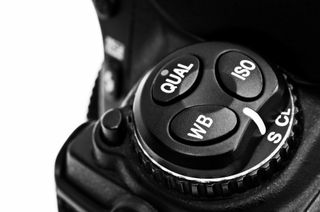 Tip #3: Turn off Auto White Balance
Turn off the auto white balance setting on your camera if you use color filters, such as the skylight, graduated color or intensifying filters. Auto white balance will alter or completely annul any color shift purposely introduced by those filters.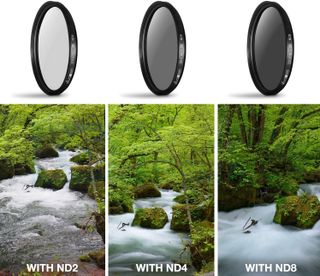 Neutral Density Filters
When sunlight is very bright, it can burn out the colors of a landscape, the sky or a waterscape. Neutral density (ND) camera filters tone down the intensity of that light. Because ND filters are gray or clear, they add no colors; instead, they restore the depth of the natural colors of the scene.
A graduated ND filter can be split in half: One side is clear, while the other is neutral density, but the transition between the two is gradual. This can be used to increase the colors and shadows of the top half (such as the sky) of a scene without affecting the bottom half, or vice versa.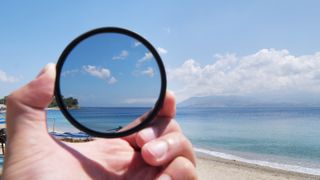 Polarizing Filters
Light is naturally scattered, reflecting and deflecting into all directions, which, in effect, creates glare. A polarizing filter tames the light, letting through only those wavelengths that follow more definable directions. Add a polarizer when you want to capture the underwater life and rocks below the sun-dappled surface of a lake, or a person looking out at you through a window otherwise filled with reflections.
When you use a polarizing filter, turn the outer ring while looking through your lens. That way, you can control the amount of glare that is removed.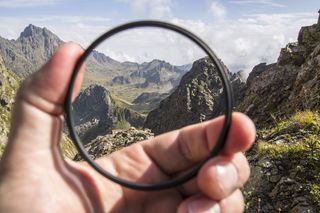 UV/Skylight Filters
Traditionally, photographers have used clear UV filters to protect the front elements of their lenses from scratches and dirt. However, UV filters have another purpose. They filter out the ultraviolet wavelengths, which is useful for removing blue atmospheric haze such as that of mountains in the far distance. (These filters can also help with adding contrast to clouds, but a polarizer is often a better choice for that.)
Skylight filters (which are sometimes sold to protect lenses, too) also remove haze, but they do it by adding a faint orange cast to a scene, which gives your pictures a warmer appearance.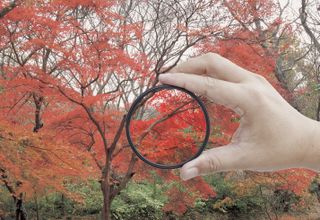 Intensifying/Enhancing Filters
Intensifying filters (which are also called enhancing filters) increase the saturation of the warm colors of a scene, such as the reds, oranges and browns, without affecting the cooler colors, such as the blues and greens. For this reason, these filters are great for adding extra pizzazz to photographs of fall foliage, even if you didn't capture the scenes during the peak of the seasonal colors.
You'll want to avoid using intensifying filters in images with people, however, because these filters can affect skin tones. In addition, white surfaces may tend to shift to warm beige.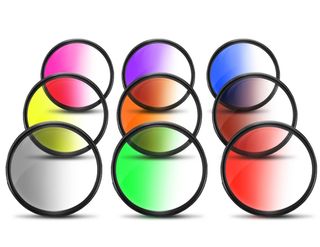 Graduated Color Filters
A graduated color filter has a specific color on one side that gradually fades to clear on the other side. Each color has a different purpose. For instance, if you're photographing a landscape but the sky is dull or gray, use a blue graduated filter and line the filter's transition up with the horizon, to give the sky a bluer appearance.
Color filters are particularly effective for black and white photography, since these filters can block specific color wavelengths, which will affect how that color will be captured and converted to gray scale.
Like the polarizing filter, a graduated filter has an outer ring that you turn, so you can line up the dividing transition correctly for the scene you're capturing.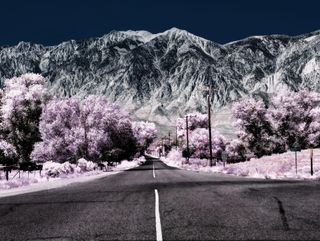 Infrared Filters
Infrared filters reveal things the human eye cannot see. That's because infrared light is invisible, unless you use a special filter (or IR film in traditional cameras). Infrared light reflects on skin, plants, flowers, textures and other surfaces in often surprising ways. When you use an infrared filter, the result can be eerie, quite beautiful pictures of white plants and milky skin, all with crisp clarity.