The iPhone 8 should be a stunner of a phone, with a curved, bezel-free design, but you'll probably have to pay more than you want to get the best screen.
While both the iPhone 8 and iPhone 8 Plus are expected to sport all-glass bodies, Touch ID built into the display, wireless charging and new multi-sensor cameras, Apple could be saving the one feature everyone's been waiting for for the larger plus.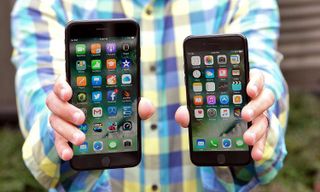 A report from Mac Rumors, citing four Barclays Research analysts with sources in Apple's supply chain, says that the borderless design of the iPhone 8 and iPhone 8 Plus will allow Apple to offer larger 5-inch and 5.8-inch screens while keeping the same overall size of the current 4.7-inch and 5.5-inch models.
MORE: Best Camera Phone - Top-Rated Smartphone Cameras
That's potentially good news, as you'd get larger panels within the same size chassis as before. A 5.8-inch iPhone would be particularly huge, as it would dwarf most phablets on the market, although there are some 5.9-inchers like the Huawei Mate 9.
The gotcha is that these same analysts say that Apple is reserving an OLED display for the 5.8-inch iPhone 8 Plus. The smaller iPhone 8 (and there could be two of them in different sizes) will reportedly use a traditional LCD.
As anyone who has seen or used one of Samsung's Galaxy phones in the last several years, you probably already know the advantages of OLED. But just in case you don't, this type of display offers richer colors, deeper blacks and wider viewing angles. Plus, OLED tends to be more energy efficient.
This move wouldn't be shocking given the advantages the current iPhone 7 Plus has over the iPhone 7. Only the larger phone has a dual-lens camera, which enables optical zoom and a new portrait mode, and it offers a higher-resolution screen and longer battery life.
MORE: 7 Reasons iPhone 7 Plus Beats iPhone 7
Reserving OLED for the iPhone 8 Plus would truly make it pop. The current price difference between the iPhone 7 and 7 Plus is about $120, and it could be easier to justify should only the 8 Plus boast an OLED screen.
But not everyone wants to carry around a supersized phone, so it would be a real bummer if you couldn't get the best display tech in a one-hand-friendly design. Samsung offers Super AMOLED screens on the smaller 5.1-inch Galaxy S7 and larger 5.5-inch S7 Edge, but Apple doesn't have to follow anyone's lead.