Amazon Prime Day may be over but many of the deals are still available this week. Select retailers are offering the best AirPod deals we've seen all season.
Amazon continues to offer the AirPods with Wireless Charging Case down to $169.99. That's $29 off and the lowest price we've ever seen for these latest model Apple buds.
Also on sale at Amazon are the 2019 Apple AirPods with Charging Case which are now $144.99. Normally priced at $159, that's $14 off and the best price we could find for these wireless earbuds at this moment.
The good news: These deals haven't run out just yet.
For those of you tracking prices, Macy's had the 2019 AirPods (with charging case) on sale for $129 earlier this month. The deal sold out in hours and Macy's never replenished its stock.
Not a Prime member and don't care to become one? Walmart also has the 2019 AirPods with Charging Case on sale for the same price. Even better, they qualify for free next-day shipping.
Apple's AirPods are among the best wireless earbuds you can own. They provide a comfortable fit, instant Apple device pairing, and hands-free Siri functionality. Not a fan of AirPods? We'll be updating our list of the best Prime Day headphones deals all week long.
2019 AirPods w/ Case: was $159 now $144.99 @ Amazon
The 2nd-gen Apple AirPods offer faster Apple device connectivity, longer battery life, and quick access to Siri. For a limited time, Amazon is taking $14 off the 2019 AirPods. View Deal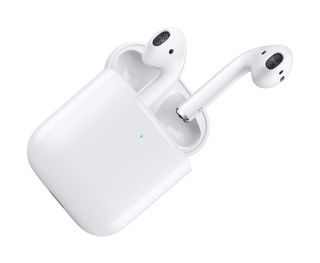 2019 AirPods w/ Wireless Case: was $199 now $169 @ Amazon [PRICE DROP]
One of the 2019 AirPods' new features is that they can be charged wireless via Apple's new wireless AirPods charger. Amazon has the AirPods w/ the wireless charger on sale for $169, which is this bundle's lowest price ever. View Deal
ESR Ripple AirPods TPU Carrying Case: was $10 now just $7.99 @ Amazon
With its premium silicone construction, this AirPods cover protects your AirPods from the elements. Use code, "7RJOVRZ9" to get 20% off. View Deal
Are the new Apple AirPods worth the price?
If you've been considering shelling out cash for a new pair of earbuds, you should consider Apple's AirPods.
Apple's latest earbuds feature hands-free Siri functionality, faster connectivity, and a longer battery life in comparison to the previous-gen AirPods. The 2019 AirPods are priced at $199 with a wireless charging case or $159 with the standard charging case. (However, as you can see above — both models are on sale).
If you're thinking about saving a few bucks by getting the 1st-gen AirPods — don't. Not only are they very hard to find, but even when you find them refurbished they're actually pricier than the current-gen AirPods. For example, Best Buy has the refurbished 1st-Gen AirPods for $155.99.
For more tips and tricks, check out our AirPods how-to guide.