Looking for some wireless earbuds to pair with your new iPhone 11? If so, the Apple AirPods should be high on your holiday shopping list. Black Friday deals are bound to include Apple's AirPods and with rumors of Apple AirPods 3 debuting soon — possibly during Apple's October 2019 event — this could be the year we see the best AirPods Black Friday deals.
In the lead up to the holiday season, we've seen some decent AirPods deals. Heading into Black Friday 2019, the excitement for even bigger deals continues to grow stronger by the minute. Instead of surveilling your social media feed for updates, bookmark this page, as we'll keep you posted on all the major AirPods Black Friday deals, along with our list of predictions. (And make sure to check out our guide to the best Cyber Monday deals).
AirPods Black Friday deals to watch out for
The AirPods 2 are currently listed at $159.00 on Apple, or $199 with the wireless charging case. Other retailers like Amazon and Walmart have them on sale for $15 less. This is a price that's we've seen throughout most of 2019, so while it's a solid deal, it's not what we'd consider a head-turner.
The cheapest price we've seen for the AirPods 2 has been $129 from Macy's. The sale lates just a few hours. We predict Macy's — or another retailer like Rakuten — may offer this price again.
If you think that's wishful thinking, remember that last year's AirPods (Gen 1) hit $130 over the holidays. So $129 for the Gen 2 isn't that far fetched. We might also see some enticing bundle deals from mobile carriers that discount the AirPods 2 when purchased with the latest Apple Watch, iPad or iPhone.
Those who want to save more cash will be able to pick up the AirPods (Gen 1) for a modest price. Last year, eBay sold the buds for $139 as part of the company's 11 Days of Deals sale. Newegg also had a special promotion that shaved $20 off the original price ($159.99), while T-Mobile Metro subscribers were lucky enough to snag them for free with new wireless service. Since retailers are looking to clear out their stock to make room for newer products, you might get lucky and score the AirPods (Gen 1) for $20 to $50 less than last year's best AirPods Black Friday deals.
What about first-party accessories like a replacement charging case? Considering how often AirPods' owners misplace the tiny buds, Black Friday is the perfect time to snag a backup for emergencies. There were no special offers available last year, but we're expecting certain retailers (including Apple) to sell the AirPods charging case and wireless charging case at a discount; our guess is $10 off.
The number of third-party AirPods accessories set to go on sale during Black Friday 2019 will also be the biggest yet. This will include charging mats, docks, ear hooks, protection cases, and several other essentials designed to enhance your AirPods experience. You might want to stock up on several.
AirPods Black Friday Deals in October
AirPods with Charging Case: was $159 now $144 @ Amazon
For a limited time, you can get the latest model AirPods with standard charging case for $15 off. It features Apple's latest H1 chip for faster wireless connectivity with Apple devices. View Deal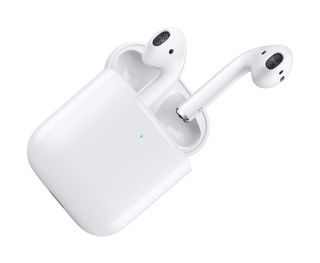 AirPods w/ Wireless Case: was $199 now $169 @ Amazon
The 2019 AirPods can be charged wirelessly via Apple's new wireless charging case. Amazon has the AirPods w/ the wireless charger on sale for $169, which is this bundle's second lowest price ever. That's also $10 under Best Buy's price.View Deal
Black Friday 2019: Quick Links