Layla Hybrid mattress review in brief
The Layla Hybrid mattress is unique in that it's essentially a two-in-one mattress. It has two sides: one soft and one firm, so buyers can try them both out at home to see which side they find most comfortable. (It also makes for a great option for a guest bedroom, as it can be flipped based on the guest's preferences.) This hybrid mattress uses copper-infused memory foam and a support core of individually wrapped coils.
Layla Hybrid mattress specs
Type: Hybrid
Materials: Memory foam, other foams, coils
Firmness: Medium-soft (4-4.5/10) and medium-firm (6.5-7/10)
Depth: 13 inches
Trial period: 120 nights
Warranty: 10 years
Price bracket: Upper-mid / premium
Another of the strongest selling points of the Layla Hybrid is its exceptional motion isolation. Co-sleepers – particularly if one or both move around throughout the night or wake easily – are bound to enjoy this feature. It also offers terrific support around the edges so as not to roll off the bed or accelerate sagging.
Back sleepers of most weights are likely to benefit from pressure relief on the firm side of the Layla Hybrid mattress. Side sleepers of light to average weight may prefer the soft side, as it will cradle the body's curves for optimal comfort and pressure relief. Overall, our lightweight tester was pleased to discover that both sides were cozy enough for all sleeping positions, though some positions were favored on specific sides of the mattress. This made the idea of a two-in-one, flippable mattress all the more appealing to consider buying. (Before you purchase this model or any other, be sure to read up on the Tom's Guide best mattress buying guide.)
With that said, heavier sleepers who need firm support will likely find that the soft side won't work for their needs – and based on personal preferences, they may even find that the firm side isn't firm enough to support their weight comfortably.
Keep reading for greater details on these points to see if the Layla Hybrid mattress is right for you. We'll also cover everything from cost and value to customer reviews, as well as if the Layla Hybrid lives up to the brand's marketing claims.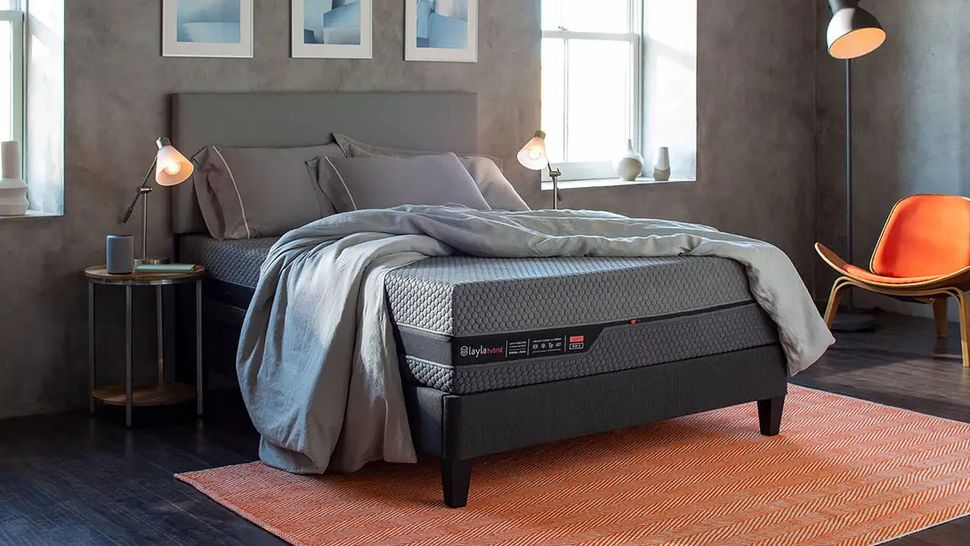 Layla Hybrid mattress review: Price
In the upper-middle to premium price bracket
Often on sale with around $200 off MSRP, taking a queen down to $1,499
Includes free shipping and two memory foam pillows
At present, the brand offers two mattresses: the Layla Memory Foam flippable model (which starts at $749 for a full-priced twin) and the Layla Hybrid (which starts at $1,299 for a full-priced twin).
Don't focus too much on MSRP though – Layla regularly offers promotions that lower the price of your mattress by about $200. Even with these discounts, the Layla Hybrid sits in the upper-mid to premium price bracket of the wider market (do factor in that hybrid mattresses are generally pricier than all-foam models, and here you're essentially getting two mattresses in one). Here are the official prices for the Layla Hybrid, and the prices you'll usually pay.
Twin size: MSRP $1,299 (regular sale price $1,099)
Twin XL size: MSRP $1,399 (regular sale price $1,199)
Full size: MSRP $1,599 (regular sale price $1,399)
Queen size: MSRP $1,699 (regular sale price $1,499)
King size: MSRP $1,899 (regular sale price $1,699)
Cal King size: MSRP $1,899 (regular sale price $1,699)
If the Layla Hybrid isn't on sale when you're ready to purchase a new mattress – and you can spare some time to wait – there's a good chance you won't have to hang around too long for another deal to take effect. (Tip: Bookmark the Tom's Guide's mattress sales roundup to keep tabs on the latest prices and promotions.)
Additional selling points on the deal front: each Layla Hybrid mattress purchase, regardless of size, comes with free shipping to your doorstep in the US (excluding Alaska and Hawaii) and two complimentary memory foam pillows.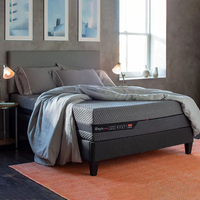 View the Layla Hybrid mattress at Layla
The Layla Hybrid is a double-sided hybrid that can be flipped to give two different firmness levels. At MSRP, it's a premium model, but with regular $200 off deals the price drops to (just about) upper-mid range, with a queen size coming it around $1,500. There's a 10-year warranty and a 120-night trial period.
Layla Hybrid mattress review: design
13" thick with copper-infused memory foam and pocketed coils
Flippable with soft and firm sides
Removable cover has handles for easy flipping
The Layla Hybrid mattress is 13 inches thick and has five layers (excluding the cover). The support core has six-inch pocketed coils to maximize motion control. The center of the mattress uses 14 gauge coils and two rows of 16 gauge coils line the edges. On the firm side, the next layer includes 1.5 inches of polyfoam to promote airflow and cooling properties as well as offer a layer of support. Next is a one-inch, firm layer of memory foam made of copper gel – an antimicrobial material intended to amplify cooling properties, reduce the chance of trapping body heat, and fight odors.
From the support core moving up to the soft side of the mattress, there are two-inches of polyfoam. The layer after that includes 2.5 inches of memory foam from copper gel. Thicker layers of foam on this side provide a soft feel with more sinkage and contouring along the body.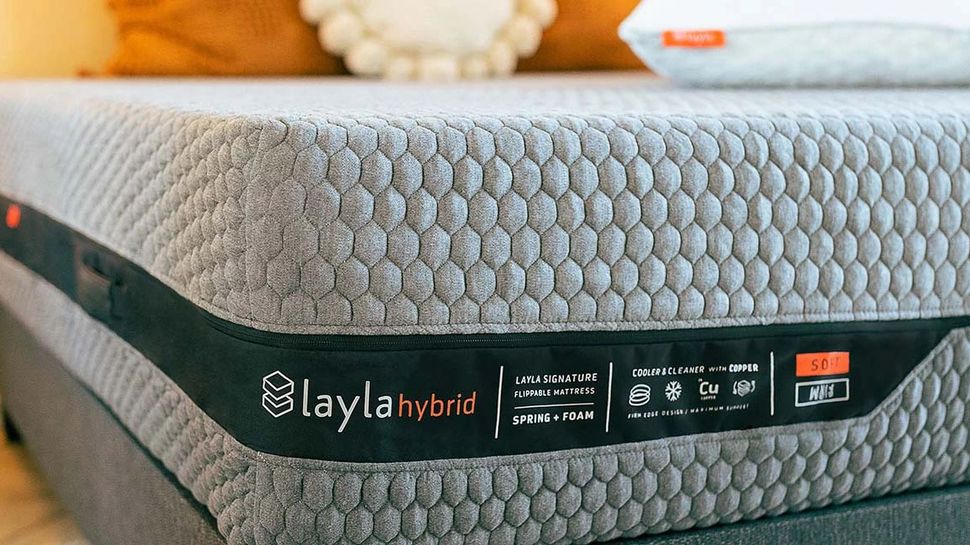 The brand's original flippable mattress, which only uses memory foam, also has five layers yet it clocks in at 10.5 inches thick. Can't decide which Layla model (or type of mattress in general) could be the best fit for you? Consult the Tom's Guide best hybrid mattress guide and the best memory foam mattress guides.
Each of the different types of foam used in the Layla Hybrid are CertiPUR-US certified. This certification indicates that the materials have been tested and approved to meet specific standards for emissions and content, as well as performance and durability, making it a safer option for sleepers and the environment.
Lastly, the zippable mattress cover has two handles on each side for easy flipping. The brand recommends dry cleaning it as needed.
Layla Hybrid mattress review: Support and comfort
Firm side
Medium-firm to firm (6.5 to 7 out of 10)
Comfortable enough for most body types
Ideal for back sleeping
According to the brand, the firm side has a 7 out of 10 rating for firmness. Compared to other mattresses we tested with this firmness level, we think that it may be a bit closer to 6.5 for more of a medium-firm feel. (Firmness and comfort is subjective, so a reference range can be helpful.)
The surface offers a bit of give while back sleeping – enough to offer discernible pressure relief around the lower back and some contouring around the hips from the memory foam. We found this side most comfortable for back sleeping and never woke up with pains or aches. It is also supportive enough for stomach sleeping and side sleeping for light to medium weight sleepers. (We had testers of both of these body types try the mattress out in all positions for our review.)
To measure pressure relief, we put a 55-pound weight at the center of the mattress. This test is meant to mimic the sinkage from a sleeper's weight. It clocked in at three inches (an inch more than the last 7 out of 10 firmness mattress we tested).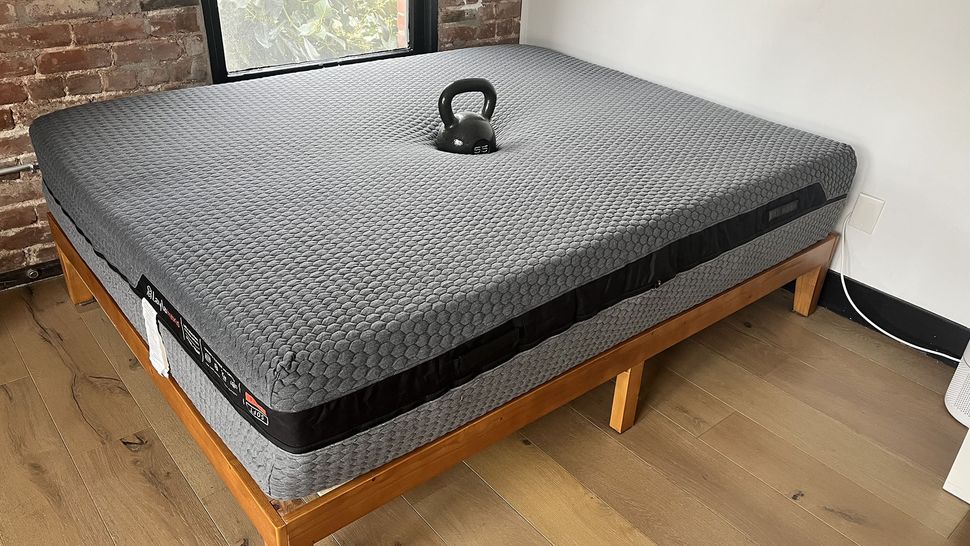 Soft side
Medium-soft (4 to 4.5 out of 10)
Best for side sleeping for light to average weight sleepers
Probably too soft for heavier sleepers and some stomach sleepers
Layla notes that the soft side is a 4 to 4.5 out of 10 for firmness. This rating puts it on the firmer end of a soft mattress, or as medium-soft. Our tester found that a 4.5 rating is most accurate.
This side immediately contoured our tester's curves nicely in a side sleeping position, and it ended up being noticeably more comfortable than side sleeping on the firm side (in general, the best mattresses for side sleepers are on the softer side, to provide the required cushioning around the hips and shoulders in this position).
However, back sleeping was also comfortable without getting a sunken-in feeling, and we had no complaints while stomach sleeping either. Our reviewer enlisted the help of a tall, average weight sleeper who had the same points of view on these sleeping positions, though they preferred the firm side only slightly.
We did the kettlebell test on the soft side, too. The measure of sinkage amounted to five inches. Since this is significantly more give than the firm side, heavier sleepers and stomach sleepers who require more support may end up sinking in too much on this side and thus may not benefit from this side at all.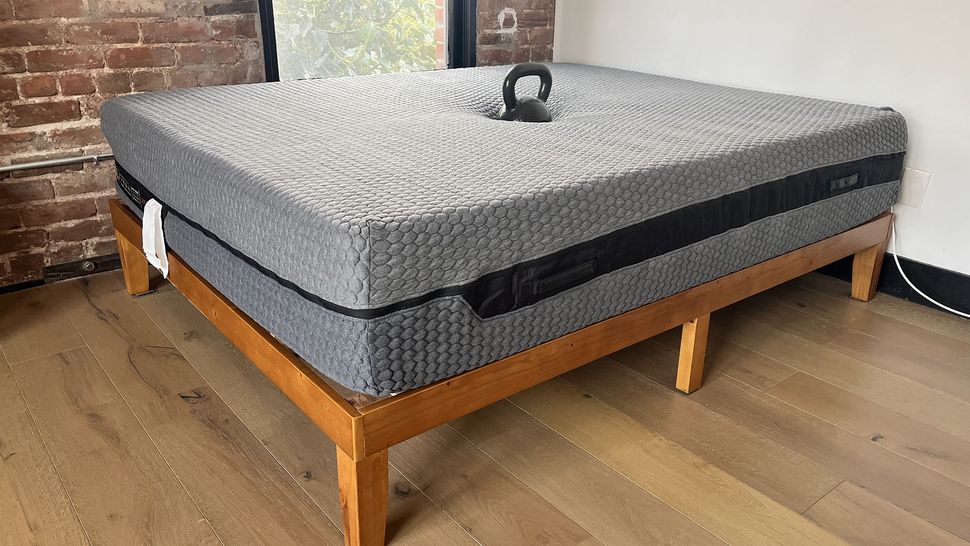 Layla Hybrid mattress review: Performance
Minimal motion transfer – terrific for co-sleepers
Adequate temperature regulation
Robust edge support
Our tester slept on a queen-sized Layla Hybrid mattress for about 10 days on the firm side before switching to 10 days on the soft side. We tested it in all major areas of performance, paying close attention to the following three areas: motion isolation, temperature regulation, and edge support.
Motion isolation
Motion transfer is one of the most important performance indicators in a mattress if you co-sleep with someone else, and especially if one or both sleepers wakes easily or shifts positions throughout the night.
To get an objective view of how well the Layla Hybrid performs in this area, we set a wine glass in the center of the mattress. We dropped a 10-pound kettlebell at various distances away from the glass to see how much it moved, or if it would fall.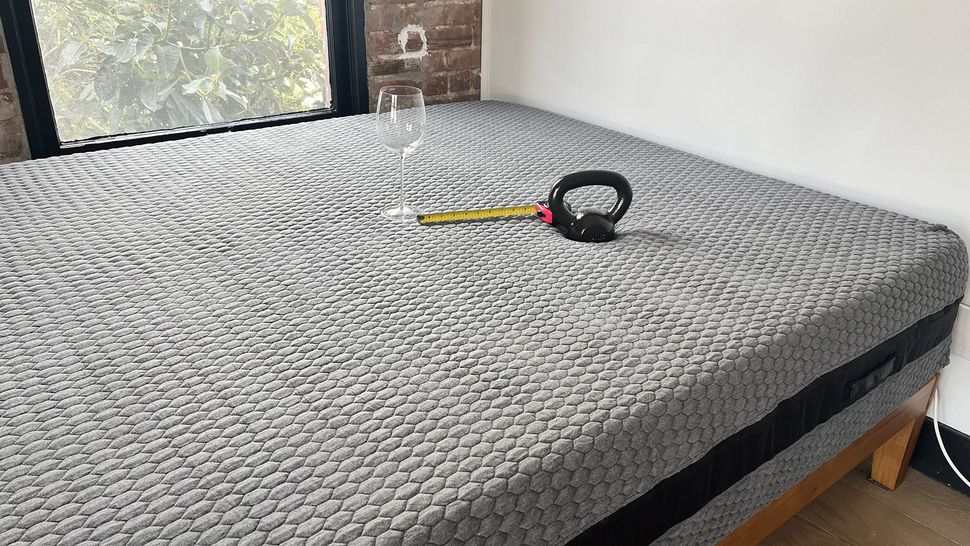 We performed this test on both the firm and soft sides of the mattress. The softer side absorbed motion better than the firm side, which was to be expected given the thicker, more absorbent layers of foam. However, the wine glass only wiggled a bit upon dropping the weight four inches away from the glass and never tipped over. It wobbled even less at 10 inches away. We were impressed that it barely moved on both sides from 25 inches away. Since the wine glass never fell over regardless of side and distance of the weight drop, our test confirms that the Layla Hybrid mattress boasts terrific motion isolation.
Score: 5 out of 5
Temperature regulation
Sleepers who run hot at night are typically better served with hybrid mattresses over all-foam ones, as memory foam can trap heat since they conform closely to the body, and don't feature that coil layer where air can circulate.
The Layla Hybrid was designed to please hot sleepers with each layer. The support core with pocketed coils encourages airflow, the polyfoam layer has deep channels to promote adequate cooling, and the top layer employs copper-infused memory foam, which supports body temperature regulation. Lastly, the mattress cover includes a blend of materials that are meant to complement breathability.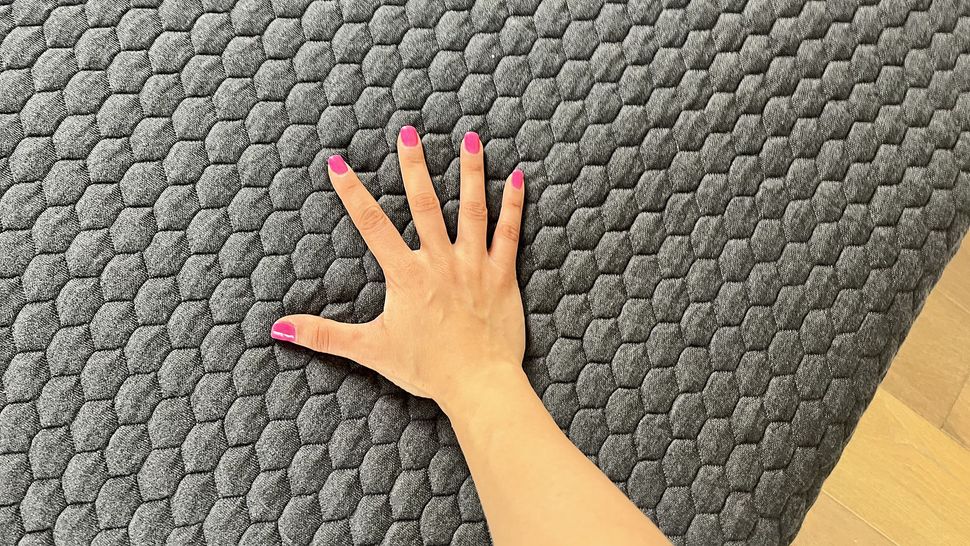 Our reviewer sleeps warm from time to time, and was pleased to find that they never woke up intermittently throughout the night from overheating, or feeling sweaty upon waking. (The testing period took place during late winter in Los Angeles, where nightly low temperatures were around the mid- to high-40s Fahrenheit.) Linen sheets, a comforter, and duvet were used throughout the testing period.
While the mattress isn't necessarily cool to the touch, it's still a worthy option for hot sleepers – though those who run hot nightly may want to investigate other options with peak cooling properties.
Score: 4.5 out of 5
Edge support
When buying a new mattress, be sure to keep edge support in mind. Adequate edge support can help you sit comfortably along the perimeter of the bed, increase the area of the sleeping surface, and permit you to get in and out of bed with ease. It can also help prevent the sides from sagging too early.
Our reviewer tested the edge support of the Layla Hybrid by placing a 55-pound kettlebell at the perimeter of the mattress. Measurements were a bit less than three inches of sinkage on the firm side and 4.5 inches on the soft side. The two measurements didn't vary too much from the first kettlebell test at the center of the bed, which reflects the Layla Hybrid's robust edge support from the double row of higher-gauge coils lining the perimeters.
Our reviewer could also get in and out of bed with ease, and never felt as though rolling off the mattress would be an issue. Given all of these considerations, the Layla Hybrid performs very well in terms of edge support on both sides.
Score: 5 out of 5
Layla Hybrid mattress review: Delivery & setup
Mattress delivered vacuum-packed and rolled in a cloth bag
Free doorstep delivery; two people are ideal to move it
Noticeable off-gassing odor on first night
Each purchase of the Layla Hybrid comes with free shipping across the US (excluding Alaska and Hawaii). The option to choose a delivery time isn't available, but FedEx tracking information is provided via email to keep tabs on the estimated arrival.
While free shipping is a nice perk, the Layla Hybrid mattress is delivered to your doorstep only. If you need to maneuver it upstairs (whether you live in a house or an apartment), it will be ideal to have two people to carry it. It weighs about 127 pounds and comes in a cloth duffel bag instead of a box. Our reviewer – who usually unboxes mattresses solo without any major issues – found it challenging to drag the bag across carpeted hallways.
The mattress comes wrapped in two layers of plastic. It expanded around halfway upon unwrapping the first layer of plastic, and wheezed for approximately two minutes. It inflated completely upon cutting open the second layer of plastic. The brand notes that it's fine to sleep on the mattress right away.
The off-gassing smell lasted well into the first night. While this wasn't great, the foams used are CertiPUR-US certified, so it was more unpleasant than it was a major safety consideration.
Layla Hybrid mattress review: Customer reviews
The Layla Hybrid mattress has a little over 1,000 reviews on the brand's website as of early March 2023. The average rating appears to be 4.5 out of 5 stars, though it seems odd that there aren't any 1- or 2-star ratings published on the site. However, there are currently 13 ratings with an average of 4 out of 5 stars on Amazon.
We browsed reviews across both sites and investigated the most common pros and cons that customers cited. Happy buyers noted that their sleep quality improved thanks to the Layla Hybrid's pressure relief and comfort, including for combination sleepers. Many reviewers appreciated the built-in benefit of trying both the firm and soft sides at home. Others were pleased to find that both they and their co-sleeper could agree on one side, regardless of their differences in body types and go-to sleeping positions. All things considered, callouts on comfort and versatility were the most common.
Less positive reviews noted a lack of performance on the cooling front. Others simply didn't like either side of the mattress, claiming neither provided the comfort and pressure relief they were seeking. (Remember that firmness and comfort are subjective and will vary from person to person.)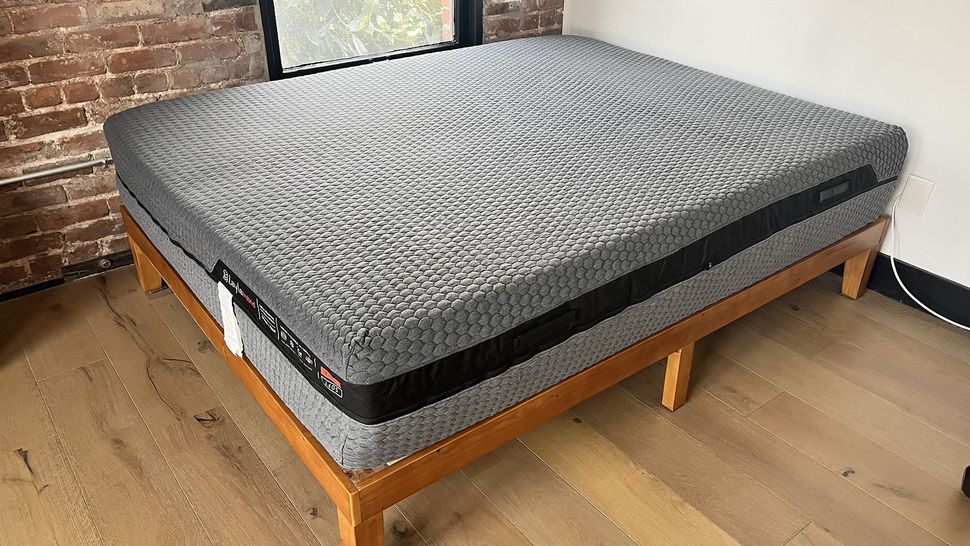 Should you buy the Layla Hybrid mattress?
Based on our reviewer's testing experience, the Layla Hybrid mattress offers a great value and is a worthy option for many types of sleepers. If you're certain that you want a hybrid mattress, and if you prioritize versatility for different body types and sleeping positions, this could very well earn a top spot on your list. Co-sleepers in particular are bound to benefit from this hybrid mattress given its wonderful motion isolation properties.
The firm side is ideal for back sleepers of most weights, while the soft side is ideal for side sleepers of light to average weight. However, the Layla Hybrid is likely to offer pressure relief and comfort for most sleeping positions and body types – potentially excluding heavier weight sleepers and some stomach sleepers. Sleepers who run very hot and suffer from disrupted sleep from overheating may wish to investigate alternative cooling options, though the Layla Hybrid is unlikely to exacerbate heating.
Factoring in those regular deals and the free pillows that come bundled in, we'd say the Layla Hybrid offers strong value for money – and especially if you think you'll make use of the dual-firmness design.
Layla Hybrid mattress review: Alternatives to consider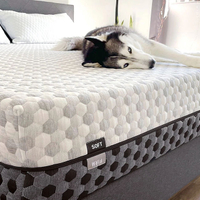 Layla Memory Foam mattress
The Layla Memory Foam mattress is a good alternative for those who are on a budget but find the flippable nature of the hybrid version appealing. This model is 10.5 inches thick (versus 13 inches for the Hybrid) and also comes with free doorstep shipping and two complimentary pillows.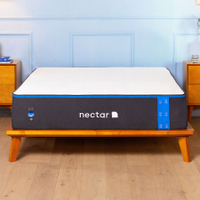 Nectar Memory Foam mattress
The Nectar Mattress is another non-hybrid option, but it's worth checking out since it too offers great motion isolation properties for co-sleepers. It's medium-firm, strikes a nice balance of cushioning and support, and offers great value for the mid-range price. Read more in our Nectar Mattress review.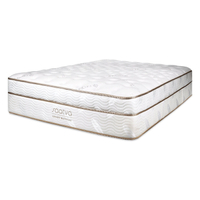 Saatva Classic mattress
The Saatva Classic is worth considering if you have a bigger budget and are seeking top of the line quality, temperature regulation, and exceptional pressure relief. Buyers can choose from three different firmness levels (3, 5.5, and 8 out of 10). This luxury innerspring model is steeper in price by a few hundred dollars, but it's on sale throughout the year and free white glove delivery ups the value. Read more in our Saatva Classic review.