In recent months my Xbox Series X has started flashing a warning that every gamer dreads: Low storage. Thanks to the sizeable library of games at my disposal courtesy of Xbox Game Pass, my console's internal hard drive has rapidly filled up with several of the best Xbox Series X games.
In fact, earlier this week I attempted to install a new Xbox game on my console and was forced to spend several minutes debating which games to uninstall to make room. At least upgrading the Xbox Series X's storage capacity is a pretty simple, if rather pricey, process, and I was recently fortunate enough to get my hands on a 1TB WD_Black C50 Expansion Card to help ease my storage woes.
Released earlier this year, the WD_Black C50 is the second officially-licensed Xbox storage option on the market. Previously the only game in town was Seagate, but now Western Digital has arrived on the scene to offer an alternative option. And I'm pleased to report after testing this nifty little card, I'm impressed with the results.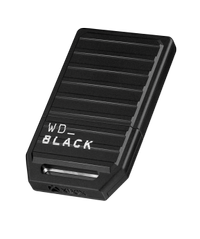 WD_Black C50 1TB Expansion Card: $149 @ Amazon
The WD_Black C50 Expansion Card is an officially-licensed Xbox accessory that boosts the internal storage of your Xbox Series X or Series S. This 1TB drive costs $149 and doubles the hard drive space of the Xbox Series X. It's a simple "plug and play" storage solution, it just slots into the Xbox storage expansion port found on the back of the console, and you're ready to play on.
An extremely easy installation
If you're wondering how to upgrade your Xbox Series X hard drive with a storage expansion card the process really couldn't be simpler. Once you've obtained an expansion card — as noted there are currently two compatible options — just slide the card into the slot on the rear of the Xbox Series X (or Xbox Series S) console. The slot is even labeled "storage expansion" so you really cannot go wrong.
Switching on my Xbox with the C50 nestled into the storage expansion slot, I was curious to see if there would be an on-screen installation process. Perhaps I'd have to wait a few minutes while the card was formatted. But that wasn't the case. My Xbox booted as normal and I was delighted to see that my available storage had instantly increased by a whopping 920GB, giving me a total storage capacity of more than 1.8TB.
The whole process is definitely a lot easier than adding an SSD to a PS5. To upgrade your PS5 SSD you must first ensure you acquire an SSD that meets Sony's specifications, and a lot of SSDs don't. Furthermore, the installation process is significantly more involved and requires the use of a screwdriver as well.
Granted, it would be a little unfair to call the PS5 SSD upgrading process particularly difficult. Even somebody with practically zero experience with tools should make light work of unscrewing the PS5's storage bay cover and affixing an SSD into the expansion bay. But with an Xbox expansion card, the process is simply plug-and-play. And that gives the Xbox a (small) advantage in this area.
Putting the C50 through its paces
Of course, adding a WD_Black C50 to your Xbox Series X would be pointless if the expansion card couldn't keep pace with the console's stock hard drive. And while Western Digital hasn't disclosed the exact read and write speeds of the C50, in my testing I've found that it mostly meets the high bar set by the Xbox's internal SSD.
After the breezy installation process was complete, I quickly set about testing out the drive to see if it could match the Xbox's base storage option. I loaded up a selection of Xbox Series X and Xbox One/Xbox 360 games running via backwards compatibility mode to find out if loading times were impacted. Plus, I also moved each game to the C50 and then back to the console's internal hard drive to check transfer speeds.
You can see my results in the table below. For reference, in order to test loading times, I timed how long it took a game to boot from the home screen into the first instance of gameplay.
Swipe to scroll horizontally
| | | | | |
| --- | --- | --- | --- | --- |
| Row 0 - Cell 0 | Transfer to C50 Card | Transfer to Xbox SSD | Loading time on C50 Card | Loading time on Xbox SSD |
| Elden Ring | 1:38:29 | 2:07:12 | 0:46:06 | 0:40:61 |
| Hi-Fi Rush | 0:39:68 | 0:50:28 | 0:41:67 | 0:44:04 |
| Forza Horizon 4 (Xbox One) | 2:13:05 | 3:06:28 | 0:51:81 | 0:52:81 |
| Skate 3 (Xbox 360) | 0:14:90 | 0:19:99 | 0:53:54 | 0:53:00 |
| Red Dead Redemption (Xbox 360) | 0:22:28 | 0:27:60 | 0:56:78 | 1:00:53 |
Overall, I think the results are pretty impressive. While the C50 was a few seconds slower to load some games, these speeds are well within an acceptable range. So, if you're worried that upgrading your Xbox Series X storage will require sacrificing speedy load times, I can put your fears to rest. The WB_Black C50 holds its own.
Why you need an Xbox Expansion Card
It's been almost three years since the launch of the current flagship Xbox console, and the list of must-play Xbox Series X games is growing seriously long. And it's almost certainly set to get even bigger with Starfield and Forza Motorsport on the horizon. At this point, installing even a modest selection of the best Xbox Series X game isn't possible on the relatively measly 800GB of usable storage that comes as standard. Plus, the Xbox Series S only offers 512GB, which stretches even less.
It's also worth noting that the average file size of new releases seems to be creeping up with each passing year. Popular exclusives like Forza Horizon 5 and Halo: The Master Chief Collection demand more than 100GB each, and the Starfield preload window has revealed that the hotly-anticipated Bethesda sci-fi RPG will also demand a chunk of storage in the triple digits.
If you're the type of player that likes to jump between multiple titles or dabble in various multiplayer games, then it's likely you'll hit the limits of the Xbox Series X's stock hard drive fairly quickly. And unless you're content with regularly reshuffling your game library, and deleting and reinstalling games as required, then an Xbox expansion card is practically an essential purchase.
However, this is where the PS5 definitely has the edge. On Xbox, you have no choice but to buy one of two proprietary cards (from either Western Digital or Seagate); however, on PS5 you have a wide variety of third-party options to choose from.
Because there's more competition, during retailer sales we've seen 1TB PS5 SSDs dropping as low as $59, whereas the cheapest price we've spotted for the 1TB WD_Black C50 Expansion Card is $139. At least the 512GB model is on sale for $79 at Amazon, but it's still more expensive than many PS5 SSDs that are double its size.
The price may be comparatively high when measured against the best internal PS5 SSDs, but if you're a dedicated Xbox gamer, then I thoroughly recommend the WD_Black C50 Expansion Card. It's super simple to install, and significantly boosts your available storage without any noteworthy drops in performance. Although, perhaps wait until the Black Friday sales as we could see a deeper discount then.
More from Tom's Guide