2023 is shaping up to be a very big year for foldables, especially now Samsung's Galaxy Z Fold 5 will have some solid competition in the form of the Google Pixel Fold. While we can't yet say for certain which phone will come out on top in a Galaxy Z Fold 5 vs Pixel Fold face-off, the Pixel Fold may have a key hardware feature that gives it the edge.
If you've seen images of the Pixel Fold and compared it to leaked renders of the Galaxy Z Fold 5, you'll notice that Google's foldable is a different shape. It's shorter and wider, and that difference is especially noticeable on the external cover display. And that wider aspect ratio could prove to be a great benefit for the phone.
Editor's note [June 20]: This article originally featured an image from MySmartPrice that have now been removed. We have removed the images accordingly. The copy remains unchanged.
The Pixel Fold can benefit from a wider display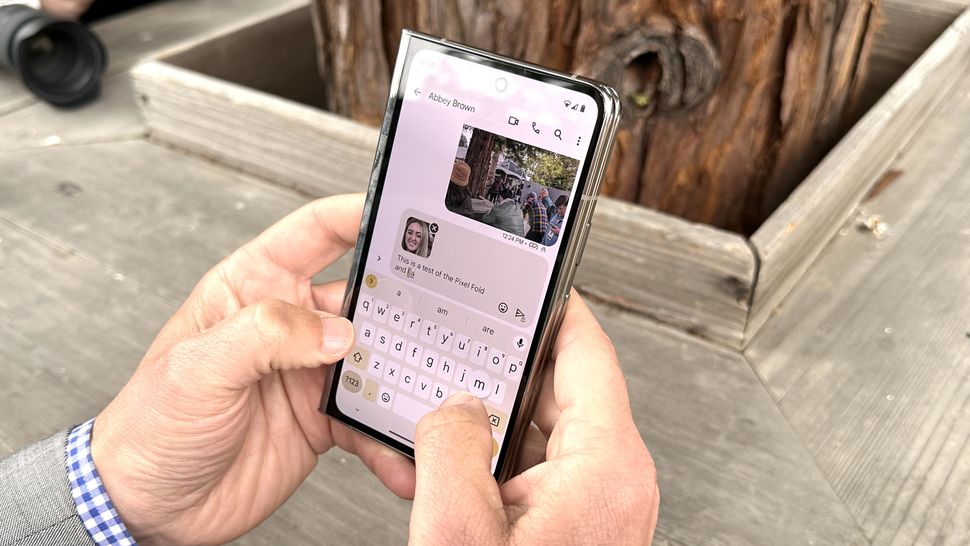 As we noted in our initial Pixel Fold hands-on, the phone's wider cover display is rather comfortable to use, especially compared to the narrower option found on the Samsung Galaxy Z Fold 4. And all the rumors and leaks so far point towards the Galaxy Z Fold 5 having an almost-identical design.
We found the extra width on the Pixel Fold was a little less claustrophobic, compared to Samsung's taller and narrower display. That was especially apparent with typing, with the cover display proving to be great for typing out quick messages — and preventing us from having to open up and use the Pixel Fold's main display.
That benefit expands to plenty of other apps, as well, aided by the fact the Fold's 17:5:9 aspect ratio isn't all that dissimilar from the 19:5:9 aspect ratio you'd find on the Pixel 7 Pro. It's not identical, and the Fold's display is smaller than on Google's current flagship. But the similarities mean the experience of seeing content on screen is closer to what you'd experience on a non-folding phone. That isn't quite the case on the Z Fold's narrower cover screen.
The wider display also makes the Pixel Fold a little more pocketable than a Galaxy Z Fold, something Google emphasized during its initial announcement at I/O 2023. Plus, according to Google Pixel product manager George Hwang, the company put a lot of time and effort into that form factor.
The general idea is that Google would make a foldable phone that users will want to carry around and use. That resulted in a wider cover display, and a much thinner presence than foldables that were already on sale.
All in all it means the Pixel Fold should have a design that's more comfortable to use when closed, and looks like a phone you'd want to be able to carry around. Not to mention the fact its shape should make it easier to do so.
Samsung still has the home field advantage
The difference in design may help the Pixel Fold stand apart, especially if the general public like the wider cover display as much as we did in our brief time with it. But that doesn't change the fact that Samsung is more established — and has a lot more foldable experience.
That means it's spent more time fine-tuning and optimizing Android software, and the Samsung-made OneUI skin, for a foldable platform, not to mention the additional years working with foldable hardware. Battery life in particular has seen some improvements over the past few years, and we're expecting another increase thanks to the Z Fold 5's (presumed) use of the ultra-efficient Snapdragon 8 Gen 2.
Battery life also happens to be one of the things Google has problems with, especially with the Pixel 7 series. Samsung has also been killing it in the camera department recently, which is traditionally one of Google's strongest attributes.
Plus, considering the Pixel Fold has the exact same price tag as the Samsung Galaxy Z Fold 4, it's not like Google can use the same affordability angle that the mainline Pixel series can take advantage of.
Samsung may have gone mostly unchallenged in the American foldable market, positioning it as maker of the best foldable phones almost by default. But that doesn't change the fact that Galaxy Z Fold and Galaxy Z flip phones are still great devices. Expensive, and rarely as impressive as their non-folding relatives, but great phones nonetheless.
The Pixel Fold's wider aspect ratio certainly gives it something novel and beneficial, but until we can do in-depth testing on both it and the Galaxy Z Fold 5, it's difficult to say whether that will be enough to give Google the edge it needs.
More from Tom's Guide