Recently Ubisoft suggested it was "surprised" by the soft sales of Mario + Rabbids Sparks of Hope on Nintendo Switch. And that's a real shame because this second installment in the Mario + Rabbids franchise deserves far more attention as it's easily one of the best Nintendo Switch games you can currently play.
If you slept on this zany strategy game when it launched last year, you're in luck because it's just been significantly reduced in price. Right now, Mario + Rabbids Sparks of Hope for Nintendo Switch is on sale for $29 at Best Buy. That's a full 50% off its launch price of $59 — and this discount is on the Cosmic Edtion which includes a small smattering of extra cosmetic content.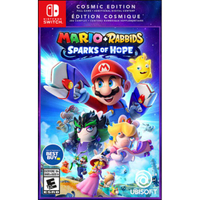 Mario + Rabbids Sparks of Hope (Nintendo Switch): was $59 now $29 @ Best Buy
The sequel to 2017's Mario + Rabbids Kingdom Battle, Sparks of Hope once again reunites the residents of the Mushroom Kingdom with the zany rabbids. This time the unexpected allies are venturing into the stars for an intergalactic adventure. Offering colorful strategy combat, and plenty of planets to explore, Mario + Rabbids Sparks of Hope is one of the best Nintendo Switch games you can play right now.
Released in October 2022, this sequel to 2017's Mario + Rabbids Kingdom Battle, sees the world's most famous plumber embark on an interstellar adventure with his rabbid pals as they seek to recuse the titular Sparks from the clutches of the sinister Cursa. You'll explore new planets and engage in vibrant turn-based battles using a whole host of new weapons and abilities.
In our Mario + Rabbids Sparks of Hope review, we called the game "a challenging turn-based strategy game, with an affable cast of characters and a strong sense of humor." We did note there's some typical open-world padding, and a few combat abilities lack precision, but overall we labeled it "an excellent execution of an agreeably strange idea."
If one positive write-up isn't enough to convince you that Sparks of Hope is well worth your time, our gaming editor, Marshall Honorof, also labeled it his personal favorite Switch game of 2022. And it faced some strong competition from the likes of Bayonetta 3, Splatoon 3 and Kirby and the Forgotten Land. In fact, he even concluded that it was his "favorite by a wide margin" which is a very strong endorsement indeed.
If you're looking for a new Switch game to hold you over until the long-anticipated release of The Legend of Zelda: Tears of the Kingdom, then Mario + Rabbids: Sparks of Hope is exactly what you've been searching for. It offers dozens of hours of cartoony fun and is a game that deserves a far bigger player base than its attracted so far. Hopefully, this half-off sale will convince more Switch owners to give this delightful sequel the chance it so richly deserves.