Apple may have released the MacBook Air M2, and there's also the new MacBook Pro 2023 out with M2 Pro and M2 Max chips. But there's no reason to snub the older laptops in Apple's lineup, as they're still incredible machines.
The MacBook Air M1 is $799 at Best Buy right now. This is the lowest price we've ever seen for what used to be our number one best laptop. At this price, we can't recommend it enough.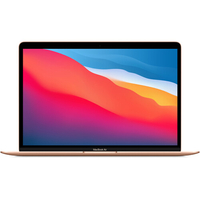 Apple MacBook Air M1: was $999 now $799 @ Best Buy
The MacBook Air offers fantastic performance thanks Apple's M1 chip. We also saw amazing endurance with over 14 hours on our battery test. This laptop features a 13.3-inch Retina display, Apple M1 CPU, 8GB of RAM and a 256GB SSD. It's no longer Apple's newest MacBook, but it's an unbeatable deal at this price.
We'll get the MacBook Air M2 comparisons out of the way first. Yes, Apple's new M2 chip offers faster speeds and more efficiency than the M1 chip in its predecessor. And the new design is rather appealing, too, with slim display bezels. But all this comes with a higher price tag than before.
For anyone who's looking for an excellent all-around laptop without spending an arm and a leg, the value for money the MacBook Air M1 provides is incredible. In our MacBook Air M1 review, we highly praised this device for its awesome performance, outstanding 14-hour battery life and gorgeous display.
If you like to multitask, the MacBook Air M1 never fails to impress with how much it can handle. In our tests, we were able to run multiple applications and tabs at once without our laptop breaking a sweat. And while MacBooks aren't known for being gaming laptops, you can still enjoy simpler titles like Stardew Valley.
That's not all, either: the MacBook Air M1 also provides a comfortable keyboard, sharp webcam and great speakers that support Dolby Atmos.
Before the MacBook Air M2 came along, the MacBook Air M1 was our number one choice for the best laptop. That's why we're sure you won't regret picking one up, especially at its lowest price ever. But if you want to see its competition, check out our MacBook deals and laptop deals pages.