Time's running out to get the Super Bowl TV deal of your dreams. But don't worry — one of the best TVs from Samsung just got a huge price cut.
The 65-inch Samsung Neo QLED QN90B is $1,599 at Best Buy right now. (Add it to your cart to see the discount.) This incredible TV offers bright, detailed visuals and awesome 4K upscaling.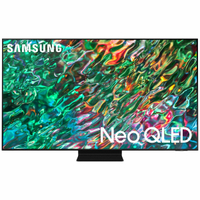 65" Samsung Neo QLED QN90B: was $1,999 now $1,599 @ Best Buy [Add to cart to see discount]
The Samsung Neo QLED QN90B offers truly incredible visuals, delivering some of the brightest and most detailed pictures we've seen from a TV that's not an OLED. It also has support for HDR10, HDR10+, HLG, and voice controls with Bixby, Amazon Alexa or Google Assistant. If it sells out, you can get it for $1,699 at Samsung.
If you take a look at our list of the best TVs, you'll see we named the Samsung Neo QLED QN95B the ultimate QLED TV. However, there's an extremely similar TV out there that costs a decent chunk of change less. That would be the Samsung Neo QLED QN90B.
The biggest difference of note between the two TVs is that the QN95B has a Samsung One Connect box, while the QN90B does not. The One Connect box is a great addition that makes cable management much easier. However, if you can go without it, the QN90B is a serious bargain.
The brightness of the Samsung Neo QLED QN90B has to be its best aspect. If you love visually stunning movies like Encanto or Top Gun Maverick, this TV will do you proud. That goes the same for dark movies like The Batman, too. The color reproduction on the QN90B is great as well.
As TVs get thinner, there's less room inside for audio tech. This can mean plenty of TVs ship with incredible visuals, and crappy sound quality. Not to worry, though. With the Samsung Neo QLED QN90B, dialogue and music sound loud and clear through the TV's 60-watt speakers. Unfortunately, it doesn't have great bass, but that's where the best soundbars come in.
It's not a perfect TV — viewing angles aren't the best we've seen, and we wish it had support for Dolby Vision. But if you want a big TV with incredible visuals and good sound, the QN95B is one of the best out there.
Still looking for your perfect set? Check out our Super Bowl TV deals coverage.