The Sony Inzone line of products might feature PS5-like aesthetics but the company is also marketing it for general PC gamers. One of my favorite Inzone products is now on sale thanks to Prime Day and it's a great deal for those looking for a relatively affordable 4K gaming monitor.
Right now, the Sony Inzone M9 gaming monitor is on sale for $798 at Amazon. That's $101 off the original $899 price, which is definitely a nice chunk of change. The Sony Inzone M9 has all the bells and whistles needed to play the best PC games and the best PS5 games. And based on my testing it's a product I highly recommend.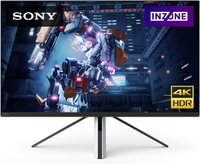 Sony Inzone M9 gaming monitor: was $899 now $798 @ Amazon
The Sony Inzone M9 is one of the best gaming monitors due to its vibrant and sharp 27-inch 4K display, buttery smooth 144Hz refresh rate and low 1ms response time. This is a great Prime Day deal for both PC and PS5 gamers.
Price Check: $799 @ Best Buy | $798 @ Walmart
As I said in my Sony Inzone M9 review, this is one of the finest gaming monitors I've tested. With its vibrant 27-inch 4K LCD display, 144Hz refresh rate, 1ms response time, VRR support and G-Sync compatibility, PC and PS5 games look and run phenomenally on this monitor. It was a brilliant deal at $899 and even better now at $798. It's still one of our best gaming monitors for a reason. It's that good.
The Inzone M9 is a relatively small gaming monitor that doesn't command much space on a desk. Its design is reminiscent of the PS5 with its black-and-white casing. Most of the back portion is white, while the bottom part housing the ports is black. The only source of color comes from a LED strip along the back. Instead of the usual V-shaped stand that comes with most monitors, the Inzone M9's stand is more of a tripod – with a central shaft holding the screen and two thinner legs providing support behind the stand.
I enjoyed the Inzone M9's bright and colorful display. When playing Spider-Man: Miles Morales, I was impressed with by the dense snow-covered NYC streets and gleaming glass towers. The subtle details and myriad colors in Elden Ring also popped on the screen.
Performance is equally great. Because the Inzone M9 supports HDMI 2.1, it can display certain PS5 games at a buttery-smooth 120 frames per second. On PC, you can experience up to 144 fps after adjusting a game's graphics settings. Suffice it to say, the Inzone M9 is an excellent monitor for both PC and modern consoles thanks to its smooth refresh rate and low 1ms response time.
Prime Day officially starts tomorrow (July 11) but I suggest you snatch up the Sony Inzone M9 fast before this deal ends.