5 Reasons to Buy the LG G7 ThinQ (and 3 Reasons to Skip It)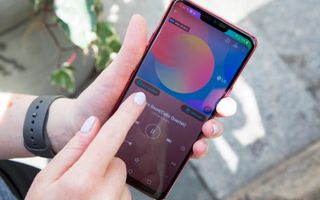 G7 ThinQ Pros and Cons
LG's G7 ThinQ, the follow-up to last year's G6 phone, was delayed to avoid going head-to-head with Samsung's Galaxy S9. Based on our early hands-on time with the G7 ThinQ, we think it may have been worth the wait.
Despite its awkward name, which is pronounced "thin Q," not "think," the G7 ThinQ adds layers of intelligence on top of solid internals. The device packs in Qualcomm's latest Snapdragon 845 processor, 4GB of RAM, a 16-megapixel dual-lens camera and a powerful Boombox speaker.
But with so many other premium Android phones to choose from, including the top-of-the-line Galaxy S9, the G7 has to work hard to win your hard-earned money. Here are five reasons to take a chance on the G7 ThinQ, and three reasons to skip it.
Credit: Tom's Guide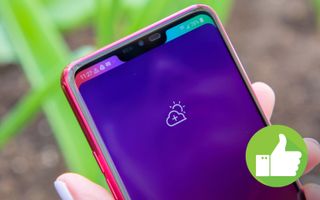 Massive display with optional notch
The first thing you'll notice about the G7 ThinQ is its resemblance to the iPhone X. Both phones are slim and sleek with all-glass designs and, yes, a notch. The G7 ThinQ's display is a sizable 6.1-inch LCD panel that LG claims can reach 1,000 nits of peak brightness. The fact that the G7's notch can be disguised with software-based bezels with a quick toggle in the Settings app is also a selling point, because you can use that new bar to view notifications.
Credit: Tom's Guide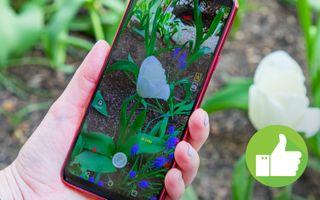 AI-powered camera
The G7's 16-MP dual-lens camera setup is impressive on its own, but LG built in artificial intelligence so that the camera can recognize what it's looking at almost instantly and automatically adjust the saturation, contrast and color. The G7 vibrates in your hand when the camera locks onto a scene.
The camera can recognize 18 categories, including people, landscape, sky, beach, flower, fruit and food. All of this analysis happens on the device, so you don't have to worry about your photos being stored in LG's cloud.
Credit: Tom's Guide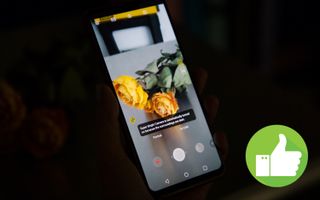 Better low-light photos
The G7 uses technology that LG calls "pixel binning," which combines four pixels into one super-pixel and quadruples the camera's light sensitivity. That makes the G7 seemingly perfect for shooting photos during nights on the town, because the camera activates bright mode automatically when it senses that there's not enough light to capture an image in normal mode. The effect makes it seem like your subject is being illuminated by a flash, when, in actuality, all the photographic heavy lifting is happening internally.
Credit: Tom's Guide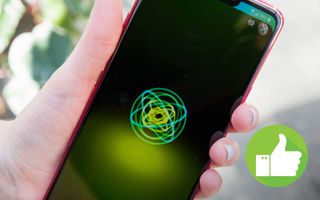 Boombox speaker
Audiophiles will appreciate the G7 ThinQ for a few reasons. The first is the Boombox speaker, which is so loud, it cleared 100 decibels on a sound meter when we saw a demo of the device. LG turned the inside of the G7 into a resonance chamber to amplify the sound. The device lacks stereo speakers but has 32-bit Quad DAC to remove distortion and support lossless audio playback from streaming services such as Tidal. With wired headphones, the DTS:X 7.1 channel surround sound makes it seem like music is coming from all around you.
Credit: Tom's Guide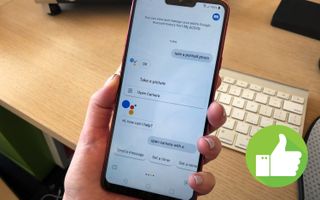 Tight Google Assistant integration
LG added a dedicated Google Assistant button to the left edge of the device, just beneath the volume rocker. You can still summon the voice-activated assistant by saying, "Hey, Google," but pressing the button lets you bypass that and get straight to your request. LG worked with Google to create 32 custom commands just for the G7, and many of them are designed to help you take photos faster. "Take a photo with low-light mode" and "Open camera with AI Cam" will launch the camera app and optimize your settings without requiring you to lift a finger.
Credit: Tom's Guide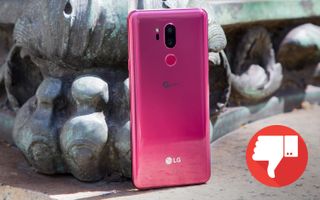 Unoriginal design
Before Apple was roundly mocked for putting a notch at the top of the iPhone X's nearly bezel-free display, the Essential Phone had a (much smaller) notch of its own. After the iPhone X sold like gangbusters, a slew of copycats followed (see: Asus' ZenFone 5, Huawei's P20 Pro and, if rumors are true, the forthcoming OnePlus 6).
LG feels like the last smartphone maker to embrace Apple's aesthetic, though Samsung is a notable holdout. LG does offer a software setting that hides the notch with a bezel in the color of your choosing, which makes it clear that the company isn't committing to the notch for a specific reason, even if the phone maker insists it's trying to boost the usable screen real estate. The G7 has a notch because it's trendy.
Credit: Tom's Guide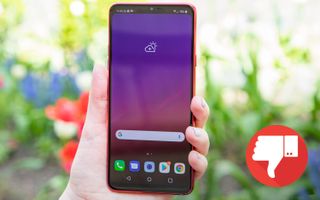 Display is not OLED
The G7's notch calls attention to its massive, 6.1-inch display, which is tailor-made for streaming videos. But we wish LG had made its panel OLED rather than LCD. While the company wanted to offer buyers a superbright display — LG says the G7 can reach up to 1,000 nits of peak brightness — and LCD is brighter than OLED, the latter offers richer hues and deeper blacks than LCD is capable of. High-end phones such as the Galaxy S9 are making OLED the standard in smartphone displays, and the G7 would feel more premium with an OLED panel, too.
Credit: Tom's Guide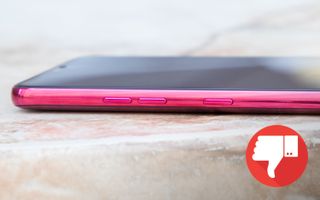 Can't customize side button
Like the Galaxy S9, the G7 ThinQ has a side button dedicated to calling up a voice-activated assistant. The G7's assistant is a custom variant of Google Assistant, so it's a little more useful than Samsung's Bixby, but we wish you could reprogram this button to perform other tasks, especially because there are two other ways to call up Google Assistant. A third seems like overkill. LG says it might issue a software update in the future to make the button programmable if there's enough user demand.
Credit: Tom's Guide