The Apple Watch 7 vs. Samsung Galaxy Watch 4 is the hot-ticket smartwatch showdown this year. With the both of these smartwatches officially announced, and the former nearing launch, you might be wondering which wins.
The Apple Watch 7 and Samsung Galaxy Watch 4 are expected to replace two of the best smartwatches you can buy right now. Although each caters to different users, innovations in wearable computing are usually determined by the new features both companies can bring to customers' wrists.
But will Apple or Samsung produce the better device? This preliminary Apple Watch 7 vs Samsung Galaxy Watch 4 face-off covers everything we know about how the two smartwatches stack up.
Apple Watch 7 vs. Samsung Galaxy Watch 4: Price and release date
The Apple Watch 7 will start at $399, which is how much the 40-millimeter Apple Watch 6 with GPS costs now. Though it was announced alongside the iPhone 13 series, it won't become available until later this fall. Apple hasn't shared an official release date yet.
The Samsung Galaxy Watch 4 is available as of August 27, 2021. It starts at $249.99 for the 40mm Bluetooth model and $299.99 for the 40mm LTE model. The Galaxy Watch 4 Classic model with elevated materials starts at $349.99 for the 42mm Bluetooth model and $399.99 for the 42mm LTE model.
Apple Watch 7 vs. Samsung Galaxy Watch 4: Design
The Apple Watch's design didn't get the sweeping flat-edged redesigned rumored in past months — the Series 7 is actually curvier compared to previous Apple Watch models. It's difficult to tell just how smooth the chassis shape is without going hands-on with the new smartwatch, but it's clear Apple is going for a softer overall aesthetic.
But the Apple Watch 7 display is probably the biggest upgrade. Apple hasn't changed the Apple Watch's display borders in several years. But now, the Apple Watch 7's display is up to 20% bigger than the Apple Watch 6's. With a tiny 1.7mm bezel, the Apple Watch looks a lot larger, even though the chassis size hasn't changed. It sure looks like it maximizes screen real estate better than the Galaxy Watch 4.
The Galaxy Watch 4 actually has two design options. First, the sporty-looking Galaxy Watch 4 as the company's flagship and a follow-up to the Samsung Galaxy Watch Active 2. Second, the 'Classic' version that carries on the luxurious characteristics of last year's Samsung Galaxy Watch 3. The Classic model looks more like a traditional watch, offering a good balance of fashion and function, complete with a physical rotating bezel you can use to navigate menus.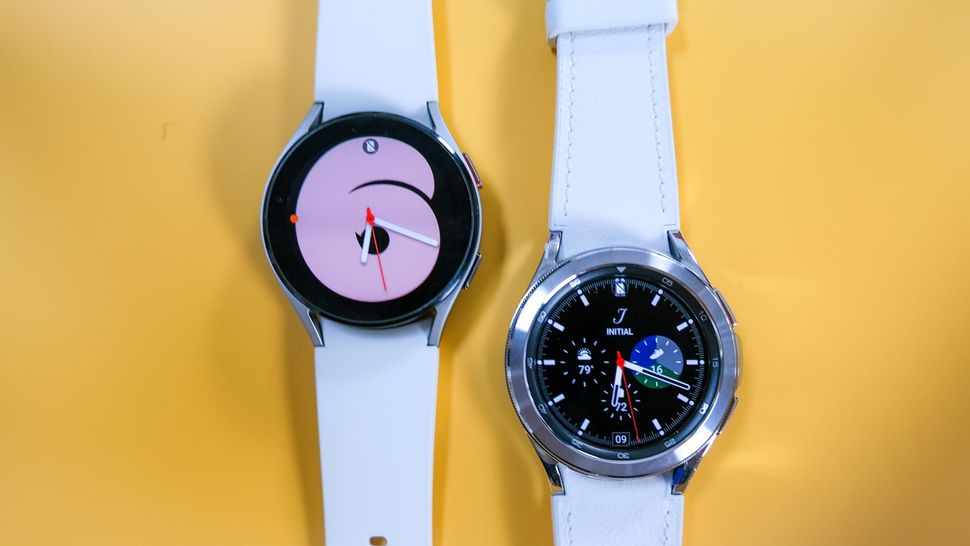 Apple Watch 7 vs. Samsung Galaxy Watch 4: New features and software
The Galaxy Watch 4 has several more exclusive features compared to the Apple Watch 7. They include body composition analysis via BIA, plus better sleep tracking with more frequent overnight blood oxygen readings.
Additional upgrades to both smartwatches will come via software. The Apple Watch 7 will ship with watchOS 8, which offers new messaging options, multiple timers and a Mindfulness app. One software that seems unique to the Apple Watch 7, though, is one we've had on our wishlist for a while now. Taking advantage of the expanded screen, the Series 7 gets a full keyboard for typing out messages. It's the one thing we said Apple Watch 7 should steal from the Galaxy Watch 4, so we're glad it materialized.
The Galaxy Watch 4 is the first smartwatch to run the new Wear OS, officially called Wear OS 3. Samsung has customized the experience with One UI Watch, though, so it still feels like Tizen somewhat.
If Wear plus One UI Watch lives up to its promises, it could make for the most convincing Apple Watch rival to date. See our Wear OS vs. watchOS face-off for more on how the two softwares stack up.
Apple Watch 7 vs. Samsung Galaxy Watch 4: Battery life
Based on our usage, we found the Galaxy Watch 3 lasted just over a day with the always-on display and frequent activity tracking. It seems like the Galaxy Watch 4 lasts about the same length of time.
The Apple Watch 7 has the same 18-hour battery life as the Apple Watch Series 6 and Series 5 before it. We would have liked to see some improvement in this area.
Either way, we're going to need to test Apple's battery life estimate ourselves to see how long it lasts compared to the Galaxy Watch 4. It seems both smartwatches have settled with a daily charge.
Apple Watch 7 vs. Samsung Galaxy Watch 4: Outlook
In a few weeks, this Apple Watch 7 vs. Samsung Galaxy Watch 4 could have a clear winner. Usually, the Apple Watch is the top choice for iPhone users, while the Galaxy Watch 4 is the top choice for Android users. But now that Samsung has teamed up with Google, it could pull from Fitbit's fanbase, too.
We'll need to see both these smartwatches in action to know whether Samsung's new software is all it's cracked up to be, and whether Apple has done enough this time around to maintain its edge.