Recently, I've fallen head over heels for the Steam Deck. What. A. Handheld. I'll admit I was a skeptic regarding Valve's teeny gaming PC, but after spending the last week with a custom built unit, I think it's a fabulous device.
And I've just made it even better with the help of an awesome $25 accessory.
The Sabrent 6-Port Docking Station for Steam Deck is on sale for $25 at Amazon at time of writing. Granted, that's hardly an earth-shattering discount over its regular $30 MSRP, but hey, a discount is a discount.
Sabrent's HDMI / charging dock has transformed the way I play with the Deck over the past few days. When I initially starting gaming on Valve's portable console, I was using it the way most Deck owners probably do: as a handheld device you hold in, y'know, your hands.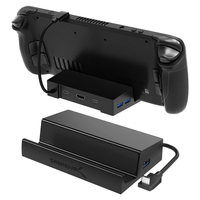 Sabrent Steam Deck Docking Station: was $30 now $25 @ Amazon
This useful and unfussy dock lets you charge your Steam Deck quickly. It also doubles as a handy stand if you want to plant Valve's handheld on a desk and pair it with a gamepad. Its HDMI 2.0 port means you can also connect your Deck to a TV, with the signal maxing out at 4K / 60Hz.
Make no mistake, that's a great way to experience Steam Deck. Despite its bulky size, this is one of the most comfortable and best gaming handhelds I've ever used. I love its palm-shaking haptic feedback. I dig that I can assign those handy back buttons for system-level functions, like taking screenshots on the fly. And I appreciate its (roughly) 720p screen — (actual resolution 1280 x 800) way more than I was expecting as a self-professed display snob who loves his Nintendo Switch OLED.
Speaking of The Big N's premium handheld, one of my few remaining criticisms of the Deck surrounds the lack of the sort of kickstand you get on the Switch OLED. It's rare I actually hold my Switch during play, preferring instead to flip back the stand, place the little console on my coffee table, then slump back on the sofa for an epic Zelda: Tears of the Kingdom session with my trusty Nintendo Switch Pro Controller in-hand.
Thanks to Sabrent's docking station, I can now ape that slovenly experience on the Steam Deck. Even if you don't use its HDMI 2.0 port, on a purely base level, this gizmo acts as a sturdy and elegant stand for Valve's machine.
Since buying this accessory, I've planted my Deck on a table and have been enjoying some of the best PC games using either Nintendo's aforementioned Pro Controller or Microsoft's exceptional Xbox Elite Wireless Controller Series 2 (Core Edition) — pairing a variety of gamepads over Bluetooth is a breeze on the Deck. Without Sabrent's dock, I wouldn't have been able to experience playing on the handheld with a controller anywhere near so easily.
Dock in, dock out
I also appreciate the fact the Steam Deck dock charges Valve's system when docked. Before I bought Sabrent's accessory, I was having to rely on the default power adapter that comes boxed with the Deck, which is annoyingly on the short side. Throw in three USB Type-A connections and a couple of USB type-C ports that let you add additional devices, like a mouse, USB speakers or one of the best gaming keyboards and this Steam Deck dock really is a Swiss army knife of a gadget.
While I've yet to take advantage of the Sabrent dock's HDMI functions, I am glad it houses this port. The dock supports a signal up to 4K at 60Hz, and while the Deck's relatively modest AMD APU obviously can't run the best Steam games at that lofty resolution anywhere near 60 fps, it can handle titles at 1080p in docked mode pretty well with the right settings tweaks.
Am I going to hook my custom Steam Deck up to my LG C2 OLED anytime soon? Probably not. Still, it's nice to have the option if I ever want to play Deck games on one of the best OLED TVs if the mood happens to strike.
Have a spare 25 big ones on you and only experienced playing Steam Deck in the palm of your mitts without a separate controller? Then I'd definitely consider investing in a dock for your Deck, whether it's this effort from Sabrent or one from another manufacturer.
More from Tom's Guide