Known for international sports, Fubo (formerly FuboTV) is one of the best cable TV alternatives. But does it offer much beyond that? We think so, at least for some power users.
Before you sign up for Fubo, though, you need to get a better understanding of its pricing and billing, since those details aren't well-explained on Fubo's website. These changes were instituted in February, and I still scratch my head about how Fubo presents its pricing online.
So, we thought now was a good time to give a brief overview of the current state of Fubo. This way, you get to make an informed buying decision.
1. Watch out for those fees!
Yes, Fubo's website presents its entry-level Pro plan as $74.99 per month, but there's a big asterisk you won't see until checkout. If you live in an area with regional sports networks (RSN), you may notice a "Regional Sports" fee tacked on when you're entering your credit card info. If you don't see it, well, I'm sorry.
This fee is either $11 per month for those living in regions with only one RSN nearby, or $14 per month if you have multiple local sports networks in your area. I put this note early because of how Fubo is super-sneaky about this pricing.
When Fubo first announced it was getting 19 more RSNs from Bally Sports late last year, it didn't mention anything about a price increase. Now that the channels are here, Fubo's added them to its entry-level package, and doesn't give an option to remove them or this fee.
You might love your regional sports networks, in which case this is not an issue. Especially when those channels are limited to the $100 and up package on DirecTV Stream, so an up-to $89 tier might not be an issue for you.
2. Fubo's price is in the upper-end of the field
At $75 per month to start, though, Fubo is already the priciest (tied with DirecTV Stream) cable TV alternative out there. Yes, even before it adds the regional sports fee. So, you should probably consider the field before you go further.
Swipe to scroll horizontally
| Header Cell - Column 0 | Starting monthly price |
| --- | --- |
| Sling TV Orange or Blue | $40 |
| Sling TV Orange & Blue | $55 |
| Hulu + Live TV | $69 |
| YouTube TV | $73 |
| DirecTV Stream | $75 |
| Fubo | $75 (before regional sports network fees) |
That said, Fubo features many international sports channels its competitors don't offer. That includes eleven TUDNxtra channels (which feature UEFA, Liga MX and Copa MX), which aren't on any competitor, and beIN sports networks that Sling makes you pay extra for.
But if those channels aren't a part of your lexicon, consider how YouTube TV ($73) and Hulu + Live TV ($70) are a bit cheaper, but still include ESPN and all the major broadcast networks. Hulu even includes Disney Plus and ESPN Plus for free.
Sling Blue & Orange ($55 per month) includes ESPN, FOX and NBC, and sometimes tacks on ABC for $5 more (depending on your location).
3. Fubo's cloud DVR is in the middle of the pack
Fubo's cloud-based DVR gives you 1,000 hours for recording live events, shows, movies and whatever else you want. The good news is that beats the heck out of Sling's paltry 50-hour cap for its plans. Heck, even paying Sling $5 more only moves you up to 200 hours.
Competitors, though, do better. YouTube TV, DirecTV Stream and Hulu + Live TV all provide an unlimited capacity DVR in their entry-level packages. The only flaw in that plan is that recordings expire after 9 months.
We'd love Fubo to move to unlimited, especially at its price.
4. Fubo's got the best multiview — with a frustrating catch
Multiview is the latest trend in live TV, as YouTube TV and Apple TV Plus recently added this feature that lets you view up to four channels at once. YouTube TV, annoyingly, limits you to pre-made selections, while Apple TV Plus only allows it for its own MLB and MLS games on Apple's own service.
Fubo's multiview, has only one real flaw (and one it shares with Apple's): it's only available on Apple TV hardware. That said, Fubo beats YouTube TV by letting you select whatever channels you want, and it trumps Apple's limitation to just its own games.
We're not sure what the limitation is for bringing multiview to other hardware, but it is probably performance-related since that's the one category where the Apple TV 4K beats all the best streaming devices.
5. Fubo's all about sports, but not all sports
Fubo's marketing is all about sports, which it somewhat backs up with international and regional sports networks. But it falters in a weird way. TNT, TBS and truTV may not be seen as sports networks, but they are the home for nationally broadcast playoffs games for the MLB and NBA.
So, this makes us see Fubo as the right live TV service for only some fans. On top of that, it's lacking YouTube TV's "key plays" feature made to bring you up to speed on live sports games via a series of curated highlights.
Fubo does offer stats on screen, though, with its FanView experience.
6. Fubo's quarterly billing push explained
On the eve of Super Bowl 2023, Fubo rolled out some changes to its billing, including the aforementioned regional sports fees. But while you can't avoid those fees, its other change is actually something you can skip provided you're paying attention.
While monthly billing is one of the best features of cable TV alternatives compared to their antiquated predecessors, Fubo decided that we should really pay them on a quarterly basis. The timing of this — on Super Bowl Sunday, when people may have been arriving for free trials — was not lost on yours truly.
What's in it for you? Well, your fees don't go down. Your DVR doesn't go up, either. Instead, you get some extra premium sports channels, including NBA TV, MLB Network and NHL Network. You'll know what's best for you on this, but I'm still turning my nose up at the concept of quarterly billing in 2023.
7. Fubo is strong on simultaneous screens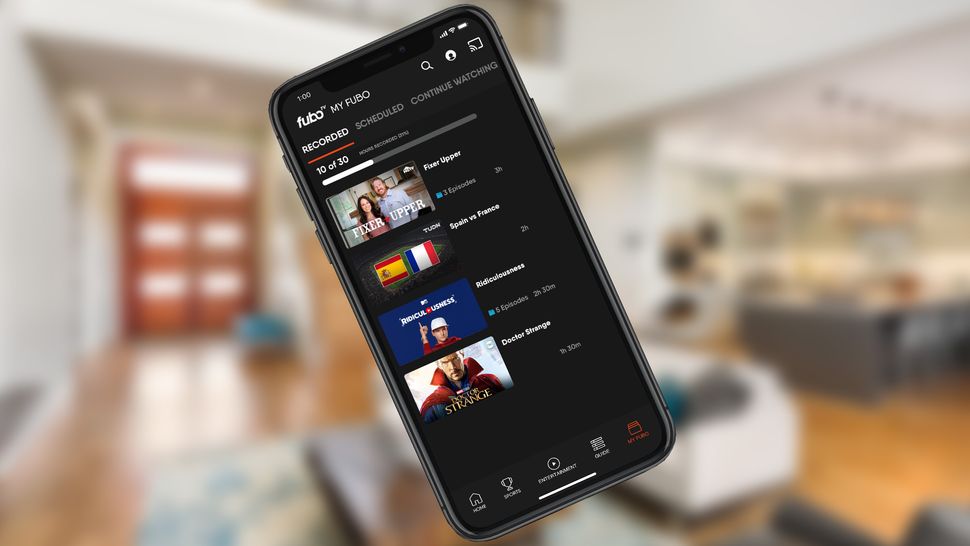 So, after all those negatives about Fubo's billing and pricing, we do want to end this on a positive note. Fubo is practically built for multitaskers, as it lets you watch on up to 10 devices at home and three outside of your home network.
That means you can go multiview on an Apple TV while you've got laptops and tablets open with other games. And, if you need to leave the house mid-game, you can step outside without missing a play.
Here's how that stacks up against the competition:
Swipe to scroll horizontally
| Service | Screens (on home network) | Upgrade (if available) |
| --- | --- | --- |
| Fubo | 10 | Row 0 - Cell 2 |
| Hulu + Live TV | 2 | $9.99 for unlimited (on your home network) |
| YouTube TV | 3 | $9.99 for unlimited (on your home network) plus 4K streaming and offline downloads |
| Sling TV | 1 (Orange), 3 (Blue), 4 (Orange + Blue) | Row 3 - Cell 2 |
| DirecTV Stream | Unlimited at home (with exceptions), 3 on the go | Row 4 - Cell 2 |
DirecTV Stream offers unlimited simultaneous screens when you're using your home network, though there are exclusions such as Fox networks (Big Ten Network, Fox News, Fox Business, FS1, FS2, Fox Deportes and Fox local channels), Starz and the NHL Network.
Outlook: Fubo's a little pricey, but still good
We rank Fubo as one of the best streaming services for good reason. It may cost a little more, but it's packed with sports, and gives Apple TV owners the best multiview around.
That said, those like myself who need TBS and TNT just can't commit to Fubo. We'd love to see that glaring gap paved in the future. So, if you want your regional sports networks, Fubo's an excellent way to cut the cord.
More from Tom's Guide