Oppenheimer is the latest magnum opus from legendary director Christopher Nolan. And, thanks in part to the Barbenheimer phenomenon, this three-hour biopic that recounts the creation of the first atomic bomb turned into the surprise box office hit of the summer.
If you've seen Oppenheimer, you might be wondering what to watch next, and that's where we can help. Below we've compiled a list of seven movies that make for perfect follow-up viewing. While none of these movies are quite as long as Oppenheimer, they all share at least some form of a common thread with Nolan's latest cinematic masterpiece.
These films tell a range of stories, from a slickly-structured biopic that tells the story of another devastating human creation, social media, to historical dramas that explore the minds of brilliant scientists and mathematicians. We wager there's at least one pick here that will appeal to you.
Even better, the majority of movies are this list can be easily found on some of the best streaming services including Netflix, Max and Prime Video. So, let's jump right into things, without further preamble. Here are the seven best movies like Oppenheimer and where you can stream them right now.
Dunkirk (2017)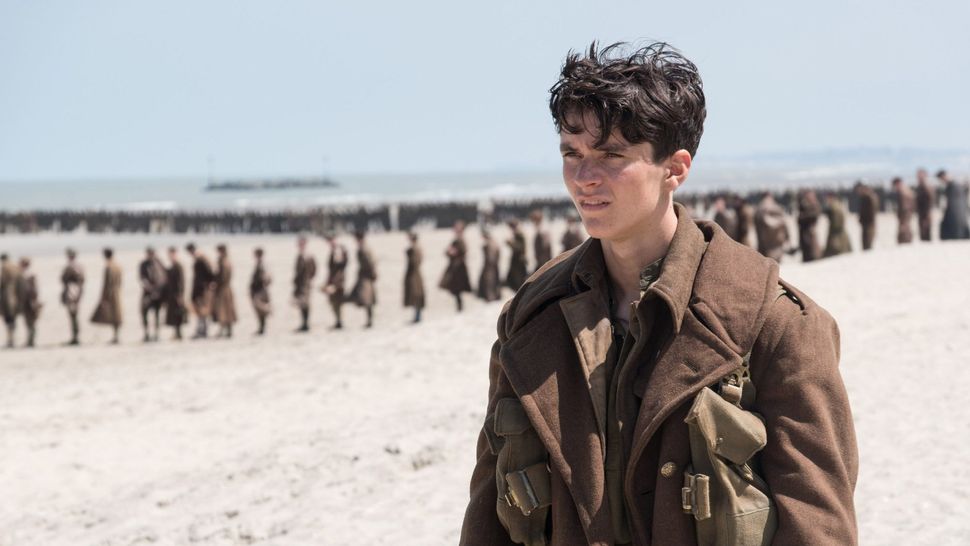 Ranked by some critics as Nolan's best movie ever, Dunkirk tells the tale of the titular 1940 evacuation, one of the biggest military miracles of World War II. And while the home viewing experience pales in comparison to seeing this film on the big screen (your home probably has nothing on an IMAX theater) this engrossing war movie is nevertheless a thrilling watch on any screen.
Audiences may have criticized the film's unique narrative structure that uses multiple perspectives, but it allows Nolan to show the event from different vantage points. Plus, Nolan opts to keep dialogue minimal throughout, keeping the focus on the intensity of the situation at hand. Be sure to watch out for Harry Styles making his film debut as a young British soldier, and a small supporting role from Cillian Murphy.
Genre: War
Rotten Tomatoes score: 92%
Stream it on Netflix
The Theory of Everything (2014)
The Theory of Everything recounts the life of theoretical physicist Stephen Hawking, and is adapted from a best-selling memoir written by his former wife who stuck with him through it all. Eddie Redmayne plays the celebrated cosmologist, and even won an Oscar for his performance, while Felicity Jones plays his wife, Jane Hawking.
Opening during Hawking's days as a student at the University of Cambridge, the movie chronicles various important moments in his remarkable life. This gives us everything from his diagnosis and struggles with amyotrophic lateral sclerosis (ALS) to his research into black holes that ultimately changed humanities understanding of its place within the cosmos.
A polished biopic with two strong performances at its core, The Theory of Everything hits all the right notes.
Genre: Biopic
Rotten Tomatoes score: 80%
Stream it on Amazon VOD
The Imitation Game (2014)
Much like Oppenheimer, The Imitation Game focuses on a group of very smart people grappling with a complex problem that needs solving against the clock during World War II. Mathematician Alan Turning is the focus here, and while the film touches on the tragic circumstances of his later life, the bulk of the runtime is dedicated to his work attempting to crack Enigma, a cipher machine used by the Germans to send coded messages.
Benedict Cumberbatch plays Turning, and Keira Knightley, Mark Strong and Charles Dance make up a very strong supporting cast. Admittedly, The Imitation Game does take some pretty sizable liberties when it comes to historical accuracy. But if you're willing to forgive that particular sin, it's a highly compelling drama about the father of the modern-day computer.
Genre: Biopic
Rotten Tomatoes score: 90%
Stream it on Netflix
What could be better than a movie about a single brilliant mathematician? A biographical drama about three of them! Hidden Figures is based on the book of the same name by Margot Lee Shetterly, and focuses on Katherine G. Johnson (Taraji P. Henson), Dorothy Vaughan (Octavia Spencer) and Mary Jackson (Janelle Monáe), who were key to NASA's work during the Space Race of the 20th century.
The leads all shine as bright as any star in our solar system as they tell the story of how they contributed during a time where NASA was segregated by race and sex. Easily the most heart-warming watch on this list, Hidden Figures joyfully celebrates the criminally overlooked contributions of these brilliant women who had a tangible impact on the course of American history.
Genre: Biopic
Rotten Tomatoes score: 93%
Stream it on Disney Plus
Radioactive (2020)
Radioactive has some clear screenplay problems, and its storytelling choices were labeled "counterproductive" by Rotten Tomatoes, but it's saved by an excellent leading performance from Rosamund Pike as Marie Curie. Just know, this movie is based on a 2010 graphic novel, so it is less a biopic and more of a historical drama with a big dollop of fiction added for good measure.
Radioactive focuses on Curie's scientific research and her relationship with her eventual husband Pierre (Sam Riley). Much like Oppenheimer, Curie must face difficult ethical questions when she's faced with the fact that her scientific achievements could have devastating applications in warfare.
Genre: Drama
Rotten Tomatoes score: 63%
Stream it on Prime Video
Grave of the Fireflies (1988)
Animated by the legendary Studio Ghibli, Grave of the Fireflies is a seriously tough watch. It's the sort of movie that you'll probably never want to watch a second time, but it's often cited as one of the greatest war films of all time for very good reason. This emotionally stirring anti-war movie will have you tearing up throughout and will stay with you long after the credits roll.
The story focuses on Seita, a teenager who is tasked with caring for his younger sister Setsuko, after the siblings are separated from their parents due to the firebombing of Japan during World War II. Struggling against the overwhelming odds to survive, the pair must rely on each other and face unimaginable hardships as the true cost of war is exposed in a heartbreaking fashion.
Genre: Animated
Rotten Tomatoes score: 100%
Buy or rent on Apple
The Social Network (2010)
The stakes in The Social Network may not be as high as in Oppenheimer, but director David Fincher (with help from screenwriter Aaron Sorkin) manages to turn the creation of Facebook into a Machiavellian tragedy. That's due to the fissure between its two feuding former friends, Mark Zuckerberg (Jesse Eisenberg) and Eduardo Saverin (Andrew Garfield).
Much like Nolan, Fincher makes events that can hardly be described as cinematic into highly suspenseful scenes, and the critically-acclaimed filmmaker keeps a tight grip on the pacing. The performance are also exceptional with Eisenberg rightfully being nominated for an Oscar for his leading performance as Zuckerberg. The award-winning score from Trent Reznor and Atticus Ross is another clear highlight.
Genre: Drama
Rotten Tomatoes score: 96%
Stream it on Amazon VOD
More from Tom's Guide