Last year was a great one for OnePlus. Both the mid-range OnePlus 7T and flagship OnePlus 7 Pro were top-rated phones in their respective classes, thanks to fast performance and charging, beautiful 90Hz displays, some impressive photography and reasonable price tags. But it's 2020 now, and therefore time to look to its next generation of devices, most likely called the OnePlus 8 and 8 Pro.
At CES 2020, OnePlus revealed the Concept One, a concept phone (in case the name didn't make it obvious) that showed off the company's new electrochromic glass tech, a first for smartphones. This glass changes color from opaque to transparent with the application of an electric current, and is used on the Concept One to hide the rear cameras until you need them, or to act as a filter if you know what you're doing. Also featuring a leather back colored in Papaya Orange, the signature color of OnePlus' automotive partner McLaren, and the same cameras, pop-up mechanism and display as the OnePlus 7T Pro, it's a remarkable phone that looks production ready, although the company have said there's no plan to make a production version.
As for the phones OnePlus will release this year, the company tends to take an iterative approach to design, improving its smartphones twice a year, so there's nothing to suggest the company is preparing a radical departure from the general design and feature set established in its current models. Still, early renders hint at a change for the handsets' front-facing camera arrays, as well as the addition of a fourth, time-of-flight depth-sensing lens on the back of the new Pro variant. There could even be a third device, called the OnePlus 8 Lite, that will make some sacrifices to achieve a lower price.
Here's everything we know about the OnePlus 8 and OnePlus 8 Pro.
Latest OnePlus 8 rumors (Updated Jan. 23)
A mockup of a device wirelessly charging has raised hopes that the OnePlus 8 will be the first of the company's phones to support the feature — though the dubious nature of the source makes that seem unlikely.
A leaked image apparently shows the OnePlus 8, complete with punch-hole selfie camera, with a menu allowing users to switch between 60-, 90-, and 120-Hz display refresh rates.
OnePlus has confirmed that its next phone will feature a display with a 120-Hz refresh rate. That's a step up from the already smooth 90-Hz refresh in last year's OnePlus flagships.
A report says that Verizon will offer a 5G version of the OnePlus 8.
OnePlus 8 release date and availability
It's unlikely we'll see OnePlus' next phones debut before May. Going back the last three years, the OnePlus 7 Pro and OnePlus 7 debuted May 14, 2019; the OnePlus 6 was unveiled May 22, 2018; and the OnePlus 5 came out on June 20, 2017.
We rarely about which carriers will offer a phone until it's officially announced, but it's worth keeping an ear out for rumors about the OnePlus 8. OnePlus used to just sell its phones unlocked, but starting with the OnePlus 6T, it's been working with U.S. carriers to broaden the audience for its phones. (T-Mobile offers the OnePlus 7T and OnePlus 7T Pro 5G McLaren; Sprint sells the OnePlus 7 Pro 5G.)
Verizon may be getting into the mix this year, as an Android Police report claims that the carrier is going to offer the OnePlus 8. What's more, Verizon will reportedly sell a 5G version of that phone.
OnePlus 8 price
The pricing for the OnePlus 8 is trickier to pin down. The OnePlus 7T costs $599, while the OnePlus 7 Pro starts at $629, and OnePlus does not offer the OnePlus 7T Pro in North America. It's not unusual for the company to increase the price of its phones by anywhere from $30 to $50 from generation to generation, and we're expecting a similar jump for the OnePlus 8 series. For reference, the OnePlus 6 started at $529, and the OnePlus 5 started at $479.
OnePlus 8 design
While particular aspects of OnePlus' phone design have changed over the last few years, the general proportions and shape really haven't. Rumors point to the OnePlus 8 continuing the company's trend of large handsets with curved front and rear glass panels and tapered sides, alongside triple- and quadruple camera stacks serving as centerpieces on the back.
The Concept One might give us some hints about OnePlus' future design language, even if the phone itself won't be making it to production. The long stripe down the center of the back is more reminiscent of the OnePlus 7 Pro's centrally-aligned cameras rather than the circular bump with horizontal cameras we saw on the 7T, and that seems to be backed up by other renders, which we will get onto shortly.
On the front, OnePlus looks to continue to chip away at those pesky bezels. Renders from OnLeaks and 91Mobiles, as well as spy shots that surfaced on Weibo in November, suggest the company has elected to stash a front-facing camera module in the screen, hole-punch style, which has also been supported by an image leaked to True Tech. On the Pro variant, it's even possible this shooter could comprise two lenses — either stashed in the upper-left corner, or slightly offset to the right, based on what we've seen from different images.
On November 19, a blog named TrueTech published what it claimed were leaked schematics of the OnePlus 8 Pro sent from an "anonymous OnePlus official." The sketches do fall largely in line with the renders above, though we're not sure why one of the front views shows a device with a single-lens front-facing camera, while the other depicts a dual-lens module. It's possible the non-Pro version will inherit the single-lens shooter, though TrueTech doesn't suggest this is the case. Additionally, the blog was supplied with notes on the design that are also purportedly from the company, though many details — like the "TIme of light" rear sensor — are misspelled or strangely explained, which certainly calls the leak's credibility into question.
OnePlus 8 specs
OnePlus has always been on the forefront of flagship hardware, and we expect the OnePlus 8 to be no different. Qualcomm will roll out its range-topping Snapdragon 865 chipset next year, which should make its way into the phone maker's next products.
Beyond that, we know little about the OnePlus 8's internals at this venture, save for one important aspect: the display. OnePlus introduced its 90-Hz Fluid AMOLED screen with the OnePlus 7 Pro in 2019, and brought the technology over to the cheaper OnePlus 7T Pro this past fall. The 90-Hz refresh rate is faster than the traditional 60Hz refresh rate of most panels, resulting in smoother, more responsive animations.
You'd expect the OnePlus 8 series to at least continue the 90-Hz standard, while the Pro model could potentially see a display size increase increase to 6.65 inches, if those renders are any indication.
A rumor promoted by self-proclaimed "industrial leaker" Max J. on Twitter that OnePlus was looking to ratchet the refresh rate up to 120 Hz seems like it's going to pan out. OnePlus CEO Pete Lau announced on Chinese social network site Weibo that the company has successfully researched and designed a 120-Hz display and will be showing off this new technology soon. There's no specific mention of the OnePlus 8, but we can be fairly sure that this will be the device that will first use this tech. That would be the highest refresh rate of any smartphone on the market — putting the device on equal footing with the Asus ROG Phone 2 and Razer Phone 2.
While the 120-Hz display is now all but a given, the question remains of what choices the user has to alter it. After all, the 90-Hz display on the Google Pixel 4 only works at certain brightness levels, and the rumors say that Samsung's upcoming Galaxy S20 only gives 120Hz at FHD resolution rather than the full QHD quality it offers at lower refresh rates.
An image published by True Tech shows a settings menu allowing users to swap between 120Hz, 90Hz and 60Hz at will, letting them prioritize battery life, display smoothness or a balance of the two. It also backs up the rumors of a punch-hole selfie camera, but True Tech is an unfamiliar name when it comes to leaks, so we'll have to wait and see if anyone else can back this up before we're fully confident in this claim.
OnePlus 8 cameras
OnePlus' imaging technology has made strides in recent years, though it's still not quite at parity with Google and Apple's mobile cameras and the best camera phones.
We don't know if that could change for the better with the OnePlus 8 series, but we do have a strong suspicion the company will continue its multi-lens approach, potentially adding a fourth, time-of-flight sensor to the back of the OnePlus 8 Pro.
The render from OneLeaks and 91Mobiles depicts a vertically-stacked stripe of three lenses on the back of the OnePlus 8 Pro, flanked by that tiny extra depth camera to the left. We don't yet have details on the sensors or optics tied to each camera, though in theory the time-of-flight lens should allow for more precise background bokeh for shallow depth-of-field portraits.
We assume OnePlus will continue to tweak its computational photography algorithms and software, to improve special features like Nightscape Mode, which leaves the shutter open for longer to increase light sensitivity when shooting in darker conditions.
Additionally, the rumored second camera on the front of the OnePlus 8 Pro could either be used to deliver a more accurate Portrait Mode for selfies, or offer an ultrawide-perspective lens for group shots.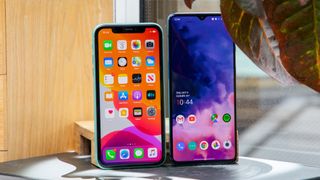 What about the OnePlus 8 Lite?
Rumors suggest OnePlus could return to its roots and offer a more affordable new entry-level phone alongside the OnePlus 8 and 8 Pro. Renders of this device, purportedly named the OnePlus 8 Lite, surfaced in mid-December courtesy of 91Mobiles. The images based on CAD data depict a more rectangular looking handset with a dual-lens camera array, a 6.4- or 6.5-inch screen, flat display glass and a hole-punch front-facing camera.
Currently, we don't know what chipset will power the 8 Lite, nor do we know how expensive it'll be. From the sound of it though, it could be just the phone that marks OnePlus' return as a true bargain mobile brand.
What we want from the OnePlus 8 and 8 Pro
We likely won't see the OnePlus 8 and 8 Pro in their final, official form for many more months. However, we've had extensive experience with all of OnePlus' 2019 devices, and there are a few things we'd like to see improved for the forthcoming generation.
Wireless charging: OnePlus has never been apologetic about its distaste for wireless charging. The rationale is that the fastest charging still requires wires, and of course, everyone wants their device to charge quickly. While a mockup that's been making the rounds on Twitter initially gave rise to a rumor that the OnePlus 8 is getting the feature, the creator of the render has dismissed it as just a mockup, while comments from OnePlus CEO Pete Lau, recently given to The Verge, have played down the likelihood.
Camera improvements: OnePlus hasn't queried us for pointers on how to better its cameras (the nerve!) But if they were to ask us for advice, we'd tell them they should concentrate on improving the white balance, which had a tendency to paint photos in cooler tones in previous models. We'd also like to see better low-light performance that doesn't blow out highlights quite so strongly.
Native support for all major networks: The OnePlus 7 Pro and 7T can be used on Verizon, though users are required to contact the carrier and make sure a technician provisions their device as LTE-only, because neither phone can connect to Big Red's legacy 3G networks. If OnePlus were to make its next handsets compatible with CDMA bands as well as GSM ones, it would make the process of using one on a carrier that isn't T-Mobile or AT&T much simpler. So that's why we're heartened by reports that Verizon will offer the OnePlus 8.
Rein in that price hike: Several years ago, when the OnePlus 3 launched at just $399, we weren't particularly bothered by the successive 3T model costing an extra $40, because even then, $339 was several hundred dollars cheaper than comparable flagships at the time. These days, things are a bit different. The cheapest new iPhone, the iPhone 11, starts at $699 — only $100 more than the $599 OnePlus 7T. Sure, OnePlus is still undercutting the likes of Apple, Samsung and Google, though not by as much as it once did. If OnePlus increases the cost of its next handsets in kind, it'll only make them a tougher sell relative to devices from more established brands.
A smaller model: This is highly unlikely, as OnePlus hasn't offered a smaller or "Lite" type model since the OnePlus X way back in 2015. But some of the Tom's Guide staff would give anything for a OnePlus handset that mostly matches the internals of its larger brethren, yet comes in significantly smaller than the unwieldy 6.55 inches of the OnePlus 7T. Indeed, the company's offerings have only grown in size year over year, and those who prefer small phones are finding themselves pushed out of OnePlus range of otherwise great devices, which is a shame.