We've spent the summer getting to know iOS 15, and now the full version of Apple's iPhone software has arrived.
Some of iOS 15's highlights include much improved notifications, a new design in Safari, updated versions of Maps, Photos and Weather, and even the ability to store you driver's license in Apple Wallet. Another key new feature is SharePlay, which lets you share content with friends over FaceTime calls.
Our iOS 15 review analyzes each of the big new features that have arrived on the iPhone. Here's our look at some of those features, along with iOS 15 bugs, updates Apple is working on and device compatibility with the new iPhone software.
iOS 15 release date and updates
iOS 15 is now out, hitting Apple's promised launch date of Sept. 20. That concludes a beta process that began back in June when Apple handed developers a beta of iOS 15 at the Worldwide Developer Conference to give them a head start updating their apps to take advantage of the software's new features.
But work on iOS 15 isn't over. Apple's already released a beta of iOS 15.1 to both developers and people using the iOS 15 public beta. (Yes, even though the full release of iOS 15 is out, the beta program continues for future updates.) Expect bug fixes and other minor tweaks in iOS 15.1, though Apple will likely roll out additional features as well.
The biggest iOS 15.1 change will be the ability to include your COVID vaccination card in the Wallet app. iOS 15.1 could also restore the SharePlay feature to FaceTime — that feature wasn't ready in time for iOS 15's initial release.
iOS 15 supported devices
If you can run iOS 14 on your iPhone, you can also run iOS 15. That's a bit of a shock, as rumors prior to the emergence of the iOS 15 developer beta, suggested the iPhone 6s and original iPhone SE were about to get dropped. That means you'll be able to run iOS 15 on hardware that first debuted in 2015. As you would expect, the iPhone 13 models — which are now on sale — ship with iOS 15 right out of the box.
Here's the list of supported devices according to Apple:
iPhone 6s
iPhone 6s Plus
iPhone SE (original model)
iPod Touch (seventh-generation)
iPhone 7
iPhone 7 Plus
iPhone 8
iPhone 8 Plus
iPhone X
iPhone XR
iPhone Xs
iPhone Xs Max
iPhone 11
iPhone 11 Pro
iPhone 11 Pro Max
iPhone SE (2020)
iPhone 12 mini
iPhone 12
iPhone 12 Pro
iPhone 12 Pro Max
iPhone 13
iPhone 13 mini
iPhone 13 Pro
iPhone 13 Pro Max
Be aware that some features won't work with every supported iPhone. Features that require a heavy amount of neural processing will need an A12 Bionic-powered iPhone or later. We've got a list of what will and won't work on which devices.
If you're wondering about iPad compatibility, remember that Apple split up the software for its phones and tablets several years ago. iPadOS 15 is adopting many of the features we'll talk about here, along with some iPad-specific changes that will sound familiar to iOS 14 users (widgets on the home screen to give just one example). Be sure to check out our iPadOS 15 beta hands-on for impressions on that software.
iOS 15 features
iOS 14 was a pretty big upgrade, but there's a lot planned for iOS 15 as well, as Apple has detailed quite extensively. We also broke down the top 15 features that you'll want to pay attention to in iOS 15 and looked at the hidden features in iOS 15 that have received less attention.
Our iOS 15 hands-on goes into greater detail about what the beta delivers, but here's a summary of the software update's biggest enhancements.
New FaceTime features: FaceTime is getting some of the most substantive changes in iOS 15. The popular video chat is getting spatial audio to make sound feel more natural, plus voice isolation using machine learning and wide spectrum to bring in more ambient sounds.
Better yet, for group FaceTime calls, Apple is adding link creation (a la Google Meet and Zoom) so that even people on Android and Windows can join in via the browser. Apple has also added a grid view for group calls and a portrait mode to bring the focus on you.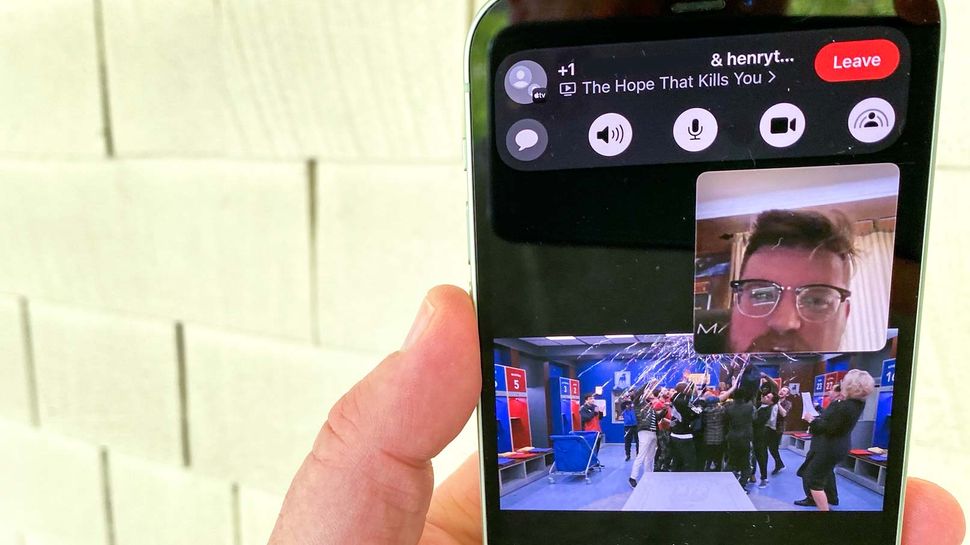 SharePlay: SharePlay is a new way to share media experiences with your friends and family. If you're quite social and like to share music, videos, and your phone's screen, SharePlay is a new way to communicate in lieu of screenshots. You can, for example, listen to an album on Apple Music together, or watch a Netflix show together while chatting in iMessage with the picture-in-picture mode. SharePlay will work across iOS, iPadOS, and macOS.
Unfortunately, SharePlay wasn't a part of the initial iOS 15 release, though you won't have to wait too long to give it a try. Apple has said SharePlay will arrive later in the fall, and it's back in the iOS 15.1 beta, suggesting the feature will debut when that update becomes widely available.
Notifications and Focus: One major pain point with iOS is notifications and Apple is tackling it to a degree. Notifications will now be sorted into a deal-with-it later category, and conversations will surface first. The look and feel of the notifications pane has received a slight face lift to look a bit more modern.
On top of improvements to notifications, iOS 15 will introduce changes to Do Not Disturb and add the new Focus mode. The former simply lets you set a DND status in Messages and iMessage will auto-reply to say that you're busy. Focus lets you set up profiles like work and personal that changes how you use the phone, letting you eliminate distractions while you're working or taking some time for yourself. Here's a guide on how to use Focus mode in iOS 15.
Live Text: Similar to Google Lens, Apple will introduce Live Text to iOS 15. You'll be able to copy text from within a photo, screenshot, or web image. Here's how to use Live Text in iOS 15.
Visual Look Up: Again, looking to Google Lens, Apple added Look Up, which lets you point your camera at something and look it up. It can recognize animals, nature, landmarks, art, and much more.
We've got a comparison of Live Text and Visual Look Up vs. Google Lens to see how Apple's features measure up in these early stages. We also have how to use Visual Lookup in iOS 15 so that you're ready for when it launches.
Photos and Memories: Apple is taking a page out of Google Photos' book and is adding new memories to Photos. These memories curate photos and adds music to them, creating a fun movie. You can change the music and pace, often creating something wholly different. In our testing it's proven to be one of our favorite iOS 15 improvements.
Photos will now also be searchable in Spotlight. You'll be able to search for photos by people and locations as well as objects in the photos themselves. And thanks to Live Text, you can even search for photos that have specific text in them.
Wallet additions: Wallet is getting some improvements, letting you add car keys (with supported car manufacturers), corporate badges, hotel keys (at participating hotels), and even state IDs in participating states. Apple said that the TSA will start letting you use your iPhone for identification purposes. As for states, Arizona, Connecticut, Georgia, Iowa, Kentucky, Maryland, Oklahoma, and Utah will be the first to bring driver's licenses and IDs to iOS 15, according to an Apple announcement. As we've mentioned, you'll be able to add your COVID vaccination card to Wallet in a future iOS 15 update, too.
Fresh Weather design: The Weather app is getting a face lift. Apple has added a lot more animations and new infographics. It helps you get more information about what's going on outside.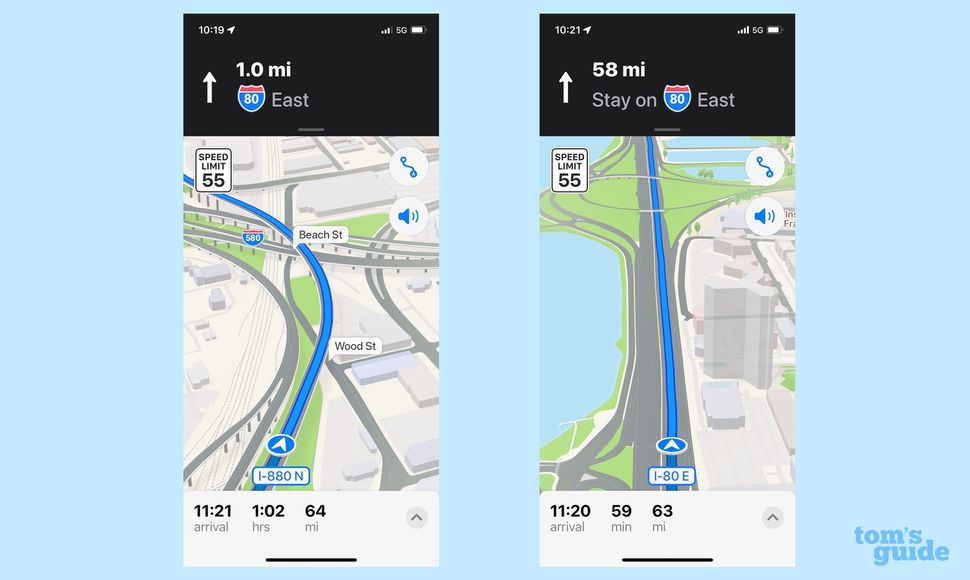 Maps changes: Apple is gunning straight for maps and navigation superiority with Maps in iOS 15. It'll now offer a globe (a la Google Earth) and it adds new city details like elevation, turn lanes, and bike lanes. It'll also show you new road details and traffic conditions. Transit users will be able to pin their favorite lines, and Maps will let you know when it's time to disembark.
Moving into the future, Maps in iOS 15 is heading into augmented reality. When you emerge from a train station and you're lost, hold up your iPhone and let it scan the buildings around you. It'll bring up the last directions you need to get to your destination.
Here's a closer look at the changes coming to iOS 15 Maps.
Safari: Safari is getting an overhaul in macOS 12, and some of those changes are finding their way to the iPhone, too, though the new look accounts for the iPhone's smaller display. The tab bar is now at the bottom of the screen — closer to your thumb, Apple notes — and it disappears as you scroll. The idea is to make the browser easier to operate with one hand.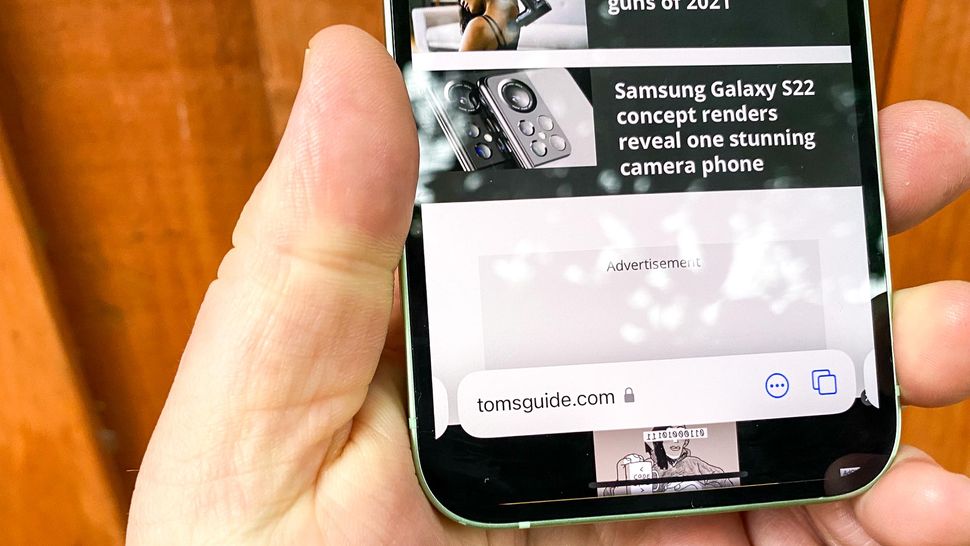 Additionally, features introduced in the macOS Monterey version of Safari such as Group Tabs will also appear in iOS 15's version. Web extensions are now supported on the iPhone and iPad as well.
Safari changes have proven to be the most controversial part of the iOS 15 beta. We have some complaints about iOS 15 Safari ourselves. Based on feedback, Apple added a way to restore the Safari tab bar to the top of the screen. No matter where you place the Tab bar, we have tips on how to use the new Tab bar in iOS 15 Safari.
Shared With You: Apple's new way of surfacing everything that's been sent your way by friends and family is called Shared With You. This allows you to quickly find articles, songs, videos, photos, and more across iOS quickly without having to worry about keeping track.
Find My: Apple wants to help you keep track of everything with Find My. It allows you to find something that's been turned off or erased, livestream locations to friends and families, get separation alerts if you leave an Apple device behind in an unknown location, and add AirPods Max and AirPods Pro to the network.
Health: The Health app is getting some new analysis features in iOS 15, but more importantly, you'll be able to share health data with your doctor and/or family members.
Home: While a modest update, Apple is adding some additional functionality to the Home app. The most important thing to take away is that you'll be able to use Siri with third-party devices. You still need a HomePod, but now you'll be able to talk to Siri through other devices.
Home is also getting a package detection feature that uses HomeKit Secure Video. This means that your security cameras and video doorbells to recognize packages and notify you that they've arrived at your home.
Translate: Translate has gotten some quality of life features, supposedly allowing for seamless translation across languages.
Gaming controls: Apple is looking to improve the gaming experience on its mobile devices with new virtual game controls that it's adding to iOS 15. The controls feature a virtual joystick that comes with its own set of developer tools so that game makers can work support into their iOS titles.
Accessibility: iOS 15 adds or improves accessibility options within the OS, including sweeping improvements to VoiceOver.
Notes: The Notes app has been redesigned, allowing for user-created tags that help make categorizing your notes easier. You can notify others on shared notes of updates and see recent activity. We've got a breakdown on iOS 15 Notes of what you can expect.
Privacy: iOS 15 continues in iOS 14.5's footsteps by offering more robust privacy features. All speech recognition is handled on-device by default, including Siri queries. Mail Privacy Protection keeps senders from seeing if you've opened an email and also prevents them from grabbing your IP address. Finally, App Privacy Report gives you a low-down on what apps have accessed certain permissions within the last seven days.
New Widgets: Apple has promised new widgets in iOS 15 for such apps and features as Find My, Game Center, App Store Today, Sleep, Mail, and People with Family Sharing integration. Here's a closer look at iOS 15's new widgets.
iCloud Plus: Though not totally related to iOS 15, iCloud is getting an upgrade. All paid subscriptions will become iCloud Plus, which offers some new features. Some of those include iCloud Private Relay lets you connect to websites while hiding your IP address and encrypting your activity; Hide My Email adopts a Sign In with Apple feature by creating unique, disposable email addresses for times when you don't want to share your real email address with an online form or registration. Additionally, iCloud Plus expands support for HomeKit Secure Video.
iCloud Plus plans start out at 50GB of storage with one HomeKit Secure Video camera for 99 cents a month and range up to 2TB of storage and unlimited cameras for $9.99/month.
What's missing from iOS 15 at launch
We've noted that SharePlay won't arrive in iOS 15's FaceTime app until the iOS 15.1 update, but that's not the only announced iOS 15 feature Apple is spending more time with. Here's a list of other features that will come in later updates.
The digital legacy feature, in which you can designate someone to take over your account upon your passing, won't arrive until later this year.
Hide My Email will arrive in Mail as part of a software update to iOS 15, as well as Apple's iPad and Mac software.
And of course, the ability to add digital IDs and keys to the Wallet app on your iPhone depends on governments and third-party providers adding support.
iOS 15 bugs
Any software update debuts with its share of bugs, and sadly, iOS 15 is no exception. Here's a list of iOS 15 bug reports we've heard about thus far, along with any fixes that are available. Likely, the fixes will come via future iOS updates from Apple.
Should any of these bugs stop you from upgrading to iOS 15? The AirPod issue seems to affect the most people, and if you rely on AirPods as part of your everyday use, you may want to hold off until a software update becomes available that addresses the problem.