The first season of Loki ended with one hell of a cliffhanger. After winding up at the House of Mystery, Loki (Tom Hiddleston) was betrayed when his variant, Sylvie (Sophia Di Martino), killed the enigmatic He Who Remains (Jonathan Majors). With his death, the timelines began to fracture, and Loki found himself stranded in one where the TVA didn't know him and seemed to be run by a terrifying variant, Kang the Conqueror.
Loki season 2 has been long in production as the MCU picked up steam again, but it's set to finally hit Disney Plus soon. Not much is known about season 2, though we know Hiddleston, Di Martino and Owen Wilson will return, while recent Oscar winner Ke Huy Quan will join the cast.
If you've already watched the inaugural season multiple times and still need your fix, there are plenty of shows that capture Loki's quirky tone and high concepts to tide you over until Loki season 2 premieres in fall 2023.
Doctor Who
Describing Doctor Who as a cultural phenomenon is an understatement. Debuting in 1963, the series follows an alien Time Lord known as The Doctor as he goes on adventures in space and time. Originally conceived as an edutainment series, the show became one of pop culture and science fiction's most iconic series. Though the original run ended in 1989, a 2005 revival continues today,
Loki takes many cues from Doctor Who, including its tongue-in-cheek demeanor. The Doctor's personality changes from iteration to iteration, with some being incredibly serious while others have a more aloof nature. The decades have been incredibly kind to Doctor Who, largely thanks to the show constantly reinventing itself and keeping up with the interests of its fan base as they grow and evolve - much like The Doctor and his many companions. With the series preparing to make the jump to Disney Plus with a new cast and the return of revival showrunner Russell T. Davies, there's no better time than now to get into Doctor Who.
Watch on Max
Sliders
Brilliant inventor Quinn Mallory discovers parallel dimensions are very real and finds a way to travel between worlds. He develops a device that lets him and his friends "slide" between universes, but they become lost in the process. The group travels from universe to universe, encountering various obstacles in their ongoing quest to find a way home.
Originally airing on Fox in an era when The X-Files reigned supreme, Sliders was a surprise hit. The series used fascinating alternate worlds and allowed actors to play alternate versions of their existing roles, resulting in hilarity and high drama. Sliders was initially canceled in 1996, but Syfy picked up the series for an additional two seasons. Despite the change in networks and most of the main cast leaving over the course of five seasons, Sliders remained popular with audiences and continues to find new fans to this day.
Watch on Peacock
The Umbrella Academy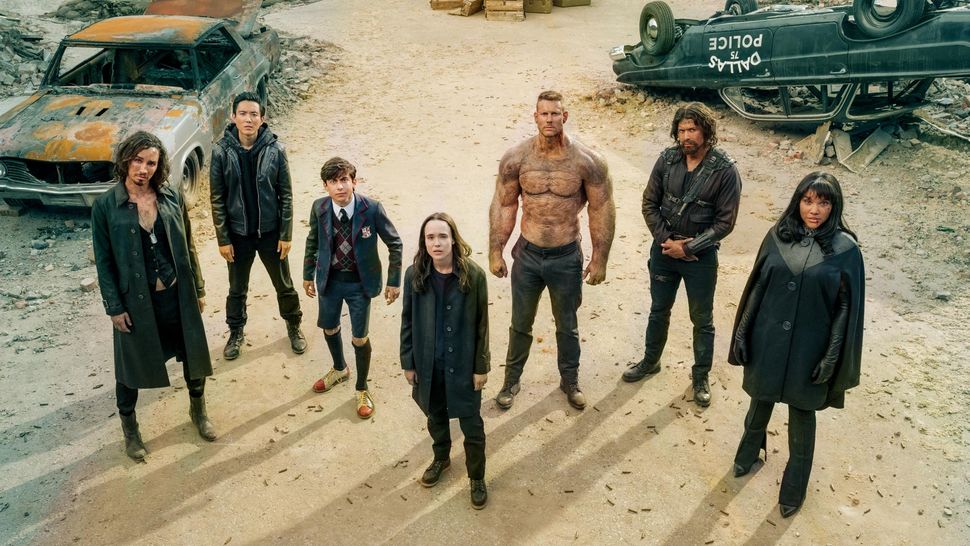 Based on a Dark Horse Comic written by My Chemical Romance's Gerard Way, The Umbrella Academy follows a family of adopted superheroes who reunite when their father figure suddenly dies. The siblings must reluctantly come together to solve the mystery of their father's death and prevent an apocalypse.
Debuting in 2019, the series quickly became one of Netflix's most popular series. To date, The Umbrella Academy holds remarkably high Metacritic and Rotten Tomatoes scores. The plot contains hints of time travel and mystery but, at its heart, is a story about family and acceptance. More recent seasons have leaned harder into the superhero tropes of the franchise, involving sending the team to the past and having them square off against a rival school. Still, the series has maintained the heart that drove it from the very beginning, driving home a powerful and emotionally compelling narrative.
Watch on Netflix
Orphan Black
When con artist Sarah Manning watches a woman who looks exactly like her kill herself, a twisting sci-fi adventure begins. Manning learns she is one of numerous clones created as part of an illegal experiment. What begins as a quirky story about clones becomes a series that addresses themes of control, humanity, and the creation of human life.
Orphan Black received overwhelmingly positive reviews during its run, especially as the show began to wrap up in season 5. However, Orphan Black was a spectacle not just because of the mystery narrative but also because of the special effects that showed the variants (all played by Tatiana Maslany) interacting with each other. The numerous visually dynamic shots were all the more impressive for being created on a shoestring TV budget. Orphan Black wasn't around for long, but the series quickly endeared itself as a modern sci-fi classic and turned Maslany into one of the hottest acts of the modern era, leading to her appearances in productions like She-Hulk: Attorney at Law and Perry Mason.
Watch on AMC Plus
Quantum Leap
From an idea based on string theory, Sam Beckett theorizes that someone can travel through time. Beckett creates Project Quantum Leap and an AI-driven machine that allows him to "leap" through time, but Beckett becomes lost. As an unseen force drives Beckett to "set right what once went wrong," he assumes identities throughout history and changes the course of events.
Quantum Leap was a uniquely insightful show. It was always tongue-in-cheek and often humorous, but it also tackled social issues in a way other shows of the era didn't. Quantum Leap was very aware of its audience and had storylines that tackled the LGBTQ+ community, racial discrimination and women's rights. Despite this, the show struggled in ratings and suffered an abrupt, underwhelming ending that left fans with a bad taste in their mouth. A 2022 sequel series picked up 20 years after the original, following a new Quantum Leap team.
Watch on Peacock
Doom Patrol
Based on the classic DC Comics superteam, the Doom Patrol is made up of misfits and outcasts who are saved by the mysterious Chief. Cliff, Jane, Larry and Rita become reluctant heroes when The Chief is kidnapped and, with the aid of Vic Stone/Cyborg, race to save both their mentor and the world.
Doom Patrol was one of the projects that launched DC Comics' streaming service, and it remained a flagship series following the merger with Max. The series boasts an all-star cast, including Timothy Dalton, Brenden Fraser and Alan Tudyk, and features some genuinely impressive effects and design work. That's not to say the show is all spectacle; at its heart, Doom Patrol is an unsettling, intimate tale about the human condition and what it means to be alive. Doom Patrol is a fantastic series that will make viewers question their very being, making its recent cancellation even more heartbreaking.
Watch on Max
Dirk Gently's Holistic Detective Agency
Based on a Douglas Adams novel, Dirk Gently's Holistic Detective Agency follows a so-called "holistic detective" who attempts to solve cases based on the premise that everything in the universe is connected. Aided by his sidekick, Todd, Dirk must also evade agents who work for CIA Project Blackwing, an experiment that reveals Dirk's mildly psychic abilities.
Starring Samuel Barnett and Elijah Wood, Dirk Gently's Holistic Detective Agency had a relatively short two-season run. While the first season did well with critics and viewers, the second season dipped below expectations and led to the show being cut short. Despite this, the show remains a fan favorite for its ambition, quirky tone, off-beat sense of humor and creative direction.
Watch on AMC Plus
More from Tom's Guide