The bathroom is one of the most important spaces in the home. Whether you're getting ready to start the day or winding down for the evening, we all enjoy our cozy sanctuary. But if you have a small bathroom or en-suite, it can often feel cramped, uncomfortable, and cluttered.
Luckily, there are some space-saving hacks to make a small bathroom look bigger and buy you more room. In fact, these clever tricks can help to maximize your space, without splashing out on a new bathroom renovation! In addition, you can also revamp your bathroom for less than $20 to make a grand difference in a tiny space.
So, if you want to create a spacious, spa-like retreat, here are 7 hacks to make a small bathroom look bigger.
Be sure to also check out 7 tips to make your bathroom smell great. Plus, here are 7 clever ways to decorate with mirrors in your home.
1. Super-sized mirror
Perhaps the oldest trick in the book is the use of large mirrors. This works well to reflect light and give the illusion of a bigger room. In fact, mirrors can instantly make your tiny space feel open and airy, especially if you don't have much natural light or a window.
Experts recommend mirroring a whole wall, or at least a large area of it, rather than hanging a small mirror above the sink. If you want a more contemporary feel, a round-shaped design is a good choice for the bathroom.
Alternatively, hang a few mirrors like this 4-pack, FÄRGEK Decorative mirror ($11, Ikea) for a decorative feature. Mirrors essentially act like a window that allows more light into the room, giving the visual appearance of more space.
2. Brighter light fixtures
If your bathroom doesn't have a window, or lacks natural light, install a brighter light fixture. This will provide sufficient light while also helping to brighten up a dark room.
If you can't change your ceiling lighting, consider LED mirror medicine cabinets, like this FOMAYKO LED Bathroom Mirror ($129, Amazon), to illuminate your vanity area, strip lighting under cabinets, or wall-mounted sconces. These lighting options are all ideal to make a small bathroom look bigger.
Typically, bathroom LED lighting comes in three different tones: warm white, daylight and cool white. Experts suggest that investing in daylight lighting is more preferable to increase natural light.
3. Get rid of heavy drapes or blinds
Similarly, your window treatments can drown out any natural light, making a small space feel more cramped. For this reason, get rid of any heavy/dark blinds or sheer curtains to allow as much light as possible.
To maintain an element of privacy and reduce glare, you can buy window privacy film or glass window decals. These easily stick to glass (and can be removed) without damaging it. What's more, these are affordable and available in most home stores or online like this LEMON CLOUD Window Film ($9, Amazon).
Not only do they block out prying eyes, they serve as an attractive, decorative feature for your compact bathroom.
4. Wall-mount towels/accessories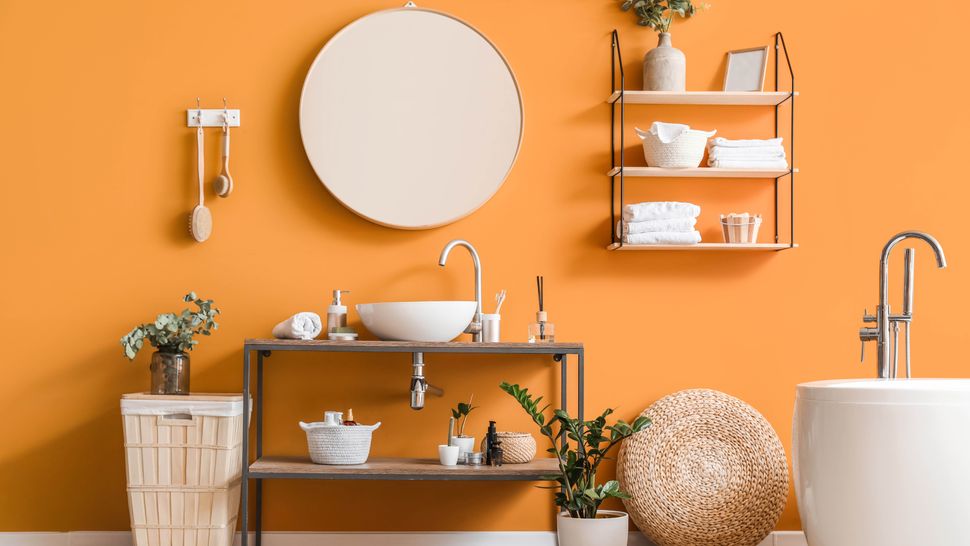 If you have limited countertop space for your bathroom accessories, why not wall-mount instead? Whether it's racks for towels, toiletries or even soap dispensers, wall-mounted racks or bars can really free up valuable space.
What's more, you can invest in "no-drilling" bathroom storage organizers, which you simply stick to tiles with a transparent traceless adhesive. Again, this is a good way to display your products without cluttering the vanity.
You can also opt for racks with hooks, or floating shelves to store your essentials. These Shario White Floating Shelves ($27, Amazon) are slimline and ideal for compact bathrooms.
5. Store loose items out of sight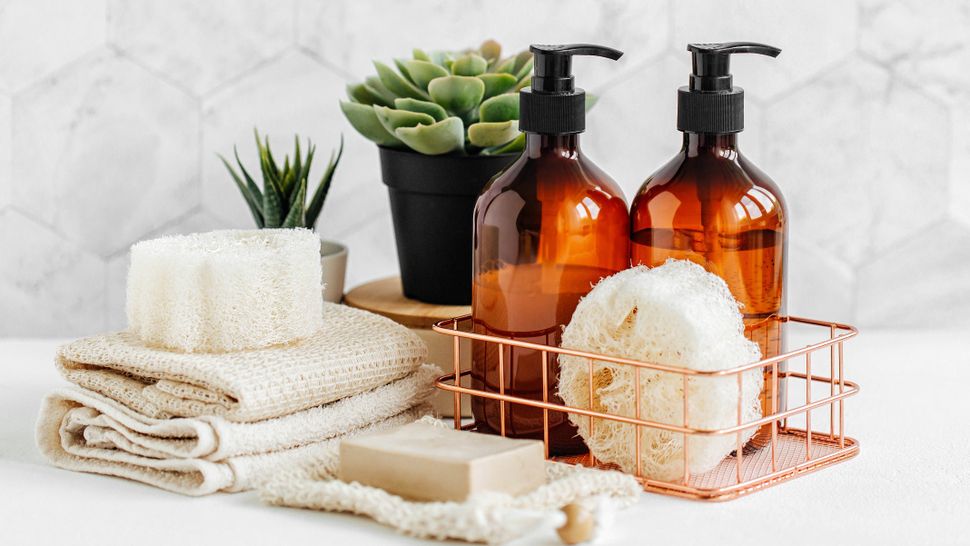 Similarly, cluttered or untidy spaces can make a small bathroom feel even more tiny. Invest in attractive, woven baskets or transparent containers to store loose items, and if possible, store them away. When it comes to tiny spaces, less is more — so keep everything decluttered and as minimal as possible.
In addition, hide those unsightly, plastic bottles by emptying the contents out into matching canisters or transparent dispenser bottles. This will add to the overall aesthetics of your spa-like retreat.
You can even go one step further, and add fragrances such as essential oil diffusers or scented candles to keep it smelling fresh. In fact, check out these five easy hacks that will make your bathroom smell good, and impress your guests.
6. Use reflective fixtures
Just like the good old mirror trick, reflective surfaces like glossy tiles and chrome bathroom fixtures will create the illusion of a bigger space.
Simply swap out your existing shower heads, and bath faucets for brass or chrome bath fixtures. Not only will the shiny surfaces reflect natural light, they'll give a sleek and modern look to your bathroom.
If you want to create a spa-like retreat, invest in a luxury rainfall shower with various settings or opt for ones with LED lighting for a modern feel. Plus, you don't even have to spend a fortune on them, much like this GURIN Shower Head High Pressure Rain, Luxury Bathroom Showerhead ($20, Amazon) in a chrome finish.
If you want to know if you should shower in the morning or at night, find out what the experts say.
7. Add natural decor accents
Natural decor accents — such as stone, wood, linen, and wicker — tend to create an airy feel, without overpowering the room. You can opt for linen or wicker storage baskets, or stone bathroom accessories to give your bathroom that visual appeal.
In addition, lush palms or miniature succulents can really revamp your bathroom, and create a relaxing ambiance. Plants look great placed on the floor, floating shelf, on a window sill or sat or even on the bathtub.
Always select suitable plants that are size-appropriate for your space, so you don't create a jungle!
In addition, if you have condensation issues, these 5 houseplants will prevent mold in your home. Alternatively, if you suffer from pollen allergies, you can add fake plants that look just as good as the real thing. In any case, you can always try these 7 ways to make your fake plants look more real, and add glamor to your bathroom.
More from Tom's Guide