We all want easy ways to make our homes clutter-free, and clever storage promises a solution to a more organized and tidy space. Be it collapsible drawer dividers, multi-hanging devices, or under bed storage, there are plenty of organization hacks and gadgets online and on social media.
But, while we may be tempted to buy the latest organization tools, there are just some things even professional organizers wouldn't buy. In fact, rather than increasing productivity, certain items are actually more hassle than they're worth. And if the professionals aren't impressed, then you shouldn't be either!
So, before you go shopping for useless organization tools, here are 5 things that professional organizers wouldn't waste money on.
Before you organize though, these are the 3 things you should declutter right now, according to experts.
1. Any type of multi-purpose hanging device
Although these might seem practical, especially when you're tight on storage space, multi-purpose, hanging organizers are a no-no from the professionals. Whether it's an organizer to store shoes, hats, handbags, or any other item, such hanging devices are not worth buying.

In some cases, these can often take up more wardrobe space, as they start to fill up. Plus, most people will often dump random things in them — creating more mess, and defeating the purpose!
"The reason that I would never use these items is because in fact, they create clutter," says Tia Mellis, Professional Organizer and founder of The Mess Goddess, "They will not last, will not keep their shape and ultimately, clients that have clutter will probably end up using them for shoving in anything."
It's far better to simply get the right size wardrobe for your space instead, so that you can easily fit/see your clothes, and store neatly.
2. Non-transparent storage boxes
Plastic storage boxes come in handy, and are readily available in most stores, and online. However, don't even think about buying opaque ones, or dark colored boxes that you can't see into.
The whole point of savvy storage is to help you find things clearly, without rummaging through boxes, wasting precious time. And while they might look attractive, opaque or colored boxes means you'll have to remove every lid to see what's inside.
Professionals always recommend buying clear acrylic or plastic storage boxes/containers, which are a lot more practical. Not only can you see things at a glance, but you don't have to spend time labelling each box!
3. Flimsy, unstructured baskets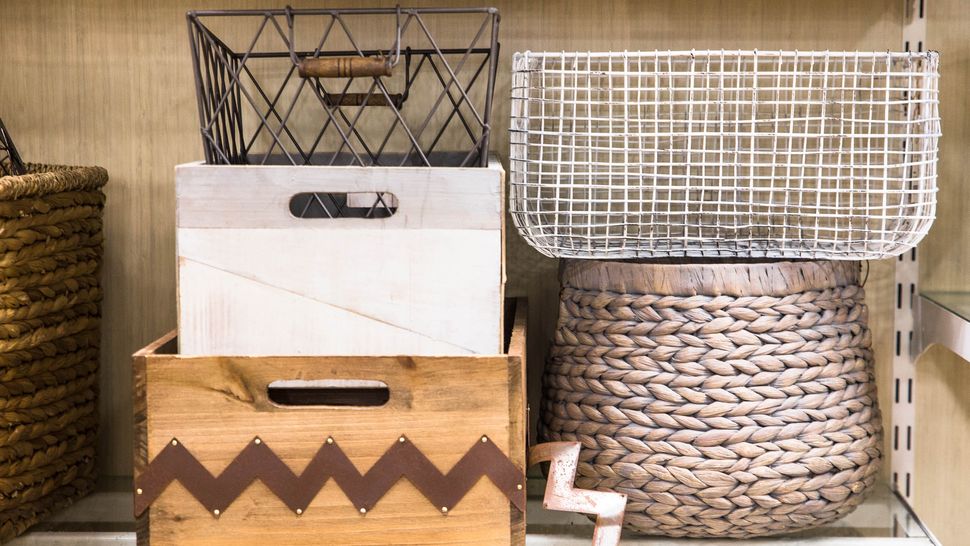 Wicker or woven baskets make stylish storage solutions, bringing a rustic, natural feel to home interiors. However, experts advise against buying soft/material baskets that are flimsy and unstructured.
Often, the sides flop over, or they can't stand upright due to their soft or curved shape. This also makes it difficult to store things snugly — which renders it completely useless.
Instead, invest in solid, wicker boxes or crates that are sturdy, and less likely to lose their shape. Leave those softer, wicker baskets for display/decor purposes only, or don't bother wasting money.
4. Plastic under bed storage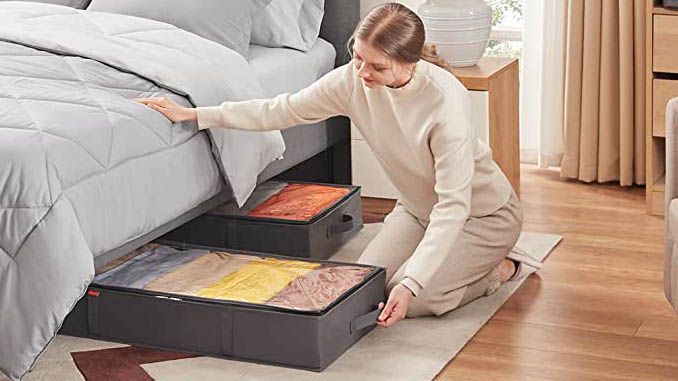 Similar to wardrobe hanging devices, avoid buying plastic, under bed storage, according to professional organizers. "Most underbed storage for everyday items, like shoes, are a waste of money," agrees Mellis."If you have to constantly bend down to get things out from under the bed, this can be annoying or frustrating."
What's more, some types of light-weight, plastic storage are prone to rips, wear-and tear, and will degrade over time. If you lack space, and need under bed storage for extra bedding or clothing, make sure it's durable and of high quality.
"It's worth investing in good quality storage, but also thinking about what you want to achieve before purchasing anything spontaneously."
5. Drawer spice racks
If you have a compact kitchen, and want to keep your cooking spices out of sight, avoid investing in a drawer spice rack. Although these seem like a practical, space-saving option, professional organizers agree they are a waste of valuable space. This is mainly because it requires you to lay the spice jars on their sides, which doesn't make use of the space properly.
If you are lacking countertop space however, store your collection in a tiered or wired rack, or try an over-the-door spice rack for your cabinets or pantry door instead. These will still keep your species organized, without taking up a great deal of space.
Tom's Guide
Here are 5 clever hacks professional organizers swear by
Plus, here are 7 ways to organize your wardrobe
Check out these 9 things you need to get rid of in your closet right now!