Closets are notoriously hard to keep neat and tidy, and can often become the dumping ground for all our clothes, shoes or other accessories.
But before you even think about organizing your wardrobe properly, you'll need to know the things to get rid of in your closet. It's so easy to accumulate an abundance of 'stuff' over the years, only to end up at the back of the closet — never to be used again.
Not only do these items take up precious space, but it will make it almost impossible to see or find anything in a hurry. In addition, knowing how to declutter your home is essential for mental health and overall well-being.
While it can be overwhelming at first, culling these common items in your closet is a great start. Once you've done that, you'll have a clear plan, be organized, and you'll avoid making these decluttering mistakes!
So, if you want to keep your clothes and footwear in check, here are the 9 things you need to get rid of in your closet — right now!
Plus, these are the 5 things that professional organizers wouldn't buy.
1. Items you never wear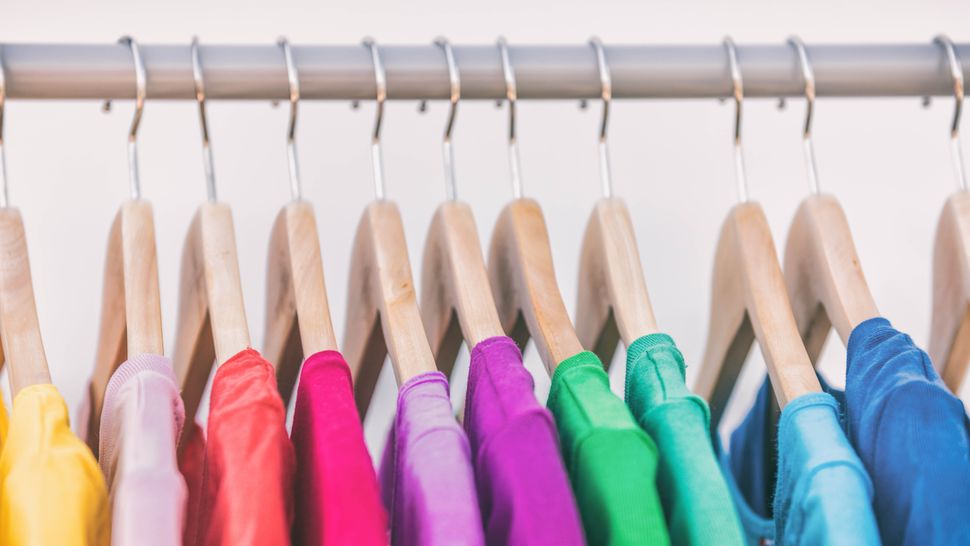 We all have items in our closet that we hardly (or never) wear. And if you're hanging on to them for that, "just in case" moment, chances are, it will never happen!
The number one rule in decluttering is to get rid of items that you don't use. Experts suggest sorting your items into three categories — dump, donate and sell.
Essentially, chuck out the tatty and dated items you've held onto for years, donate to charity shops or to friends, or sell decent/vintage items online and make a bit of cash in doing so. There are various apps designed for selling 'preloved' clothes and footwear.
These three piles will make the culling process more organized — just be ruthless!
2. Clothes that no longer fit
Let's face it, we all have items in our closet that no longer fit us. Whether you've gained or lost weight over the years, it might be time to let go of your favorite pair of jeans from 2013, or that jacket that looks like it can fit a teenager.
Even if you have a 'goal weight' in mind, or dream of getting it out of the closet (one day!), you may not even like the item anymore, or prefer a better style. Again, apply the same culling process you would if you were getting rid of unused clothing. Simply donate, sell or recycle.
3. Socks with holes (or odd socks!)
It's always annoying when you pull on a sock to be reminded there's a hole in the toe. Or you find that one sock is missing. And while they may be your favorite pair, it makes no sense hanging on to them. Go through your sock collection and get rid of any 'holey' pairs, or odd socks before replacing them with fresh ones.
Similarly, if you find any other damaged, stained or worn items in your closet that you're never going to repair, get rid of these now. In some cases, damaged clothing can be taken to a fabric recycling center, or clothing bank — but check with your local authority.
4. Broken hangers
If you have an abundance of clothes, it's common for hangers to break in the process of cramming everything into our closets.
First thing's first, get rid of all broken hangers. Not only can these damage or stretch delicate clothing, but also look unsightly in our closets. In fact, experts suggest investing in good, quality, wooden or velvet slim hangers to protect delicate fabrics from potential damage. These will also last longer than plastic or wire hangers that are likely to snap or bend out of shape, and save space.
There are plenty of different sizes and colors online like these Amazon Basics Slim, Velvet, Non-Slip Suit Clothes Hangers - 30 pack ($21, Amazon), available in 11 colors to match your closet style. If you want to go one step further, you can even color-code your items, to make things easier to find!
5. Old towels
If you have old or worn out towels taking up space in your closet, you'll also want to get rid of these. After all, no one likes the feel of scratchy, damaged or non-absorbent towels after a refreshing shower.
If you didn't want to reuse any for cleaning around the home, there are some animal shelters that will take old towels. These will make warm bedding/linings for cages, cleaning up messes, drying off wet pets, or covering kennel doors to block out bright light.
6. Uncomfortable footwear
Storing footwear can also take up closet space, and create clutter when not organized. But how many pairs of shoes do you actually wear?
The first thing is to get rid of uncomfortable footwear that hurts or chafes your feet. And while it may be designer expensive, or look super stylish, there's no point holding on to them if you can't even walk in them!
If your shoes are in good condition, you can either donate to charity stores, or sell them online and make extra cash to invest in a more comfortable pair!
Also, if you have piles of footwear by the front door however, try these 9 space-saving ideas to organize shoes in your entryway.
7. Shoe boxes/packaging
An impressive footwear collection can leave us with a pile of shoe boxes taking up unnecessary space. If you want to protect your shoes, swap out all shoe boxes or bags for shoe racks or storage solutions to suit your needs. You can even find clear, stackable, shoe organizers to save floor space, and help you see what you're looking for.
For small apartment dwellers, over-the-door racks are a functional way to organize shoes. Designed to mount easily over doors of any thickness, these have protective, felt pads to avoid any damage. This can transform your door into the perfect shoe storage or accessories place. We can recommend this Gorilla Grip Shoe Holder Rack for Over the Door ($11, Amazon), designed to be odor-free and dust-resistant.
The same applies for getting rid of all plastic bags or other packaging that houses your items. Not only will ditching shoe boxes and packaging double your closet space, but will look less like a messy store, and more presentable.
8. Stretched clothing
Whether you've put items on the wrong washing machine setting, or elasticated waistbands have snagged, we've all fallen victim to overstretched clothing.
And if you're not likely to wear these unsuitable items again, it's time to get rid of them. You can either take them to a local charity store, or recycle them at a clothes bank. There's nothing worse than ill-fitting clothes to cramp your style!
9. Unused bedding and linens
If your linen closet is overflowing with excess bedding, it's time to cull those blankets, sheets, and any other items you don't use.
Similar to recycling old towels, you can donate your unused bedding to charity, or animal shelters where they'll be put to good use! Alternatively, if you had a few favorites, you can always use them as makeshift picnic blankets, or for children to sit and play on the grass in the backyard. At least it will be more cozy and comfortable.
More from Tom's Guide