A lot of the best TVs are smart TVs. Actually, scratch that — all the best TVs are smart TVs. But there are some smart TVs that stand out as great choices, thanks to either great value, excellent features and performance or the streaming platform built into the TVs themselves.
That last factor really matters. Nothing can ruin a smart TV faster than a poor user interface. You want something simple and easy to navigate that has a ton of streaming services to choose from. Luckily, there are several smart TV systems that are excellent, from Google TV to Roku TV and more.
So we've curated a list of three TVs you can buy right now that are great options if you're looking to upgrade your TV to a new smart TV. We also are going to warn you against a TV that — while appealing — should be skipped over for one of our three recommendations.
Buy this: LG C2 OLED TV
Remember how I said the best TVs are all smart TVs? So it was impossible to start this list without recommending the best TV we've ever tested — the LG C2 OLED TV.
Yes, there's a newer version out now, and the LG C3 OLED TV is plenty good, but the LG C2 OLED is simply a better value for your money. It comes loaded with features like support for HDR10, HLG, and Dolby Vision HDR formats. You also get a 120Hz display panel that you can fully take advantage of thanks to four HDMI 2.1 inputs.
And then there's webOS 22, which while not the most recent smart TV software from LG, is still excellent. You get a bar of shortcuts at the bottom of the screen in addition to a full-screen desktop for multiple browsing options. The C2 OLED's Magic Remote has hotkeys for popular apps and even voice support for Amazon Alexa and Google Assistant. You also get a fitness app, multiple user profiles and an ambient mode that can turn your LG into a Samsung Frame copycat.
Seriously, webOS can hold its own against Google TV and Roku TV. The only downside is you don't get always get upgraded to future versions of the software. But given how loaded with features webOS 22 is — and how excellent the LG C2 OLED is — you probably won't care.
Buy this: Sony Bravia XR A95K OLED
If you don't want to be stuck with an older smart TV interface though, don't worry. Especially since Google TV has started to take over a ton of the best TVs — including the Sony Bravia XR A95K OLED TV, our pick for the best QD-OLED TV on the market.
First, let's talk about what makes this TV so great. It's got incredible picture quality thanks to its quantum dot filter, and the color and brightness were incredible in our testing. And while most TVs require you also pick up one of the best soundbars we've tested, this one sounds great right out of the box.
And of course, you get a lot of what you want from a great TV in the Sony Bravia XR A95K. HDR10, HLG, Dolby Vision support, 120Hz panel and multiple HDMI 2.1 ports, though only two instead of the LG C2 OLED's four 2.1 ports.
But you also get Google TV, which may be the best smart TV user interface out there. With Google Assistant built-in, it was relatively clean and easy to use from the start, but Google has cleaned up the home screen further to make it even easier to find your favorite shows and movies. In fact, Google is constantly improving Google TV, which is a key advantage over LG's webOS platform. Oh, and you get 800 free live TV channels in case you don't want to shell out for streaming services.
So if you want a smart TV, you need to consider a Google TV. And if you want a Google TV, the Sony Bravia XR A95K OLED is the clear choice.
Buy this: TCL 6-Series Roku TV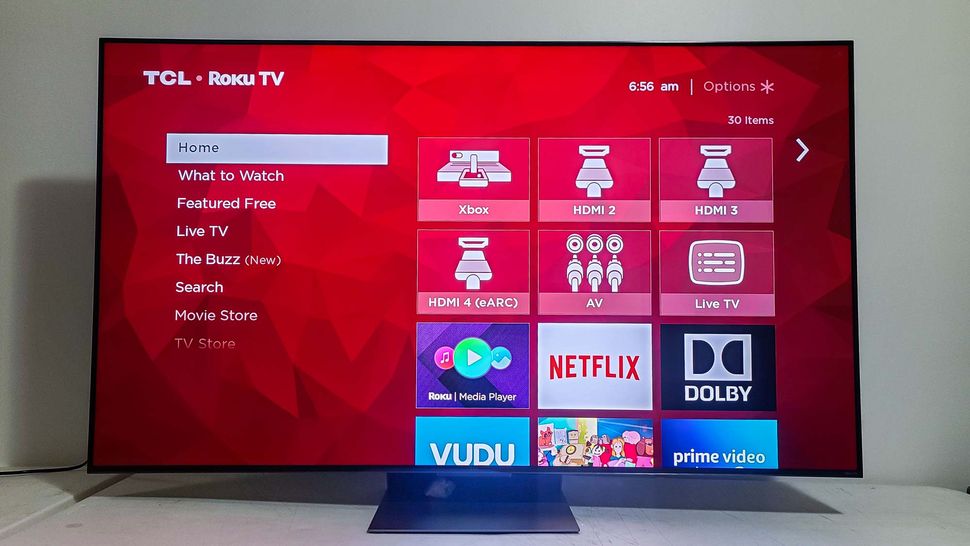 So far, we've picked our best TV and our best Google TV, but both come with hefty price tags. A 55-inch LG C2 OLED TV at Best Buy is currently $1,299. But that's relatively cheap compared to the 55-inch Sony Bravia XR A95K OLED, which is $2,499 at Best Buy. Those are not exactly budget-friendly, especially the Sony.
Thankfully, the TCL 6-Series Roku TV (RG655) is a bit kinder to your wallet. Right now, you can get a 55-inch 6-Series at Best Buy for just $649. You still get a great TV with a bright Mini-LED display, a 144Hz refresh rate that's great for gaming and you get two HDMI 2.1 ports, which is the same as the Sony Bravia TV.
And you also get Roku TV, a great smart TV platform that will allow you to access tons of content. You'll want to do this since you have support for HDR10, HDR10+, HLG and Dolby Vision HDR formats.
While competitors like Google TV have caught up with Roku TV, the smart TV interface that kicked off the smart TV revolution is still a good one. It's also incredibly simple to use while still offering a ton of free content and access to all your favorite apps. So if you want to save some money, the TCL 6-Series Roku TV will get you a great smart TV without breaking the bank.
Skip this: Amazon Fire TV 2-Series
Unfortunately, there's such a thing as too cheap. And while the Fire TV smart TV interface is solid, the Amazon Fire TV 2-Series is anything but.
It's easy to see what's attractive about the 2-Series. You get a smart TV with support for HDR 10 and HLG HDR formats and an Amazon Alexa voice assistant built-in. And the $199 price point is certainly appealing.
But you're limited to Full HD 1080p resolution — so no 4K content. And while we have yet to finish our full review, the testing results are bad. The input lag is nearly 40ms. No other TV we've tested comes close to this poor performance. And the peak brightness never cracked 300 nits in our tests, meaning that HDR support is essentially pointless on this TV.
So skip this TV and go with one of the others we've recommended here. While a $200 smart TV feels like an incredible deal, some things are just too good to be true.
More from Tom's Guide