According to LG, the LG C Series is LG's most popular OLED TV every year. The LG C1 OLED was its best-selling OLED TV of 2021 and last year's LG C2 OLED was the best-selling LG OLED TV of last year.
With that information in mind, if you plan on buying an LG OLED TV in 2023, chances are good that you're considering the new LG C3 OLED TV.
Before you plunk down big money on the latest and greatest OLED, however, it's worth understanding the differences between this year's LG C3 OLED and last year's LG C2 OLED. As we found out at CES 2023, the differences between them are important — but maybe not as groundbreaking as we thought they might be. (Read: 4 reasons to buy and 3 reasons to skip the LG C3 OLED.)
Here are all the differences — and similarities — between the upcoming LG C3 OLED and last year's LG C2 OLED.
LG C3 OLED vs LG C2 OLED: Specs compared
Swipe to scroll horizontally
| | LG C2 OLED | LG C3 OLED |
| --- | --- | --- |
| Sizes | 42", 48", 55", 65", 77", 83" | 42", 48", 55", 65", 75", 85" |
| Ports | 4 HDMI 2.1 | 4 HDMI 2.1 |
| Resolution | 3,840 x 2,160p | 3,840 x 2,160p |
| HDR | HDR10, HLG, Dolby Vision | HDR10, HLG, HDR10+ |
| Smart TV software | Web OS 22 | Web OS 23 |
| ATSC 3.0 support? | No | No |
| Processor | Alpha a9 Gen 5 | Alpha a9 Gen 6 |
Difference #1: The LG C3 OLED has WebOS 23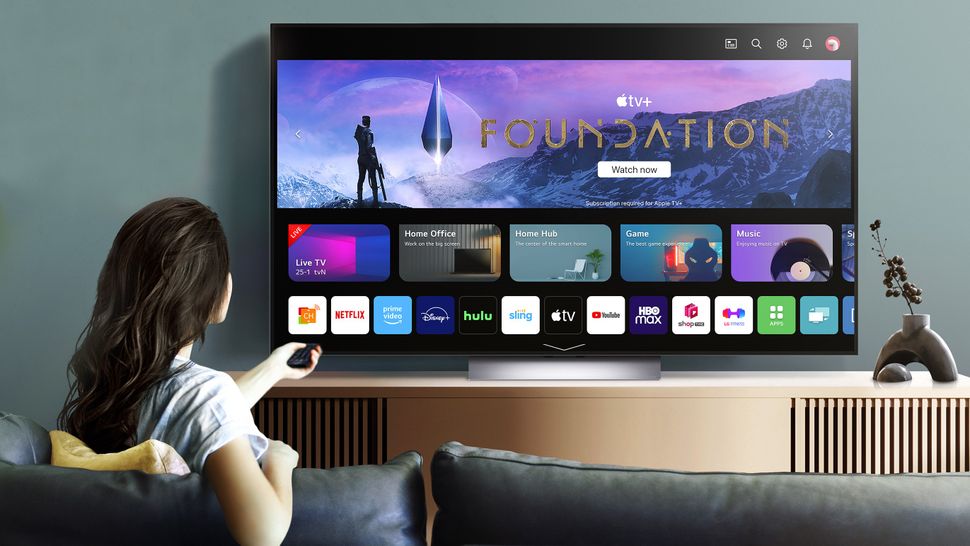 While the latest version of WebOS isn't all that different from the one we've seen on last year's crop of LG TVs, it does have a few benefits — all of which are going to be exclusive to the 2023 models.
One of those benefits is a new picture mode that caters to your preferences. When you activate it for the first time, you'll be shown a series of images with varying amounts of brightness, color saturation and contrast. You'll then pick which of these images appeals most to you, and the processor will create a custom picture mode that reflects that choice.
Other improvements are to the user profiles that LG rolled out in 2022 for better recommendations and will allow you to have accounts for your kids as well.
Difference #2: The LG C3 uses a newer processor
The software is only changing slightly, but the hardware inside the 2023 TVs will see a major boost thanks to the new Alpha a9 Gen 6 processor. The new processor not only has better upscaling and motion processing, but it enables AI Sound Pro that converts the TV's basic 40W 2.2-channel sound system into virtual 9.1.2 surround sound.
Difference #3: The LG C3 will likely be more expensive
So to be upfront about this, LG hasn't released any pricing information about the new LG C3 OLED. That will likely become available sometime in February or March, right ahead of when we'll see the LG C3 OLED on store shelves.
That said, based on previous years, there's a very good probability that the LG C3 OLED will launch at the same prices the LG C2 OLED launched at close to a year ago. The 55-inch LG C3 OLED will likely cost somewhere around $1,799 while the 65-inch version will cost somewhere around $2,499. Meanwhile, the LG C2 OLED is on sale right now for $1,399 for the 55-inch version and $1,799 for the 65-inch version.
If price is the most important factor, then a C2 OLED is going to be a better buy this year regardless of how you feel about the new processor and WebOS 23.
Similarity #1: They both have the same panel
Here's where things start tipping in favor of not upgrading to the LG C3 OLED if you already own an LG C2 OLED. For starters, both TVs will use the same OLED EX panel from last year. There are new 3rd Generation OLED panels coming later this year from LG Display, but those aren't the ones that will be used in the new LG C3. While LG says that new changes to the lighting algorithm creates perceptual changes in brightness, the maximum peak brightness is still the same for both TVs.
Similarity #2: They both don't have an ATSC 3.0 tuner
Another similarity between the LG C2 and C3 are that they both don't have an ATSC 3.0 tuner inside that's needed for NextGen TV broadcasts. While some folks won't mind — or even care — whether or not the TVs have an ATSC 3.0 tuner, the folks who want an exceptionally future-proof TV should take note that you'll need to upgrade to either last year's LG G2 OLED or this year's LG G3 OLED instead.
Similarity #3: They'll both be available in the same sizes (mostly)
Because both the LG C2 OLED and LG C3 OLED have the same panels inside, both models will come in the same sizes. Namely, there's going to be a 42-inch, 48-inch, 55-inch, 65-inch, 77-inch and 83-inch versions. LG says there might be a 93-inch LG C3 OLED this year, but if that arrives it won't be until after the smaller models arrive in the spring.
LG C3 OLED vs C2 OLED: Which one should you buy?
Given how limited the differences are between the two models and how vastly different their price tags will likely be at launch, I'd say that it's probably not worth upgrading to the LG C3 OLED at launch. Once the LG C3 drops down in price a bit — perhaps around Cyber Monday or Black Friday 2023 — that initial judgment call may change. Want to be 100% sure about the decision? Wait until we test the LG C3 OLED in our labs later this spring before making a final decision one way or another.