One of the Prime Day deals I've been eagerly anticipating is finally here. After dropping down to $150 back in May, Seagate's 1TB expansion card for Xbox Series X|S has now dropped another $10 to a new all-time low. And I have to say, it's about time, too.
Right now you can pick up the Seagate 1TB Expansion Card for Xbox Series X|S for $139 at Amazon. While the cost is still noticeably more expensive than it is for the PS5, it means Xbox gamers are finally going to be able to expand their storage without having their wallets wrung dry in the process.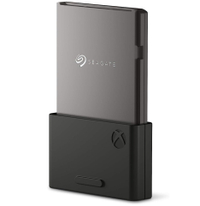 Seagate Expansion Card for Xbox Series X|S (1TB): was $149 now $139 @ Amazon
Double the size of your Xbox's storage with a 1TB expansion card from Seagate — now at a new all-time low. It's perfect for those of you that want to play a lot of next-gen titles without having to constantly manage your storage.
Price check: $149 @ Walmart | $139 @ Best Buy
Expanding the storage of an Xbox Series X or Series S has been prohibitively expensive for a very long time. While the PS5 required a very specific kind of SSD, the company used a standard interface — meaning every storage company could get in on the action. Xbox, however, used a proprietary system that, until very recently, only a single company was involved in.
That's why you can pick up our favorite 1TB PS5 SSD for as little as $66 or a 2TB SSD for $142 during the Prime Day sales. Meanwhile we're celebrating the fact Seagate dropped its Xbox expansion cards to $140. Which is a lot to pay for 1TB of storage at the best of times, let alone during a sale.
Unfortunately next-gen titles can't be played from a USB SDD, the same way older titles can, so Xbox owners were stuck between a rock and a hard place. Either vigilantly manage your console's 1TB of internal storage, which doesn't go very far, or pay up for an overpriced SSD from a company with a de facto monopoly.
Thankfully times are changing, and Prime Day has proven as much. Not only can gamers opt for a Western Digital expansion card for their Xbox, Seagate have been dropping their prices to match the new competition. So while still expensive for what it is, things are a heck of a lot more affordable than they were this time last year — and there aren't many things you can describe that way.