[Update (Nov 25, 8am): The stock on Amazon is no longer available, but you can get the FlexStyle for AU$299 from Bing Lee's eBay store instead. Our original article continues below...]
Have you been lusting after the Dyson Airwrap multi-styler but always keep putting off getting one because of its premium price point? Are you keen on gifting yourself or someone special with gorgeous tresses this Christmas?
If you've answered yes to either of those questions, you're going to want to pay attention to this Black Friday deal because Amazon is currently offering the best price on the Shark Flexstyle.
Slashing 34% off the asking price, Amazon has the SharkFlexStyle listed for just AU$299 — which is the lowest price we've seen to date and close to half the price of the discounted Airwrap currently going for AU$549 on the Dyson online store.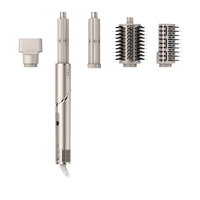 Shark FlexStyle Hair Styling System | AU$449.99 AU$299 on Amazon (save AU$150.99)
The Shark FlexStyle Hair Styling System can be used as a powerful, no-heat-damage hair dryer or an ultra-versatile multi-styler letting you curl, volumise, smooth, or dry. And the good news is that it's dropped to its lowest price since its launch in Australia, now available for a mere AU$299.
We've tested this multi-styler for ourselves and, in our Shark FlexStyle review, we were impressed by its simplicity and the reviewer said that she was surprised at how quickly it became instrumental in her hair-style routine.
Sure, it's remarkably similar to the Airwrap, but the FlexStyle ships with a diffuser that's missing from the Dyson kit. Anyone with curly hair will know how important a diffuser can be to keep their locks in shape. So whether you have straight hair that needs some bounce and waves or you have curly hair that needs to control, the FlexStyle can handle it all.
It does so using minimal heat. Unlike traditional hair-styling tools like straighteners and curling irons, the FlexStyle circulates hot air only, thus reducing heat damage that makes hair dry and frizzy.
The one thing our reviewer didn't quite care for is the rather high-pitched whine the FlexStyle makes when powered on. If you can live with it, as she does, you can save hundreds on a hair multi-styling tool kit and get the Shark FlexStyle for just AU$299 from Amazon.