Prime Day is still going strong, and so are the deals. And Amazon is trying to keep ahead of the competition by deepening its discount on one of the hottest items for holiday shoppers.
The newly released Apple AirPods 2 with USB-C is now just $189 at Amazon, , $10 than the previous low of $199 yesterday. It's still the excellent pair of true wireless earbuds that Apple launched only last month, so getting nearly a quarter of the list price sliced off like this is rather exciting.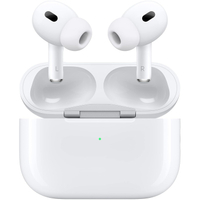 Apple AirPods Pro 2 (USB-C): was $249 now $189 @ Amazon
Apple's AirPods Pro 2 are "nearly perfect wireless earbuds" according to our review, offering world-class noise cancelation, spatial audio, quality sound and 6-30 hours of battery life. And now you get more convenient USB-C charging. The audio quality is even a bit better with the new model. Grab them while you can.
Price check: $199 @ Best Buy
The AirPods 2 are some of the best wireless earbuds you can buy, especially if you're the proud owner of an Apple iPhone. AirPods offer world-class noise canceling, spatial audio from Dolby Atmos, plenty of personalized audio profiles, and up to six hours of battery life on a single charge — increased to 30 hours with the charging case.
There's a reason we called them "nearly perfect true wireless earbuds" in our Apple AirPods 2 review.
The AirPods 2 you get with the new USB-C case aren't all that different from the old AirPods 2 — but they aren't completely identical. For starters, there's a new acoustic architecture, and in our testing we did notice a small uptick in quality. Will it be noticeable to casual listeners? That's debatable, but it's certainly something audiophiles will want to take advantage of.
The buds are also the only AirPod earbuds capable of lossless audio, though this feature will only be available with the upcoming Apple Vision Pro headset. So if you plan on picking up Apple's mixed reality headset next year, it's worth being prepared. The case itself is also capable of recharging faster, and has an IP55 dust and water resistance rating.
You can even recharge the AirPods Pro 2 charging case from your new iPhone 15 with USB-C, if you plan on getting any of the new iPhones.
Check out our Prime Day deals hub for even more savings on Apple devices and all sorts of other products.